You are lucky enough if you have a fire pit area in your home. Since you are blessed with this beautiful space in your home, make sure to keep it in tip-top condition.
After all, it is the only space where you can enjoy an outdoor get-together with your loved ones. You should aim to make it as cozy as possible, especially during winter.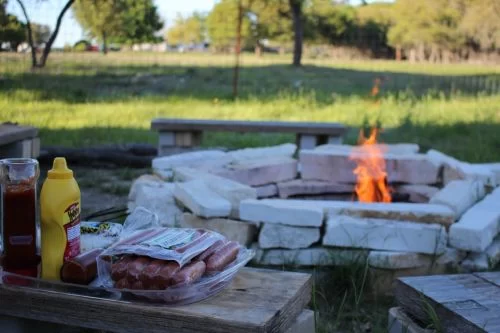 Whether you are planning an outdoor get-together or enjoying a hot chocolate under the night sky, a fire pit which you can buy from this website is something that will help get the most out of it throughout the year.
If you are looking to decorate your space, but don't know where to start – we have got you covered.
In this article, we will discuss some of the best ways to decorate your fire pit to get the most out of it throughout the year. So, let's get started:
1. Consider Your Seating Area
When decorating your fire pit, it's crucial to consider how you would like to gather in the area. While having a fire pit is great, make sure it is tailored perfectly to your needs and space.
You can consider adding Adirondack chairs which are perfect for relaxing in the fire pit area. These seats are also great for decorating your backyard and fit right around the area as well.
Also, make sure to buy seat cushions that make you comfortable while sitting on Adirondack seats. Go for a fabric like Sunbrella that can repel mildew, water, and mold.
2. Design Your Space
A well-designed fire pit space is an essential part of your backyard. After all, it is a place to create magical moments with your loved ones. But does your area allow you to do that? If not, consider landscaping around your fire pit. Paying attention to this space is always worth it. But where do you start?
Landscaping doesn't always mean investing in costly accessories to make it look gorgeous. For example, you can start by adding plants that will reflect your style, and are great for the climate, conditions, and size of your space. You can also use containers to add depth and soften your seating space.
---
Read Also:
---
3. Add More Lighting
Now let's talk about the ambiance. Adding lighting will instantly uplift the overall appearance of your backyard. And nothing can beat the beauty of string lights. It is one of the best ways to draw attention to your outdoor living area.
However, if you don't have an outdoor outlet for string lights, you can go for battery-powered lights which will brighten up your outdoor area.
4. Add Blankets
Just like comfortable cushions, a cozy blanket will amp up the comfort level, especially during winter. It can also add a pop of color, particularly if you choose to throw in a vivid hue.
Summing Up
And, there you go!
Creating a cozy fire pit space is worth it. It is a great place for socializing while grilling something over nightcaps and conversations.
To sum up, experiment with the tips mentioned above to glam up your backyard.