When you desire a good night's sleep, you try a lot of tips.
You may turn on some light and soothing music, use essential oils, wear an eye mask, etc. A night of good sleep is what will make your morning better and give you the energy to work for the rest of the day.
On the other hand, if you have not got a good sleep, you will be grumpy and irritated in the morning and not have a good day. To contribute to your sleep, you must also see if you have got the best comforter with you.
If you wish to buy a good quality one, you must not just blindly pick any. If you live in cold weather, a comforter is your savior from the extreme temperatures.
You must pick only the best comforter to get a warm and comfortable night and to wake up with a smile. Whether you live in a moderately cold place or an extremely cold place, a comforter is made for everyone.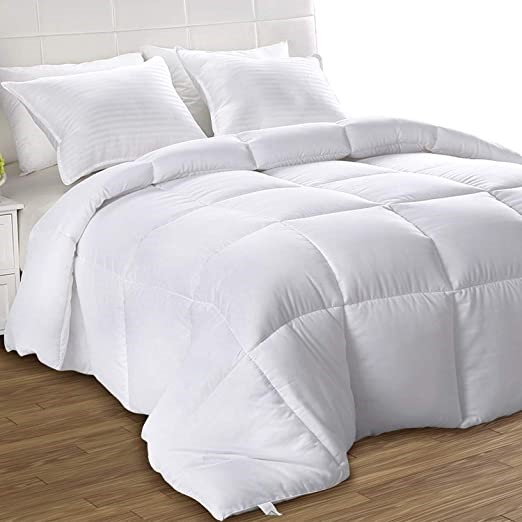 When you are shopping for your next comforter, consider a few important details before selecting one from the lot. Always remember that a comforter is as important as a comfortable bed.
---
Read Also:
---
Pick a Size
When buying a comforter, you don't have to stick to the rules of buying one according to the size of your mattress. Most comforters suit the size of a single, double, or a queen-sized mattress.
If you want to order king size down comforters, you must absolutely go for it! If your partner has the habit of grabbing the comforter in the middle of the night and you are left with only the edge, you must go for one size larger.
If you are unsure about the measurements, get a measuring tape, and note down the proper measurements of the bed. If you are buying a comforter online, you can refer to the size of your bed when selecting one.
The size plays an important role when buying a comforter as you don't want it too small, either too big. You want one that fits perfectly but could be a bit oversized, according to your preference.
Check the Warmth
Before buying a comforter, you must first ask yourself how much warmth you require. Some people sleep with layers and layers of blanket and prefer to keep themselves warm all the time. But, others are happy with just a light layer of warmth.
The comforters come in various sizes as well as the warmth level. The comforters are sold from extra light to quite heavy ones, and you must pick one according to your preference. The quality and warmth of a comforter are determined by its fill power.
The very light ones have got a fill power of about 500 to 550 and are most suitable for people who live in warm climates and don't experience that much cold weather.
The heavy ones have a fill power of over 700 and are used in cold climatic conditions where cold dominates almost the entire year.
Pay Attention to the Thread Count
Even though comforters are extremely soft and fluffy, they are still a leak through the fabric. Therefore, it is important that you get a comforter that is tightly woven and has a high thread count.
This also makes the comforter a leakage-proof fabric and a better one to buy. A good thread count means that the feathers that are used to fill the comforter don't sneak out.
So, when you are buying a comforter, make sure you get a tightly woven one. Most companies make comforters with a high thread count to protect the fill from spilling out.
Determine your Budget and Choose One Accordingly
The most expensive comforters are made of high quality pure, white, and anti-allergic materials. If you are not restricted by your budget, you must go for this high grade down comforters and enjoy the warmth and feeling of using the best goose down comforter.
However, if you are on a tight budget, you must find a lower grade of down, lesser fill power, and lesser down.
These are also good enough if you want to stay in your budget. However, if you want much more comfort and a better quality goose down comforter, you must try to stretch your budget.
A good investment in your comforter will go a long way, and you will also get a guarantee from the company. A comforter is something that you don't buy that often, and if you are buying one to beat the cold and stay warm, you might as well go for a higher quality one.
If you look thoroughly, you might also get a discount or be able to buy at a special rate through specific websites.