Pressure washing is a powerful and versatile cleaning technique that has become increasingly popular in recent years.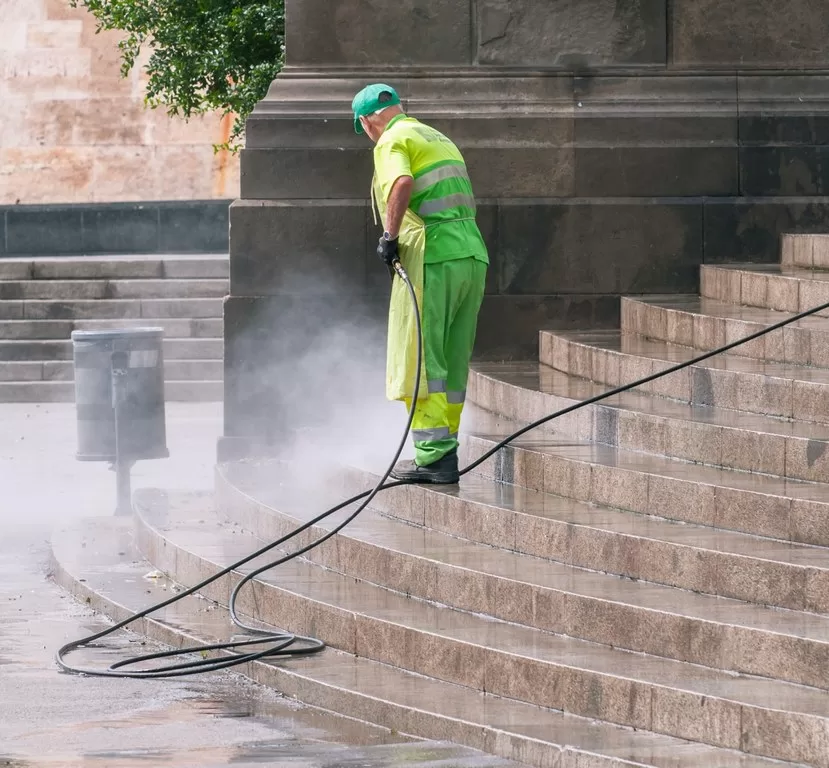 Whether you need to spruce up your home's exterior, remove stubborn stains from your driveway, or restore the shine of your patio furniture, pressure washing can get the job done efficiently and effectively. However, not all pressure washers are created equal.
There are different types of pressure washing machines available on the market today, each designed for specific tasks and equipped with unique features. In this article, we will explore the eight different types of pressure washing and help you understand which one is best suited for your cleaning needs.
What is Another Name for Pressure Washing?
Another name for pressure washing is power washing. Both terms are often used interchangeably to describe the process of using high-pressure water jets to clean and remove dirt, grime, mold, and other unwanted substances from various surfaces.
Power washing is a highly effective method for deep cleaning and restoring the appearance of surfaces such as building exteriors, decks, sidewalks, driveways, and even vehicles.
While pressure washing focuses on the use of water under high pressure to clean surfaces, power washing combines water with heat and detergent for more stubborn stains.
The addition of heat helps to break down grease and oil residues effectively. Power washers are equipped with heating elements that allow the water temperature to reach around 200°F (93°C), enhancing their cleaning power in certain applications.
Both pressure washing and power washing can make a significant difference in the cleanliness and overall aesthetic appeal of various surfaces. Whether you choose one over the other may depend on the specific needs of your project or if you require extra heat or detergent to tackle particularly tough stains.
Regardless of which term you prefer to use, these methods offer an efficient solution for maintaining pristine surfaces while saving time compared to traditional manual scrubbing methods.
1. Understanding Pressure Washing
Pressure washing, also known as power washing, involves using a high-pressure water spray to clean and remove dirt, stains, and contaminants from various surfaces. The force of the water is adjustable, making Pressure Washing suitable for different materials and levels of cleaning intensity.
2. Residential Pressure Washing
Residential pressure washing focuses on cleaning the exterior surfaces of homes. It includes cleaning siding, windows, gutters, and outdoor furniture. Regular residential pressure washing enhances curb appeal, prevents damage, and creates a healthier living environment by removing mold and allergens.
---
Read Also:
---
3. Commercial Pressure Washing
Commercial pressure washing is tailored to businesses and commercial properties. It covers everything from storefronts and sidewalks to parking lots and warehouses. Maintaining a clean and well-maintained exterior boosts the professional image of a business.
4. Deck and Patio Cleaning
Wooden decks and concrete patios are susceptible to dirt and weather-related damage. Deck and patio pressure washing removes stains, algae, and grime, restoring the appearance and safety of outdoor spaces.
5. Driveway and Sidewalk Cleaning
Driveways and sidewalks can accumulate oil stains, dirt, and tire marks over time. Pressure washing restores these surfaces, making them safer and more visually appealing.
6. Fleet and Vehicle Pressure Washing
Pressure washing isn't limited to stationary objects. Fleet and vehicle pressure washing is used by businesses with vehicles, such as delivery trucks and buses. Regular cleaning not only enhances the vehicles' appearance but also extends their lifespan by preventing rust and corrosion.
7. Graffiti Removal
Graffiti can be unsightly and damaging to surfaces. Pressure washing is an effective method for graffiti removal from walls, fences, and other affected areas, restoring the original appearance.
8. Roof Cleaning
Roof cleaning involves using low-pressure washing techniques to remove algae, moss, and debris from roofs. This not only improves the aesthetic appeal of the property but also prevents potential damage to the roof's structure.
FAQs (Frequently Asked Questions)
Is pressure washing safe for all surfaces?
Pressure washing can be safe for most surfaces when done correctly. However, some delicate surfaces may require a gentler cleaning approach.
How often should I schedule pressure washing for my home?
The frequency of pressure washing depends on factors like your location, weather conditions, and the type of surfaces. Generally, annual or biannual pressure washing is recommended for homes.
Can pressure washing damage surfaces?
Using excessive pressure or incorrect techniques can damage surfaces. Hiring a professional pressure washing service ensures that the right pressure levels and methods are used.
Are there eco-friendly pressure washing options?
Yes, many pressure washing companies offer eco-friendly cleaning solutions that are safe for the environment while still providing effective cleaning.
Can pressure washing remove tough stains?
Pressure washing is effective in removing many tough stains, but results may vary depending on the stain type and surface material. Professional pressure washing services have the expertise and equipment to tackle challenging stains.
Conclusion
In conclusion, pressure washing is a highly effective method for cleaning a variety of surfaces and removing stubborn dirt and grime.
Throughout this article, we have explored the eight different types of pressure washing techniques, including power washing, soft washing, and steam cleaning. Each technique offers its own unique benefits and is best suited for specific cleaning tasks.
Whether you need to clean your home's exterior, remove mold and mildew from your deck, or restore the shine to your driveway, there is a pressure washing technique that can get the job done.
By understanding the differences between these techniques, you can make an informed decision about which one is right for your needs. So why wait?