Stained glass is a beautiful and unique art form that has been around for centuries. It is created by combining pieces of coloured glass to create a design and then firing it in a kiln to fuse all of the pieces together.
There are many different techniques that stained glass artists use to create their masterpieces, and each one has its own unique challenges. But no matter what method is used, creating stained glass is always an intricate and skilled process.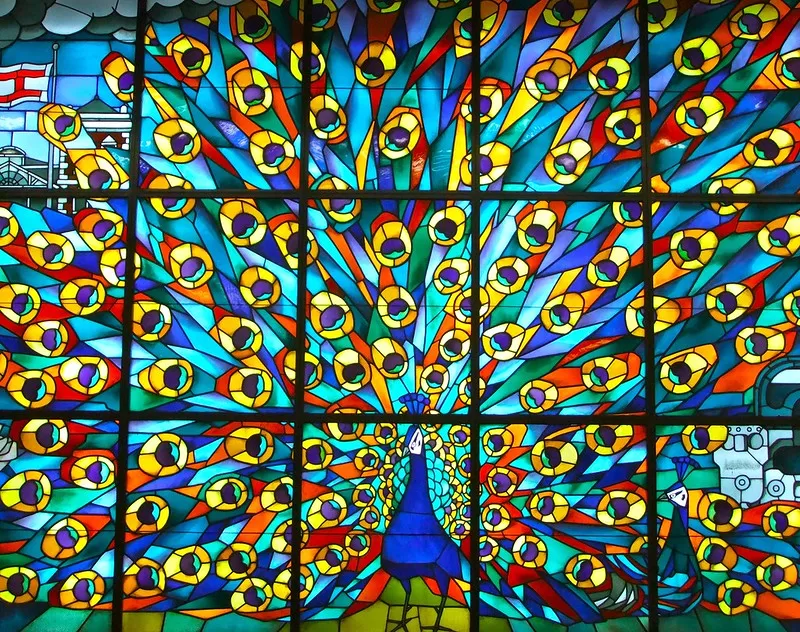 History of Stained Glass
The glass was made as early as 5000 years ago, and stained glass has existed since the 4th century. Once Gothic cathedrals appeared in the 12th century, the business of making stained glass flourished.
In 1843, William Jay Bolton placed the beginning of the stained glass era in the USA, with his business producing stained glass windows for churches. However, the American movement for stained glass making started truly blossoming at the end of the 19th century, when American glassmakers traveled to Europe to get inspired by medieval stained glass architecture.
Today, over 90% of stained glass production is used in city architecture for windows, lamps, decorative ornaments, and other beautiful figurines, which passionate collectors would adore.
---
Read Also:
---
What are The Different Types of Stained Glass?
When we think of stained glass, we often envision beautiful churches with colourful windows. But stained glass is much more than just pretty decoration – it is actually coloured glass that has been treated to produce a specific hue.
Depending on the materials used and how stained glass is created, there are several different types.
Painted Glass
Some people misunderstand the term and think the colour has been painted onto clear glass. In reality, the colour is inherent in the glass itself and is determined by its chemical content.
Glass painting, as mentioned in this context, refers to the use of a single pigment by a glass painter, which is then made permanent through firing. This helps to delineate design concepts and ideas. The density of the pigment can be controlled to produce opaque lines, or it can be modulated in texture to reduce halation and temper light as desired.
Etched Glass
Etched glass, also known as Flashed glass, is created by combining two colours of molten glass, one much thinner than the other. The thinner layer can be etched away with hydrofluoric acid to produce designs in two colours on one piece of glass.
Sandblasting away the coloured skin of glass produces a similar effect to etching, but with a denser texture, that contrasts sharply with the transparency of the untreated surface. In certain colour combinations, the frosted effect of the sandblasted areas is clearly visible, appearing as pale streaks against the dark background of untreated glass.
Laminated Glass
With the advent of clear adhesives, it is now possible to attach all sorts of glass types to plate glass. This technique allows a greater degree of creativity and spontaneity, as opposed to the more structured leaded glass. Different colours can be layered to create subtle and unique harmonies.
Leaded Glass
Lead is an ideal material for binding glass fragments into decorative panels because of its durability and flexibility. When used to frame separate pieces of colour, lead provides both a functional and aesthetic solution. By organizing lines in an interesting way, lead can become an important stained window design element.
Faceted Glass
Glass slabs can be combined and bonded together with epoxy to create a wide variety of effects. From the brilliant sparkle of chipped surfaces to the translucency of untouched slabs, or even the opacity of negative areas, the possibilities are endless.
Faceted glass pieces can add an elegant touch to any window panel, but it's essential to use them sparingly. Too many faceted pieces can take away from the overall effect and make everything look glittery. However, a few well-placed pieces can catch and reflect light beautifully, adding interest and dimension to a window.
How are Stained Glass Windows Manufactured?
In ancient times, stained glass was seen as a magical medium capable of transforming light into beautiful colours and patterns.
Today, we know that creating stained glass is both an art and a science. Using a variety of techniques, artists and craftspeople can transform plain glass into stunning works of art.
From designing intricate patterns to cutting and shaping each piece of glass, there is a lot involved in creating stained glass.
Large manufacturers take the following steps when creating stained glass windows:
Each ingredient is carefully measured according to a specific formula to get the appropriate colour, shape, and form. Glass is primarily made by fusing sand, soda, and lead oxide. The colour is determined by adding another metal oxide.
The molten glass mixture is then formed into thick sheets. Once this is done, it's coloured with a pre-determined colour. Copper oxide can colour your end product in ruby, blue, or green hues, depending on the conditions. Cobalt can create all shades of blue, Chromium and Iron can also turn it green, while Cadmium and Titanium can make it gold or yellow.
The glass is then packed into special pattern cases. The stained glass-making process is still primarily hand-crafted. After the glass shape design has been approved, the craftsperson measures the size and shape of the end product and makes a pattern. The pattern is then filled with glass.
A full-sized black and white drawing is prepared. This is a careful, exact tracing of the lead lines on heavy paper. In other words, it's a sketch of how the glass should be cut and will be later used as a guide when binding all pieces of glass together.
The drawing is cut along the black lines with double-bladed scissors. The glass makers elect the desired coloured glass and cut the shape of the pattern.
The artist might paint the glass to brighten the most desired shades of colours. While doing that, the glass is held up against the light for better judgment.
Long strips of grooved lead are placed along the inside of the laths. The piece of glass is fitted into the grooves, and additional lead strips are added until each piece of glass is inserted into the leads, according to the outline drawing.
Last inspection. The finished products are held against natural light to inspect the level of glassiness and the play of colours when illuminated. If the desired result is there, it's ready to be installed on a window frame.
And last but not least, If your stained glass windows are in need of some TLC – consider booking a professional window cleaning service. Expert window cleaners have industrial grade tools and detergents and can bring the shine back to your beautifully painted windows.