Is your kitchen overcrowded with utensils, kitchen appliances, pots, pans, and other bulky items? It is no wonder.
Many owners of small kitchens are faced with such a problem. Fortunately, there are some little tricks that can help you save space and organize your storage properly no matter how small your kitchen is. Learn how to save space and use your inches in the most effective way.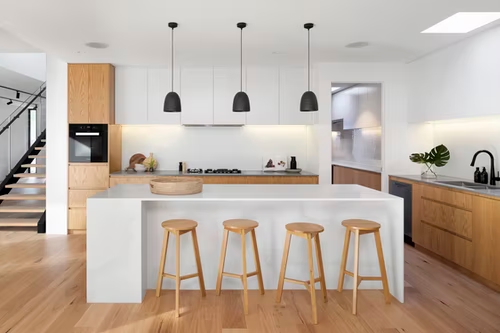 Plan Ahead
Basically, the kitchen is furniture. And everyone knows that furniture should be ordered last, but this is not entirely true.
The kitchen requires electricity and water to function, so designing a kitchen should start with a plan for the smart placement of utilities. Decide in advance where your sink will be located, and where you are going to put the refrigerator, oven, and microwave.
You also need to think over access to all communications so that you do not have to disassemble half of the kitchen if something breaks down.
Taking into account all the things that you need to consider at the kitchen planning stage, it is critically important to have an interior planning solution.
And this is where virtual staging from Spotless Agency will come in handy. Project your kitchen and walk around it even before the apartment repair is ready.
Use Top-High Furniture up to the Ceiling
In a small kitchen, every inch counts, so the main task is to use the space smartly. To do this, use all the useful wall space by installing furniture all the way to the ceiling.
The height of the kitchen skirting board can also be reduced to a minimum in order to increase the height of the lower modules. And be sure to carefully consider the filling of wardrobes and cupboards!
---
Read Also:
---
Go for Open Shelves & Niches
For furniture facades not to visually steal the space, you can completely or partially replace bulky top cabinets with open shelves. Besides that, you can also equip free "nooks" and niches that are not usually used with small shelves.
Plan Storage Capacity Smartly
The key to a beautiful little kitchen is ordered. Therefore, storage in small rooms should be thought out thoroughly.
Check all your kitchen utensils, arrange everything so that the essentials are always at hand, and find the right place for the items that you rarely use.
Put things in order in the drawers: compact spice jars, containers, special dividers – all this will help to organize the space in the most ergonomic way.
Give Preference to Functional Furniture
Furniture in a small kitchen should be as functional as possible. Instead of a large table, you can use a small round folding table. Complete the work surface with a pull-out worktop, get a compact and practical trolley on wheels.
On its shelves, you can store food and items that you always need at hand. And if necessary, it can be used as a serving table.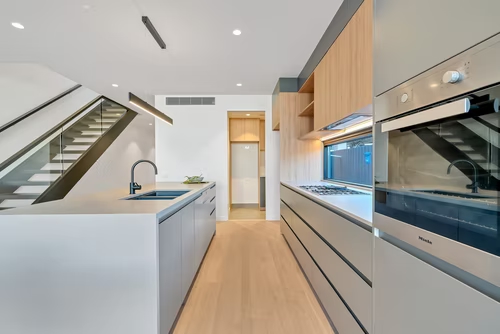 Use Hooks & Rods for Accessories
There are no trifles in the design of a small kitchen, so special attention should be paid to the storage of accessories.
Hang additional hooks or rods under the upper shelves or on a free wall: you can hang kitchen towels, aprons, ladles, pans, shovels on them. For knives, you can mount a magnetic holder on the wall if necessary.
Consider Corner Cabinets
Kitchen furniture corners are usually wasted. But modern manufacturers have good solutions that make it possible to use this space to the max.
Corner sinks, cabinets with a swivel mechanism, or corner drawers – all this will help you save your precious inches. Don't neglect corners to make your small kitchen as functional as possible!
Install Sink on the Windowsill
The sink on the windowsill is a practical solution for a small kitchen that allows you to use the free space under the window.
The only thing that should be considered in advance is the supply of water and the ability to open the windows so that the tap does not block the window. Sometimes it even makes sense to put a collapsible faucet, which can be removed if necessary.
Purchase Compact Household Appliances
A toaster, a coffee maker, a microwave oven, an electric kettle, a range hood are all basic necessities, without which it is impossible to imagine a modern kitchen. But where to keep them all? Opt for compact models.
A miniature toaster, small microwave oven, or small kettle are good alternatives to bulky models. And nowadays there are retractable and telescopic hoods, the design of which allows you to save free space without sacrificing device functionality.
Put Everything in its Place
It is very important that there is a place in the kitchen for everything you plan to use. Write a list of the kitchen utensils that you have or plan to purchase, list the food items that are usually stored in your home, think about non-built-in appliances that should have their place in the room.
And, based on this, create your future kitchen. The key rule to follow: you don't have to adapt to the kitchen, but the kitchen should be created according to your lifestyle and your needs.