With $538 billion spent at home improvement stores in 2021, Americans are willing to spend good money on enhancing the value and enjoyment of their living spaces.
While home improvement projects can seem overwhelming, they don't have to be and with a little guidance, anyone can begin sprucing up their home.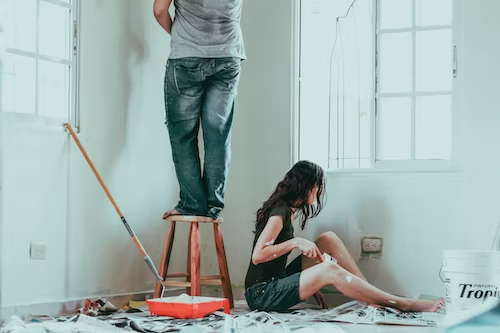 Whether you're a novice or an experienced DIY enthusiast, there are plenty of simple projects that can improve your home and boost your confidence in tackling bigger tasks.
In this article, we've outlined some simple home improvement projects that can be easily undertaken, regardless of skill level, helping you enhance the look and feel of your home.
1. A Lick of Paint
Painting a room can be a simple and affordable way to transform the look and feel of a space. Before you begin, consider the color scheme you want to achieve and purchase the necessary supplies, such as paint, brushes, rollers, and tape.
Be sure to prep the room beforehand by covering the furniture, removing fixtures, and repairing any holes or cracks in the walls. Click here to find out more information on wall repair services.
Applying a wall primer before painting can ensure a smooth and durable finish by providing a good surface for the paint to adhere to. You can then begin painting from the top down, using a roller to cover large areas and a brush to reach corners and edges.
Apply two coats of paint for a professional finish, and wait for it to dry before replacing fixtures and furniture. A fresh coat of paint can breathe new life into any room, achieving astonishing results with little effort.
2. Update Your Lighting
Updating your lighting can have a dramatic impact on the ambiance and functionality of your home. Whether you're looking to create a cozy atmosphere or brighten up a dim space, changing your light fixtures can be a simple and affordable solution.
Begin by identifying the areas in your home that could benefit from new lighting, and determine what type of fixture will work best in each space. For example, a pendant light can add elegance and character to a dining room, while recessed lighting can provide subtle illumination and calmness in a bedroom.
When selecting a new fixture, it is also important to consider the size, style, and finish to ensure it complements the rest of your décor and enhances the overall atmosphere of your living space.
3. Install Shelving
Installing shelves is an excellent way to maximize storage space and showcase your favorite items in a stylish way. These simple-to-install features are not only functional but can also add an element of design to a room.
Start by measuring the area where you wish to put up your shelf and decide on the type of shelving that best suits your needs and preferences such as floating shelves, built-in shelves, decorative brackets, or wall-mounted shelves.
Once you've selected your desired shelving type, use a level to mark where the shelves will go and install the brackets according to the manufacturer's instructions.
Finally, add your shelves and arrange items such as books, plants, or vases in a way that complements the style and décor of the room.  With this simple addition, you can create a more organized, functional, and beautiful space.
4. Upgrade Your Faucets
Replacing old, outdated faucets in your kitchen or bathroom is an easy and affordable upgrade that can instantly give the room a modern and contemporary look. With so many faucet options available, find one that suits your budget and preferences.
Whether you opt for bridge, wall-mounted, touchless, or waterfall faucets, make sure they will complement your decor and add to the overall look and feel of the room.
Not only will new faucets enhance the aesthetic appeal of your home's interior, but they also provide improved functionality, such as better water flow and temperature control, making this a great home improvement option for achieving a quick and impactful result.
5. Hang Curtains
Adding curtains to a room can be a great way to add a touch of style and sophistication to your home decor. Whether you're looking to introduce color or texture to a room, or simply wish to create a cozy and inviting atmosphere, curtains are a great way to enhance the visual appeal and feel of a room.
In addition to controlling light and sound, they also provide privacy and even help to insulate your home. When choosing curtains for a room, consider the function of the space and the amount of natural light it receives, choosing a style, fabric, and color that will complement the room's decor and create your desired atmosphere.
Installing curtains is a relatively easy DIY project that can be completed in a short amount of time, making it a perfect weekend project. Measure the height and width of the window to ensure the curtains fit properly and provide adequate coverage, and choose a suitable material to achieve your desired effect.
Consider factors such as the amount of natural light in the room, the level of privacy desired, and the overall style and ambiance of the space. Additionally, consider the practicality of the material in terms of care and durability.
6. Upgrade Cabinetry
Upgrading cabinetry around your home can have a significant impact on the overall look and feel of your living space giving it a fresh, new look.
This can range from replacing fixtures and fittings such as handles, hinges and knobs for more modern or stylish alternatives while painting or staining your existing cabinetry is a relatively easy way to refresh its appearance.
You may also want to consider installing new features such as under-cabinet lighting or pull-out shelving for improved functionality.
Replacing cabinets altogether is a more extensive upgrade that can have a significant impact on the overall aesthetic of your living space. This can involve installing new cabinets with modern features such as soft-close drawers and doors, pull-out trash bins, or even refacing your existing cabinets to give them a new look.
Upgrading your cabinetry is a simple home improvement project that can breathe new life into your living space, enhancing both its visual appeal and functionality.
No matter your skill level or budget, with these simple home improvement projects you can begin transforming your space today.