Quality roof repair is essential to help protect the integrity of your home and your family. It is a  big task that requires careful planning and consideration.
Before beginning the project, it's important to understand the basics of roof repair so that you can make informed decisions throughout the process. This article will look at all these factors and more so you can plan a successful roof repair.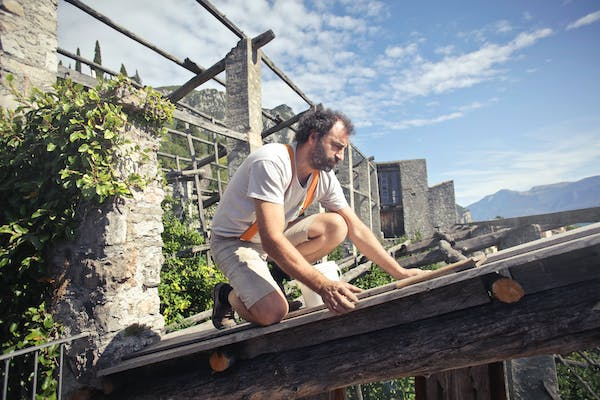 Type of Roof Damage
Roof damage can range from minor leaks to major structural problems, so it's essential to know the type of roof damage to determine the extent of work needed and the most cost-effective course of action. Common types of roof damage include the following:
Broken or missing tiles or shingles: This damage is usually caused by extreme weather conditions such as hailstones or high winds. It can cause water to seep into the roof space, leading to further problems such as rot and mold.
Cracked flashing: Flashing is a thin sheet of metal that seals gaps between the structure and materials used in the roof construction. If flashing becomes cracked or loose, it can cause major water damage to the interior of your home.
Damaged fascia boards: Fascia boards run along the edge of your roof and attach to the rafters of your house. If these become damaged, it can cause the rafters to become weakened and lead to further roof damage.
Leaks: Leaks can be caused by any number of factors, such as improper installation or worn-out materials. In some cases, you may need to replace the entire section of roofing material.
If you are dealing with a complex issue such as missing tiles or major water damage, consulting an experienced roofer will help you determine the best action plan.
If you are dealing with minor repairs, you can handle most of them yourself; however, it is crucial to identify the extent of the damage first and take safety precautions while doing repairs.
---
Read Also:
---
Weather Conditions
Inclement weather can prevent proper preparation for roof repair and render certain techniques and products unusable. Taking into account a specific geographical area's average monthly temperatures, precipitation levels, winds, snowfall, rain, and total annual hours of sunlight is vital for a successful repair job.
For example, asphalt shingles will not adhere correctly if the temperature is below 40 degrees Fahrenheit at the date of installation.
Planning for this variable ensures optimal results and prevents future issues with repairs or replacements. You can also set realistic expectations for how long a project will take, what resources will be needed, and prevent material damage.
Careful attention to weather conditions allows one to plan and maximize success in their roof repair project.
The Age of Your Existing Roof
Considering the age of your existing roof is vital because older roofs may require more extensive repairs than newer ones.
If you have an older roof showing signs of wear and tear, such as cracked tiles or buckling shingles, it may need replacing rather than just repairing, as trying to patch up an old roof could prove futile if it has reached the end of its life span already.
Different local building codes may dictate how old a roof must be before it is replaced, so if this applies in your area, then you should factor this into your decision-making process when considering whether or not you want or need to replace your existing roof with something new versus attempting repairs on an older one instead.
Building Permits
Repair requirements and regulations from your local government may differ depending on what kind of roof repair you are doing and where you live. Building permits can ensure that you are following safety codes and current standards.
Take the time to research any requirements needed to move forward with your roof repair project to circumvent any conflicts or delays in the process. It is also wise to consult a contractor experienced in building permit regulations to move forward, knowing all specifications have been met.
Repair Cost
When budgeting for roof repair costs, You must research and get several estimates from reliable roofing professionals to get an idea of how much your repair will cost. Be sure to factor in different materials, labor costs, inspection fees, and more. Keeping a strong grip on your budget is essential for successful repair projects.
You can also compare prices from different vendors to help you get the best possible rate. Additionally, taking advantage of any offers or discounts available is advisable.
For major repairs requiring professional help, ensure your roofer carries insurance and is properly licensed. This will ensure that they are experienced professionals who can do quality work on your roof without any issues arising.
Safety Precautions
When planning for roof repair, safety should be the utmost priority. Before taking any steps towards repair:
Inspect the roof structure to ensure it is safe and secure enough to work on.
Make sure that holding a ladder on the roof is not required; instead, use an extendable aluminum one placed on a firm and even ground.
If scaffolding is needed, ensure it complies with local regulations and is professionally maintained to provide secure support.
Anything falling from the roof should be avoided using appropriate barriers or increased safety precautions such as wearing protective gear.
Line up all materials needed to avoid multiple trips between levels, always carried safely in containers fashioned for material transport.
Working safely can prevent costly damages and injuries resulting from negligence or improper procedures during roof repairs.
Timeframe
Understanding and managing the timeline associated with the project is essential. Knowing how long your roof repair may take is critical to scheduling an appropriate completion time.
It should include a comprehensive estimate of the time needed to tear off existing materials, fix rafters and sheathing, add new materials, and complete trim work.
While unexpected problems can arise that could alter the estimates you have received from a professional, understanding these potential delays will ensure that everyone involved knows what to expect when beginning the project.
A Professional Inspection
Bring in a licensed contractor or other professional to inspect your roof before beginning repairs because they can give you an accurate assessment of what needs to be done based on their expertise rather than relying solely on a visual inspection which is not always reliable.
They can also catch potential issues that may not be visible from ground levels early on, such as rot or mold, that may only be apparent after the repair begins. This will help you avoid costly delays and mistakes, making sure your roof is correctly restored for optimal safety and performance.
Making necessary repairs to your roof is an integral part of home maintenance, and ensuring everything is done correctly is vital. While researching material costs and assessing the timeline for repairs is important, it is equally imperative to adhere to safety standards, obtain permits if needed, and bring in professionals for inspections.
With all these steps considered, you'll be sure to do the job or get it done correctly and efficiently for a sturdy and secure roof.