Most individuals think that farming is an easy profession; thus, they usually belittle farmers. However, farming is actually a highly difficult job that needs a lot of hard labor and careful management. Indeed, crops may be grown by anybody. But in reality, not everyone is cut out to be a good farm manager.
Being an excellent farm manager entails generating optimum yield and quality crops while also earning a profit and operating the farm in a sustainable manner. This is something that every farmer aims towards, whether they manage a large farm company or a small family farm.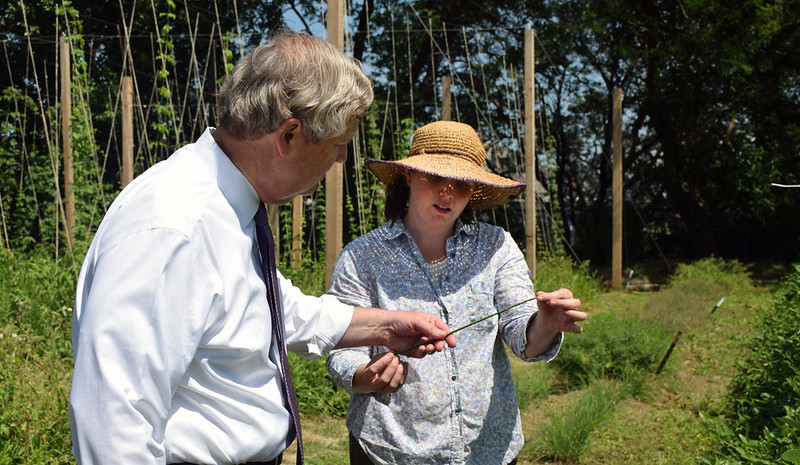 Furthermore, without question, managing a farm is a challenging task, particularly if you want to boost your farm's profitability. A manager must evaluate a plethora of factors in order to maximize his production. It will not function for you if you believe you can operate your farm the same way you did in the past.
To be a competent farm manager, you will require expert farm management and professional people. In this guide, we will discuss seven qualities that a farm manager must have to successfully do farm jobs.
1.  Social Skills
One of the most critical aspects of the farm manager's job is social skills. A good farm manager acquires the skills of negotiation, administering, bargaining, dealing with conflict, convincing, marketing, utilizing, and reacting to authority and power.
Even on estates with few or no workers, these abilities are necessary for interacting with other relatives, subcontractors, neighbors, and so on.
2.  Control Over Fundamental Facts
Effective farm managers are aware of what is going on in their operations. They understand fundamental facts, such as long-term and short-term objectives and plans, organizational knowledge, who are in the business, the responsibilities and interactions between different suppliers and customers, and how they define their own work and what's required of them.
Even if they don't save all of this knowledge, they know where to look for it when they want it.
---
Read Also:
---
3.  Problem-Solving, Analytical, and Decision-Making Abilities
The manager's role is mainly focused on decision-making. These may sometimes be constructed utilizing logical, maximizing procedures. Other choices include the capacity to balance advantages and drawbacks in what is essentially a highly unknown or confusing circumstance, necessitating a high degree of reasoning or perhaps even intuition.
As a result, the manager must acquire judgment-making abilities and the capacity to deal with uncertainties while finding a balance within the need to be directed by his subjective sentiments at times and tossing objective reasoning totally out the window.
4.  Creativity and Mental Flexibility
Handling farm activity and data management throughout a farming season may be difficult for farm managers. Hence, creativity is the capacity to come up with unusual creative reactions to circumstances, as well as the ability to recognize and adopt valuable new ways.
It entails not only having fresh ideas of one's own but also being able to identify a brilliant option when it is provided by someone else.
On the other hand, mental flexibility, even though connected to a broad level of intellect, contains the potential to recognize problems quickly, think of multiple things at once, and move instantly from one problem situation to another.
Considering the intense nature of farm management jobs, these are fundamental characteristics to possess.
5.  Related Professional Experience and Self Knowledge
This section covers technical information, such as manufacturing technology, marketing tactics, engineering expertise, appropriate laws, financial sources, and understanding of fundamental management ideas and theories, such as preparing, organizing, and overseeing.
Moreover, whatever the farm manager undertakes is influenced in specific ways by their own perception of their position and job, as well as their objectives, values, emotions, advantages, weaknesses, and a variety of other personal or 'self' aspects.
If a manager wants to maintain a reasonably high level of self-control over their behaviors, they must be knowledgeable of these self-attributes as well as the role they play in influencing their actions. As a result, an effective farm manager must cultivate perceptive skills.
6.  Continually Sensitive to Circumstances
The extent to which experienced farm managers can detect what is going on in a given environment varies. The effective manager is generally sensitive to happenings and has the ability to blend into what is happening around them.
He is observant and receptive to knowledge—both problematic information like statistics and facts and soft information like other people's sentiments. Moreover, a manager with this level of sensitivity can react appropriately to circumstances as they emerge.
This is particularly crucial in family farming scenarios where close relatives work closely together, as well as farms with a number of staff.
7.  Resilient in Emotions
The farm manager's job entails a certain level of emotional pressure and stress, which is a natural result of working in settings requiring responsibility, authority, power, social conflicts, and fulfillment of objectives and deadlines, all while operating within an environment of ambiguous situations.
Hence, an effective farm manager must be resilient enough to deal with this. 'Resilient' indicates that they perceive the stress rather than becoming thick-skinned and insensitive but can deal with it by keeping self-control but not to the point of being permanently damaged.
Becoming a successful farm manager takes a great deal of hard work and expertise. The farmer must have a certain sense of professionalism to properly run a farm, which might be challenging to obtain at times. As a result, farmers who strive for good crop production and effective farm management always have all of the above-mentioned qualities.