When it comes to the deck, balcony, or patio railing, using glass can add safety and curb appeal to your home.
While glass is predominant in interior decor, it has the potential to transform your outdoor area into a gorgeous space.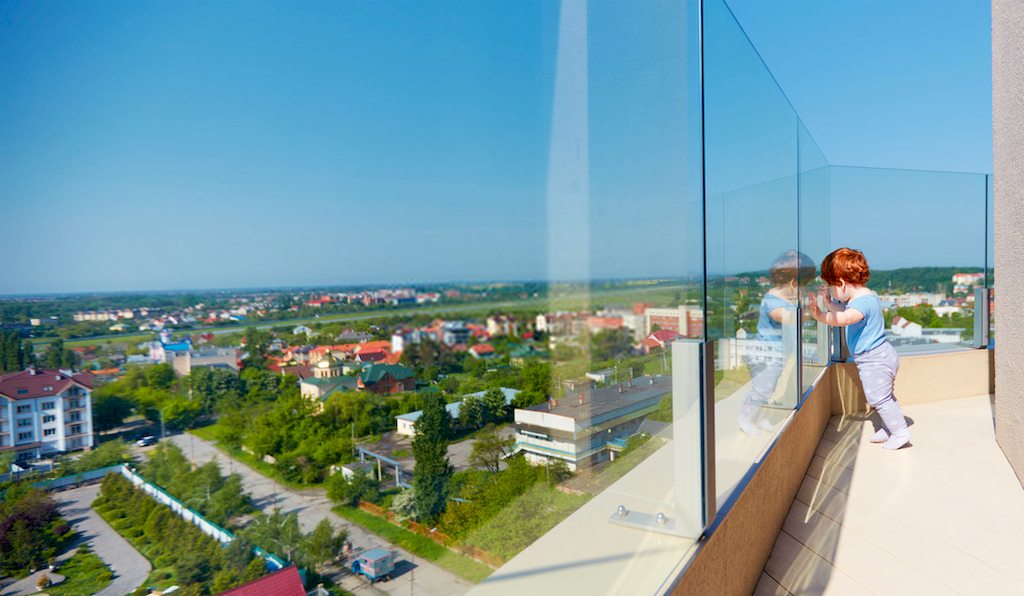 Unlike metal and wooden railing, glass doesn't impede the view and allows for a more natural flow of ambient light.
Though you might be wondering about the most suitable glass railing option that'll make your balcony shine and stand out.
So here are some tips on how to choose a residential exterior glass railing system for your home.
---
Read Also:
---
Reasons for Choosing Glass Railing for Home Decor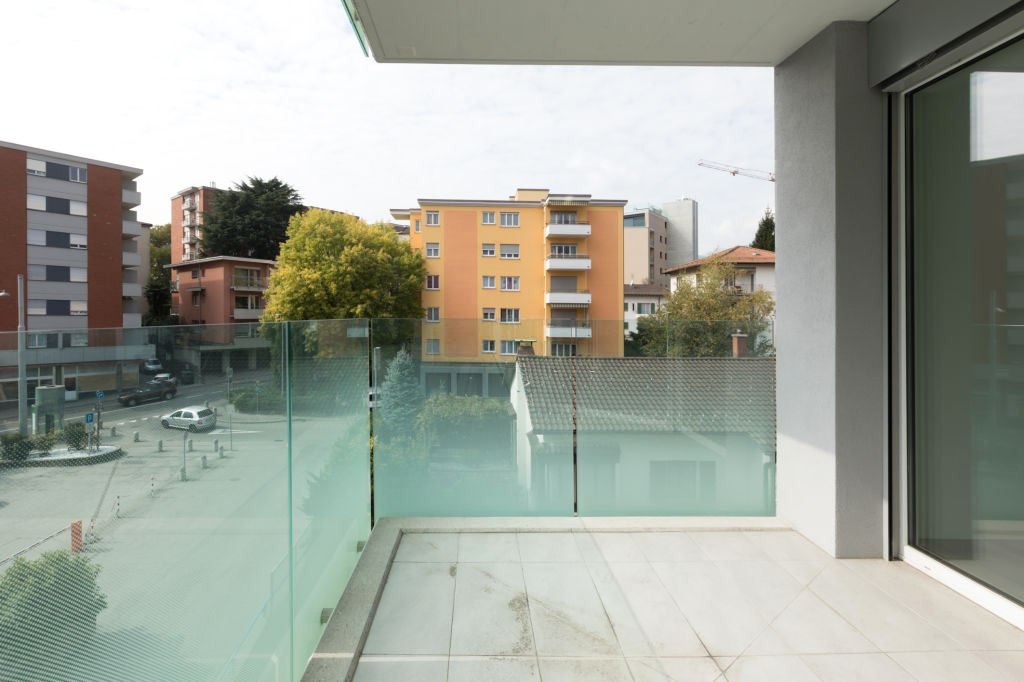 Glass railing has a high aesthetic and visual appeal especially because it offers an unobstructed view. A glass railing system can come in handy if you have a patio, veranda, or a deck that gives a nice view.
This is a great way to take advantage of your balcony area.
You can relax with friends or family and enjoy the stunning scenery, whether you're in the city or the suburbs.
It also allows for a gorgeous party setting where you feel outdoors without necessarily going out. In fact, if you opt for frameless transparent glass, you can effortlessly bring elements of nature to your home.
With the perfect blend of patio decor and an uninterrupted picturesque panorama, you're adding great value to your property. This makes it an ideal vantage point to capitalize on.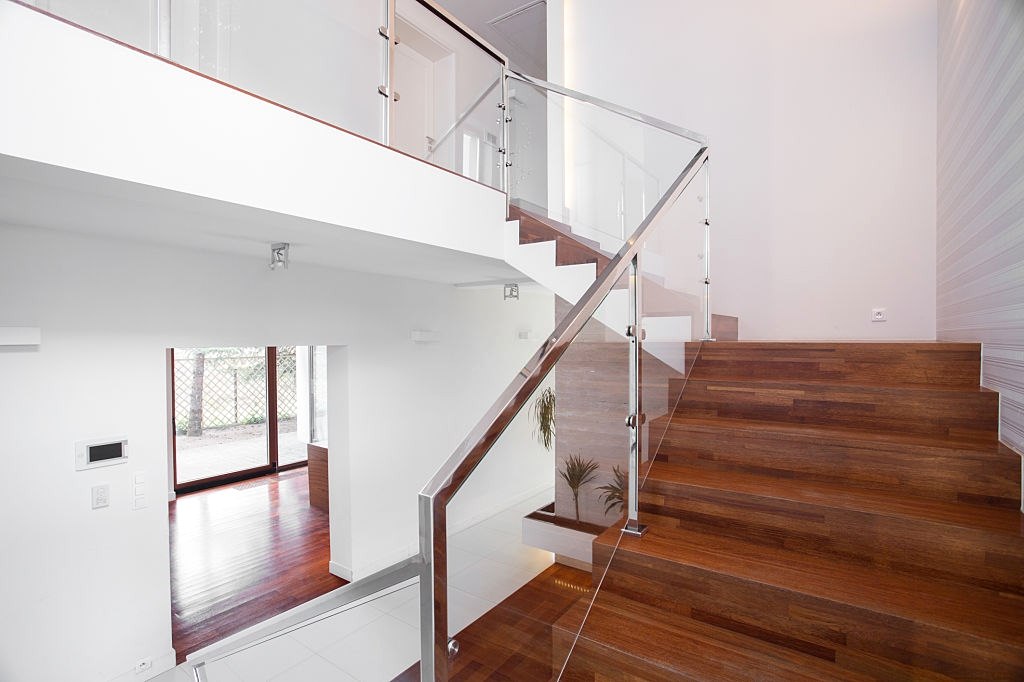 Glass railing blends super nicely with any interior/exterior and any style of architecture. It's the perfect option if you want to add a touch of urban elegance to your contemporary design.
This type of railing works incredibly well with the rustic design too. It brings the perfect balance between modern and vintage elements.
Not only that, but it will also help tie the overall look of your home exterior and interior together.
Glass minimizes structural appearance and contributes to an easier flow of natural sunlight in any room.
In addition to that, glass railing systems come in a variety of options and styles. And you can even customize it to suit your preferred aesthetic.
Opt for tempered glass for extra safety or AR coating to reduce glare. You can even get etched patterns to add a vintage feel or frosted glass for more privacy.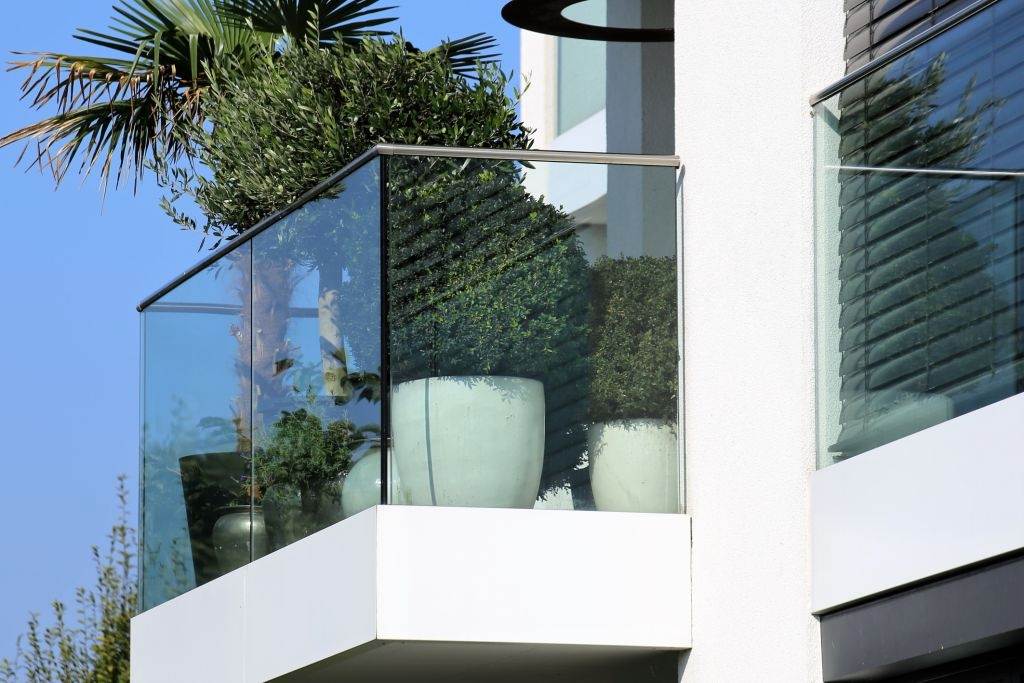 Glass railing provides your home with a secure protective barrier to prevent your pets and children from falling over.
Since glass panels are designed from one solid block, this eliminates any potential security issues. For optimal safety, you can use tempered glass as your glass option in the railing.
Tempered glass is renowned for its strength and durability. It can definitely withstand the elements, particularly the fluctuation of temperatures from extra hot to really cold.
In addition to that, in case of an accident, tempered glass will break into small round pebble-like pieces. Unlike regular glass, it won't break into hazardous shards and sharp pieces of glass.
You can also opt for a combination of glass and metal. Tempered glass panels that are secured with stainless steel balusters look gorgeous and provide additional protection.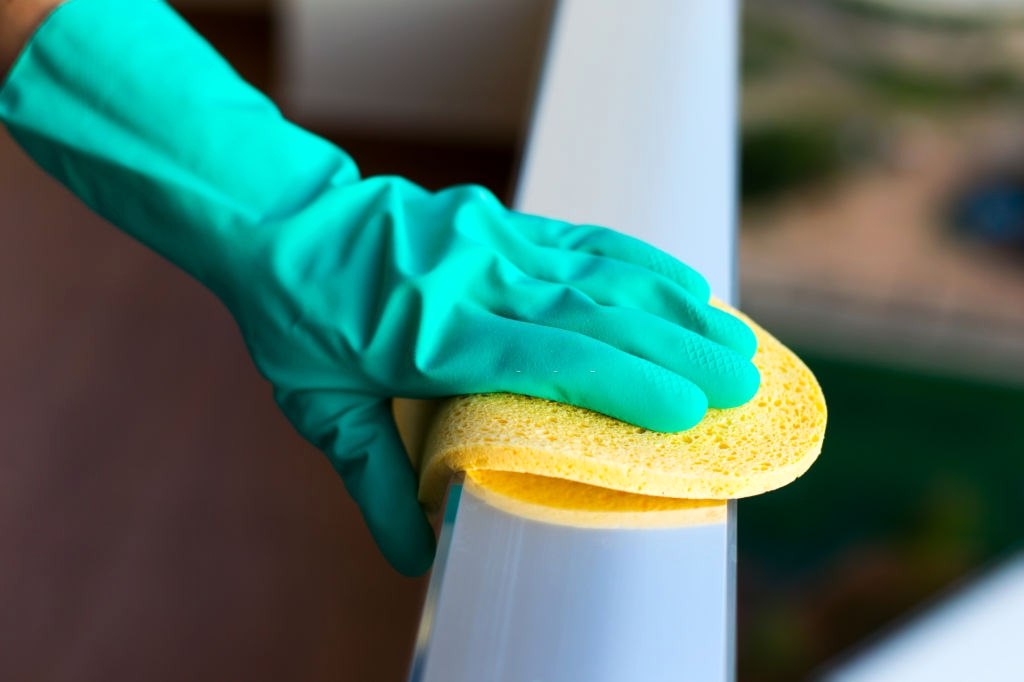 If you prefer a midcentury modern or rustic design scheme, you might think that wooden railing systems are a must.
However, the aesthetic appeal of wood doesn't make up for the hassle of maintenance it comes attached with. Preserving the flow of your interior and taking it into your exterior is a commendable concept.
The last thing you want is clashing design elements or a confusing design scheme with a lot of mixed-matched items.
Fortunately, you can get a glass railing system that will smoothly blend with the current decor. You just need to pick the right option and style.
And you never have to worry about repainting or retaining your wooden railing every couple of years. Think about how much money you'll save in the long run.
Money that you would normally spend on paint or labor. Glass railing is practically maintenance-free, besides the occasional squeegee and soap wash.
If you're not ready to part with wood just yet, you can choose wooden balusters to adorn your glass panels.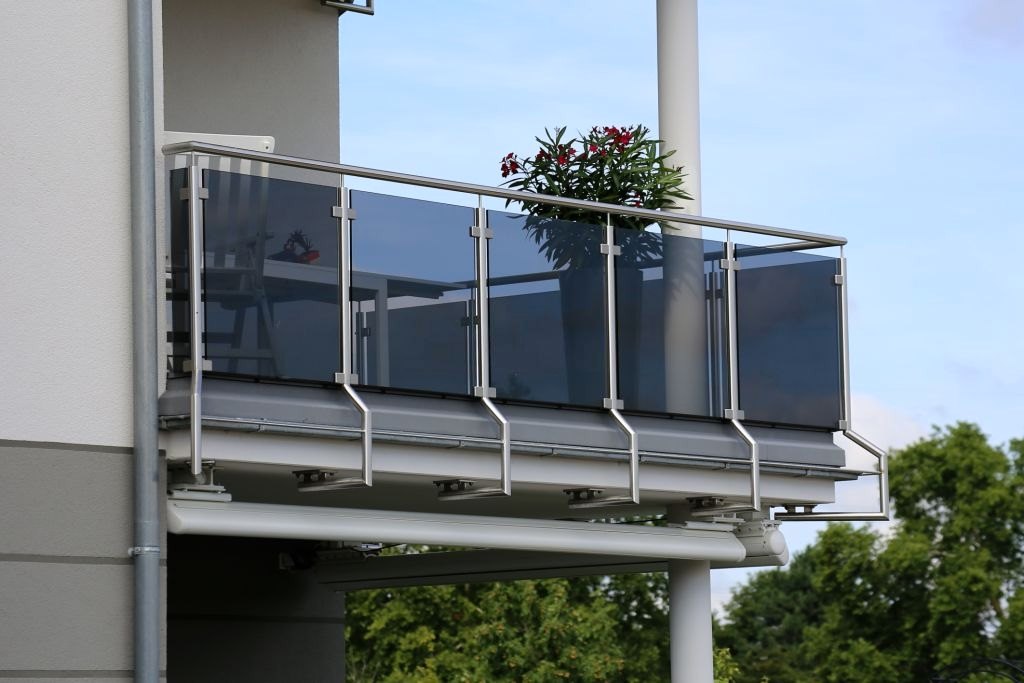 If you're looking for a good durable deck railing system, you won't find a better option than glass railing.
The majority of glass railing is made from one-quarter-inch thick tempered glass. This means that when exposed to daily stressors, your glass railing will not break or collapse.
In addition to that, it won't corrode or oxidize at all, unlike its wooden or metal counterparts.
Glass is a very resilient material and won't deteriorate because of the elements. Not only that but it's also highly resistant to UV damage and moisture. It won't rot, rust, or break down.
This is why it has the longest lifespan out of all railing materials. So unless there's a heavy impact or an accident occurs, your glass railing system will stand the test of time.
What Famous Options of Glass Railings are Available?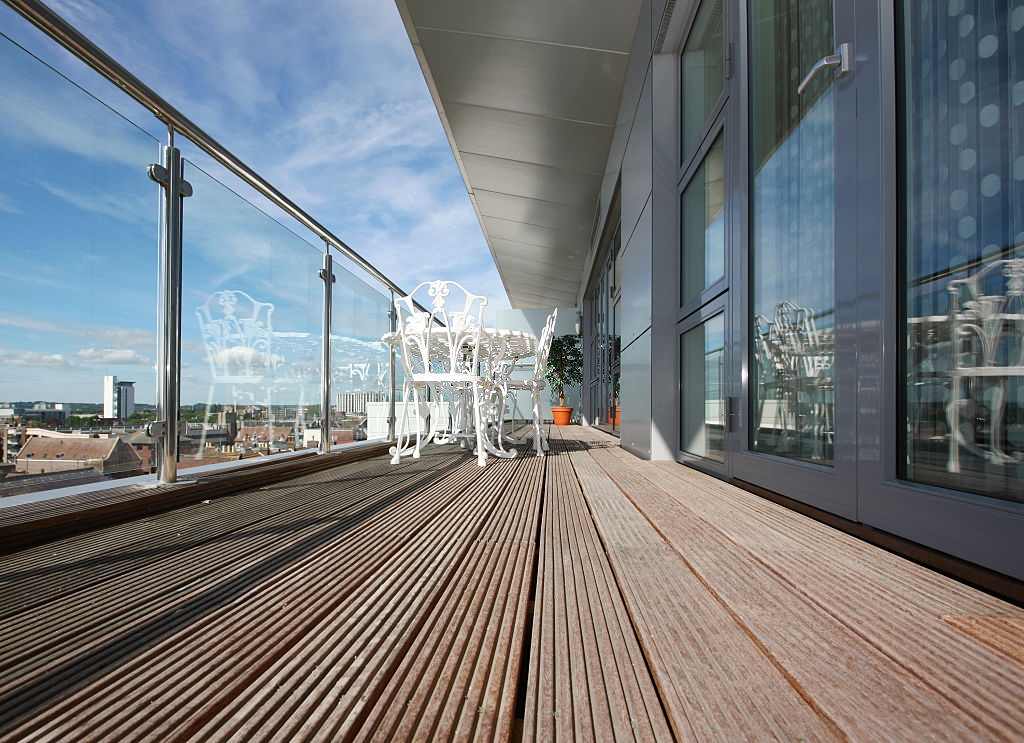 Whole glass panels trap heat inside your patio and block any wind or cold air from infiltrating your home.
So during the harsh winter months, you can rest and rely on the insulation that whole glass sheets offer. This is particularly useful if you live near the water or in a mountainous region.
In addition to that, full glass panels allow you to take in the infinite panorama all in one take.
Zero obstructions! So you get to enjoy the gorgeous scenic view of snowfall in the cozy comfort of your own home.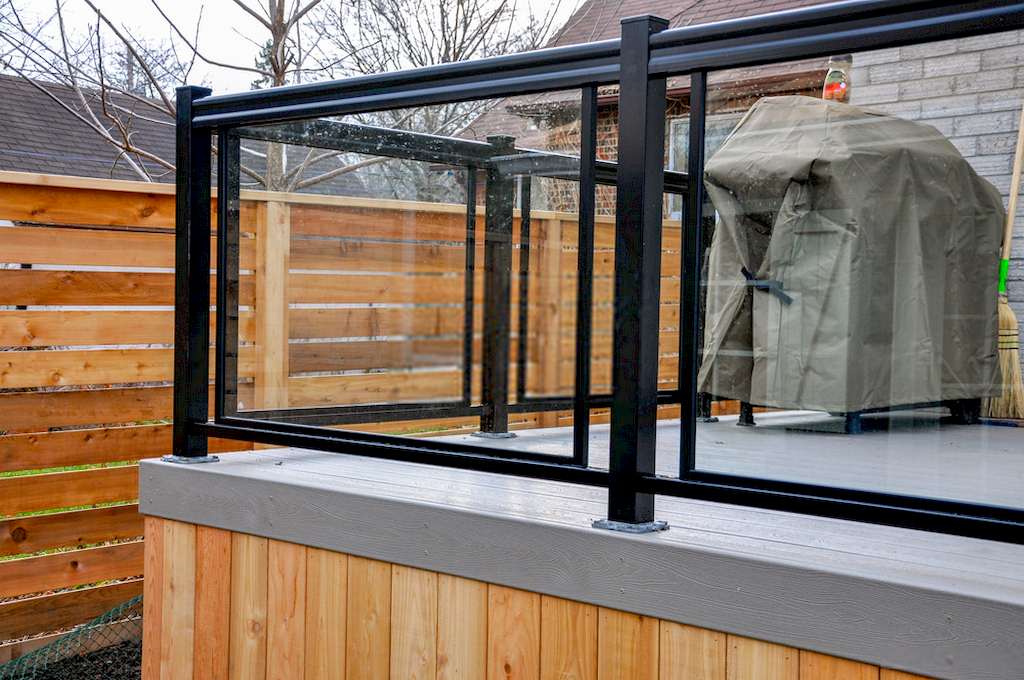 Glass balusters are the most popular choice among all glass railing systems. People also commonly refer to them as framed glass panels.
This type features same-size glass panels held together in a place by some sort of frame. The frame could either be metal or wood.
For maintenance reasons, a lot of homeowners opt for aluminum or stainless steel frames to avoid any deterioration.
Which Option is Recommended for Your Home?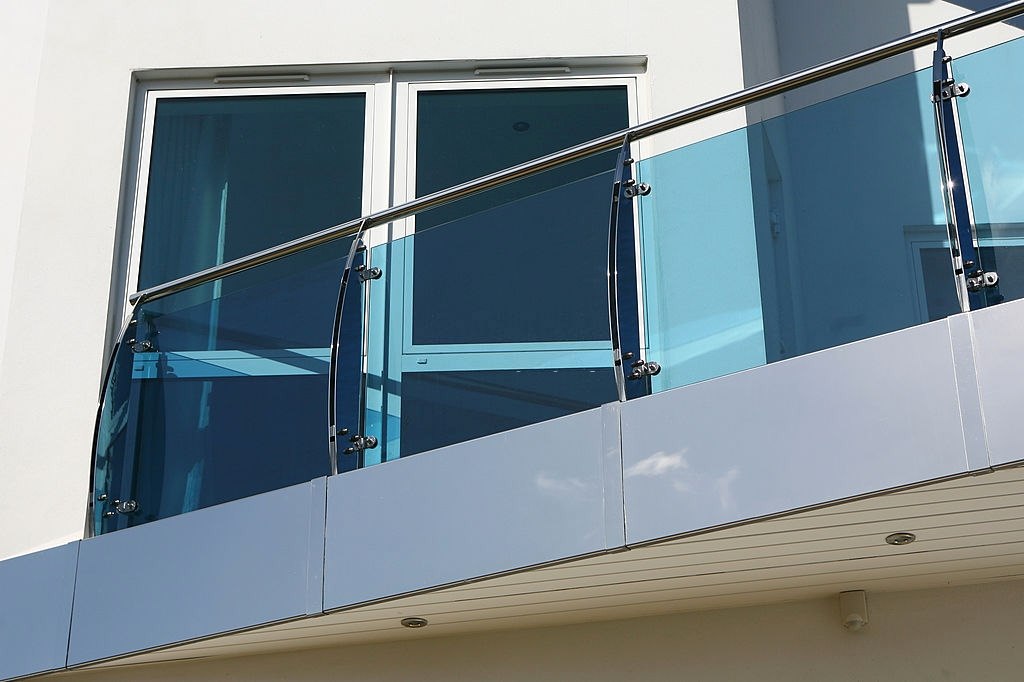 At Fab Glass and Mirror, we offer a variety of glass panels to choose from. If you have pets or children, get tempered glass sheets for extra protection and safety.
If you live in a big city or teeming neighborhood and you value your own privacy, choose frosted glass.
And if you prefer vintage or rustic decor, get your glass sheets etched with the pattern of your own choosing.
Now onto the options of the railing! If you live in a cooler climate that is frequently subject to chilly winds, you need a solid railing system.
Full glass panels will provide your home with the security it needs and the added benefit of temperature control.
In addition to the unimpeded view they offer, you also benefit from the greenhouse effect they generate.
On the other hand, balustrades are ideal for hotter climates. They release any trapped heat and allow the cool breeze to filter in.
Glass balusters add that desired touch of elegance without obstructing neither the view nor the ventilation.
Unlike fully closed off glass panels, they don't create a greenhouse effect. So you can enjoy sitting in your patio even during the hottest months of the year.