Because of its numerous advantages, the use of IBCs across a wide range of industries has grown tremendously. Some of the major benefits of IBCs are as follows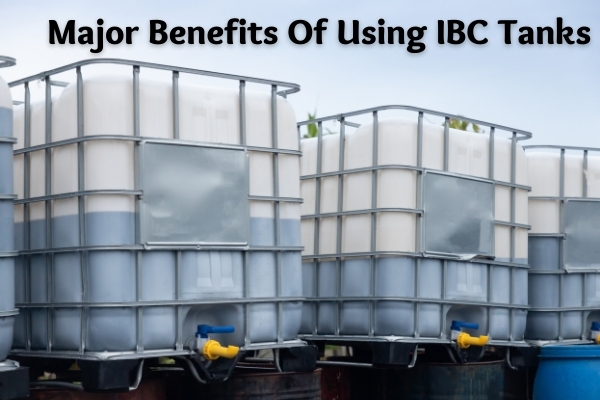 Friendly to The Environment
IBC tanks' ecological qualities are some of the reasons many people are continually adopting the use of these containers.
The construction materials used to make IBCs are all reusable and are recycled during the manufacture of new tanks.
Many manufacturers of IBC have a tank recycling policy that allows them to remove and collect IBC tanks that are no longer needed or in use by tank-owning companies.
Also, during the production of IBCs, manufacturing companies must work in environmentally friendly warehouses, closely limiting the amount of Carbon Dioxide (CO2) emission in the air, greatly reducing air pollution.
On a wider scale, IBC tanks are made of chemically inactive material, allowing the transportation of water or other liquid products without the risk of pollution, chemical reaction, or leakage of hazardous fluids/materials.
Additionally, IBC containers can be reused for a number of purposes, creating many cost-saving avenues for the owning companies to avoid resource wastage.
---
Read Also:
---
Ibcs Tanks Are Compact Storage Options
Most storage alternatives for business organizations end up being bulky, occupying a lot of space in the storage area.
On the other hand, IBC tanks are able to save large on spaces on vehicles or warehouses, helped by their compact design.
275 gallon IBC totes allow business organizations to store large volumes of a product/merchandise/items in a relatively small space, cutting down on storage costs and eliminating the need to procure extra containers.
They Are Highly Durable
The construction design helps IBC tanks endure a much extended period of use and storage of heavy-weight materials.
These tanks are made of hard plastic and reinforced with steel to enable them to handle difficult uses and tolerate negative impacts from weather elements like high temperatures and sunlight.
With a high work output, IBC tanks have been known to have a useful life of up to twenty years.
More often, owners of IBC tanks must subject the tanks to a stress test after every five years to confirm their tanks are still in a good functional state.
At the same time, a problem that is revealed during this test is addressed immediately for the tank to return to work again.
They Support Operational Efficiency
Many people/businesses purchase IBC tanks for their remarkable ability to support high work and operational efficiency.
The design of IBC tanks allows for swift filling and emptying of contents in and out of the tanks, for owners/business operators to save time and increase ease of shipping a product.
The ability to quickly load and transport and offload a good from IBC tanks minimizes the risk of logistical delays or damages.
The Design Can Customized to Suit Customer's Needs
IBC tanks stand out from conventional tanks because they can be customized to fit the buyer's design requirements.
IBC tanks can be made with varying shapes, a number of valves/outlets, and a mixture of pallets if that is what the client/buyer wants.
Also, most manufacturers of IBC tanks allow clients to submit sketched logos to the manufacturing area/factory for the logo to be imprinted on the sides of the containers.
Prevention of Contamination
IBC tanks have the necessary design features required to safely accommodate and hold different kinds of products, significantly lowering the risk of product contamination.
For instance, the tanks' exterior walls are thickened purposely to resist indents and scratches, which limits the entry of foreign matter into the tanks.
Also, the tanks' valves are made with special seals that completely cover the area around the valve, limiting even a drop of liquid product from leaking out of the tank.
For added security, particular models of IBC tanks are made with resin liners to provide extra strength in the tank.