Moving to a new home is like realizing a long-held dream. New place, a new start, a chance to do things differently for you and your family. It can be exciting to see something you've been working towards come to fruition.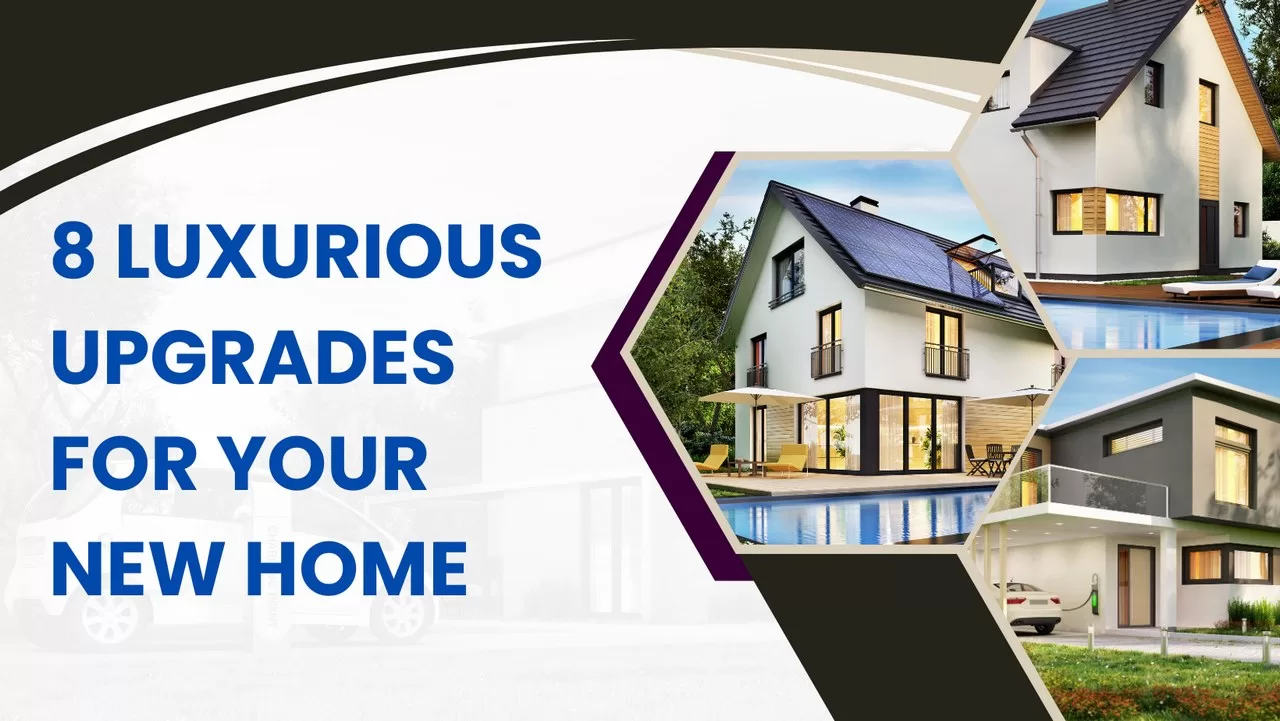 Prior to moving into your new home, plan ahead for all the improvements and alterations you'd like to make. Moving isn't enough. You should improve certain home features to make life easier for your family. The key to upgrading your new home is balancing wants and needs.
How to Upgrade Your Home Successfully?
Feeling overwhelmed when it comes to improving your new home is natural. Choosing the most appropriate upgrades can be challenging with so many options available.
A custom design guide will enable you to identify the most critical aspects of your home. As you build your new home, consider what amenities and features you need. If you use a custom home design guide, you can determine what upgrades are appropriate for you.
A custom home design guide will lead you in upgrading and renovating your home's structural and aesthetic features. It is possible to make a home appear modern and discreet.
The Best Luxury Upgrades for Your New Home
Creating one's ideal home is one of life's greatest joys. Building a new home requires serious consideration of the details that will make it stand out. Investing in opulent features for your new house is one of the best ways to achieve this. Below are some of the most popular upgrades for new homes:
1.  Appliance Upgrades
Invest in some of the latest home appliances if you want your new home to be exactly as you envisioned. The first recommendation is to replace your microwave with a convection oven. Compared to microwave ovens, convection ovens heat, and reheat food quickly. They are better at grilling, baking, roasting, browning, and crisping than conventional microwaves.
Get a dishwasher installed in your kitchen next. Adding this enhancement will make cleanup even easier on busy weeknights. Also, if you rarely spend the weekend alone, you'll have less work to do then. Invest in a high-quality refrigerator with multiple drawers and shelves for optimal organization and maximum freshness. It saves money and reduces food waste when a fridge is organized.
2.  Granite Countertops
Your new home will look luxurious with granite counters. Granite is an excellent material for high-end kitchen countertops because it's highly polished. Heat, scratches, or stains will not damage natural stone.
Granite is the best choice for kitchen countertops in homes with kids and pets because it is easy to clean. Properly maintaining granite countertops can extend their useful life. Professional installation with the help of an architectural home designer is essential for durable granite countertops.
3.  Invest in a Luxurious Bed
When adjusting to your new home, one primary goal should be comforting. You don't want to deal with back pain in the morning or stiffness at the end of the day. A soft mattress is one of the most luxurious things you can add to your bedroom.
People don't think about mattresses until they have trouble sleeping. However, mattress quality can affect your health. A luxury mattress rejuvenates your sleep so you can wake up refreshed.
---
Read Also:
---
4.  Upgrade Your Flooring
Flooring is one of the first and most important features guests will notice in your new home. Investing in new flooring can help turn a new house into a home. You may also consult an architectural home designer to choose the best flooring for your new home.
Make the most of your space by choosing wood or tiles. You can achieve a sophisticated look and feel with various flooring options. It is striking how different carpeted rooms are from those with hardwood or tile floors.
Consider hardwood or tile flooring instead of carpeting in your bedroom; your home will look luxurious. Hardwood floors require more maintenance, but the benefits outweigh it. Your home will look cleaner and more modern with tile flooring.
5.  Install a Modern Tile Shower
Any shower area can be upgraded with the addition of tile. Tile is low-maintenance because it can be cleaned and repaired quickly. Any bathroom, from the smallest powder room to the largest master bathroom, is a good candidate for a tile shower.
Tile showers are perfect for use in compact bathrooms with limited space. A more traditional look can be achieved by installing stone tiles with an antique finish. The natural appearance of tiles will go well with the rest of your home's classic details.
Use glass panels instead of tiles if you're short on wall space to achieve a contemporary look. The large amount of glass in today's showers makes them an aesthetically pleasing addition to today's bathtubs. A rain-style showerhead is a nice touch as well. Your house will look like a custom-designed house and use significantly less water.
6.  Hang a Chandelier or Pendant Lamp
Adding a chandelier to your home adds elegance and class. Their intricate crystal and metalwork are awe-inspiring when displayed in lavish dining rooms. A chandelier adds a glamorous touch to a living room or bedroom.
Pendant lamps create an original and visually striking ambiance by hanging from the ceiling. Make your home look stylish with pendant lighting.
7.  Install an Upgraded Windows
In regions with extreme temperatures and precipitation swings, sturdy windows are critical. Thus, investing in top-notch windows is crucial. A home's windows influence its look, feel, and functionality. They impact an area's aesthetic quality by regulating natural light.
Adding updated windows to your home will increase its value and energy efficiency. An elegant home looks great with windows featuring decorative glass designs. It is the best design of a house that will enhance your sense of luxury to install these windows.
8.  High-Tech Security System
Modern security systems ensure the optimal protection of your new home. Your home will instantly feel safer with this long-term investment.
Whether you're home or away, you can monitor your entire house so you won't come home to a mess. Technology has made it possible to keep your kids and pets safe, even when you're away.
Conclusion
Make some changes to the interior or exterior of your ideal home after you have purchased or constructed it. Improving your living space is a fun and creative way to make it feel more like home.
Moving into your new house marks a fresh beginning. You can find a comfortable home with all the amenities you require. The value of your home and quality of life rise with improvements. Consider the tips provided in this article when planning a luxury home upgrade.