Your living room is one of the places open to your visitors; therefore, you need to make it cozy with ideas that will transform your front room space.
With the help of interior decorators, your living room will be thrilling with features of modern art, antique paintings, glass décor and Victorian or Tudor furniture, and paintings.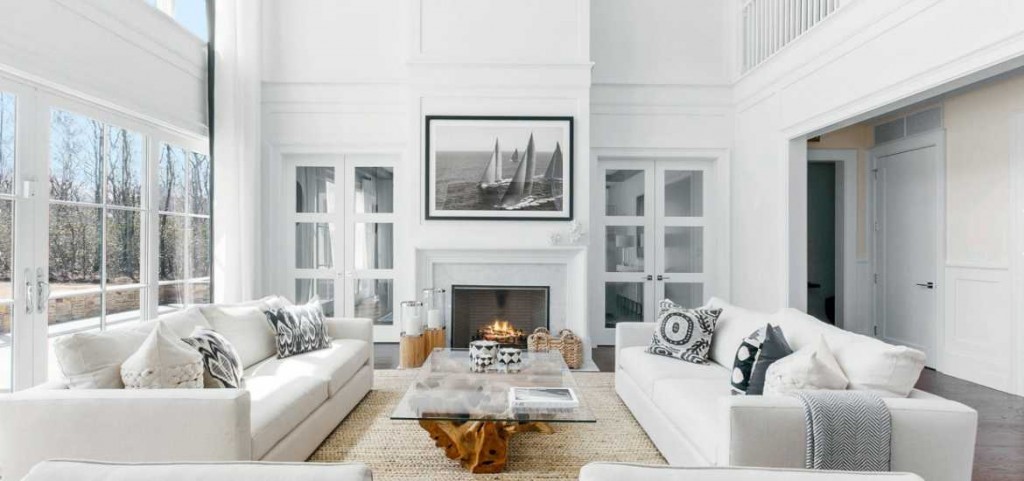 The experts here at Antique Shop Sydney know precisely how to create a comfortable space. Below, we present to you ideas for your living room décor and furniture.
---
Read Also:
---
1. Luxurious Velvet Sofa Living Room Design
You can change the usual to extraordinary by mounting a lavish velvet settee in the living room. The look and feel of the deluxe polished luxurious velvet inside your living room will display elegance and extravagance.
2. Coffered Your Living Room Ceiling
What about beautifying your ceiling for a change? You can give the roof a facelift for a more overall appearance matching the living room's interior décor.
Installing a brown-tinted coffered ceiling will make the living room more stylish and attractive. Finish off the décor by obtaining a brown sofa.
3. White and Blue Living Room Design
If you live near the marina or love the sea, consider this design for your living room. Use a white and blue color arrangement to invoke an uplifting sea outlook in your living room.
The idea displays a serene and relaxed marina atmosphere. This concept is recommended for subtle yet stylish interiors.
Get white furniture and blue wall paint to capture the marina look. Light the place with three spherical gloves of different sizes suspended in the middle of the room.
4. Chandelier Living Room Design
Most room design ideas typically include a chandelier bathing the place with significant light effects. Once the chandelier is mounted, even if the living room was a drab one, it will give the area an attractive look.
You could try a cream-colored sofa with walls painted in gold, and ceilings adorned with at least two chandeliers to invoke the ambiance of Luxury.
5. Bushy Rug Living Room Design
If your living room has a small space, you can still make it trendy and comfortable. Install a black leather sofa with lots of colorful throw pillows and paint the walls in light grey.
Then, add on top of the flooring, a thick opulent soft shaggy rug that anyone can comfortably relax upon happily.
6. Peak Living Room Design
Do you have a living room with a ceiling that extends so high? Then you can fill the space with imagination. Style the room with bookcases and a high chimney to depict the features of a luxury living room.
Get twin black towering colored bookcases and let them flank both sides of a tall cream-colored fireplace. Install soft grey-colored settees with colorful throw pillows to showcase opulent living.
7. Traditional And Modern Living Room Design
You can indulge yourself by getting inspiration from past designs. Doing that could give you a living room that features traditional decoration.
Start the decoration by getting a chic painting on your wall that shows nature in action.
Continue the remodeling with the idea of greenery's love by adding indoor plants to the décor arrangement.
8. Animated And Enthusiastic Living Room Design
You can inject enthusiasm into the decoration of your living room. Start from the top, add an attractive form of suspended lights arranged in three levels, each higher than the other.
Get a couch of grey fabric and an extra couch of dark blue material, and then install high-rise extensive window shades to control the volume of light inside the space.
9. Illumination of the Living Room
Brighten your living room and makes it stand out. Draw inspiration and get a décor that features a grid of lights in columns, which shows light from the top pointing downwards to improve the entire room.
Use another grid to highlight a contemporary attractive staircase system in the sitting room. Make the furnishings worthy of the investment for grid lights, instead of customary chandeliers.
10. Rough wall living room Design
Imagine the wall in your living room, and give it the appealing look you want. Start the decoration by measuring a part of the living room wall into three equal parts.
Next, select the center of the coarse wall, and paint it in golden color, draw squares in black to make it stand out. This golden wall will nearly demarcate the living room in half.
Contrast the design by installing settees of light grey color and throw pillows of diverse sizes and colors, plus a matching thick, cozy grey rug. Then paint the ceiling white.
Conclusion
You can get a classic living room that reflects your style and love for beauty if you follow the living room décor & furniture ideas above.