Is your kitchen small and cramped?  And you've been dreaming of a large, open-concept kitchen ever since you moved in?
If moving house for the sake of the kitchen seems a bit extreme, why not try one or several of these top 15 kitchen extension ideas to achieve that 'open' concept in your small kitchen?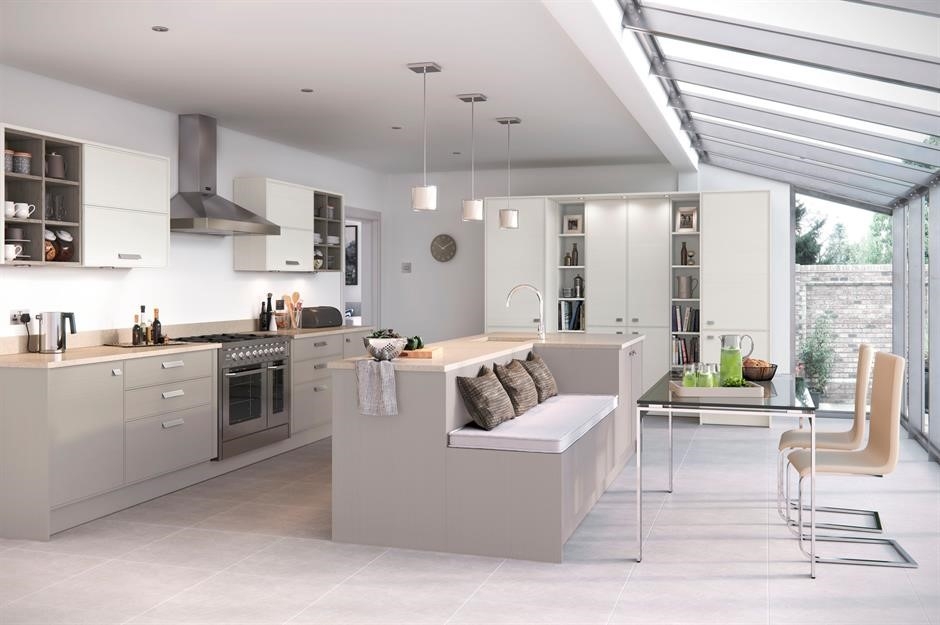 1. Create a Multipurpose Space
The key to making a small kitchen does more for you is to have it act as a multipurpose space. By eliminating the separate zones of "kitchen" and "dining room", you can create a lot of new space for extended counters and cupboards, and maybe even an island.
A long, L-shape makes the whole area feel so much bigger, and you'll find that your kitchen is much more functional. Entertaining friends or family? This new shape will create excellent flow when you have guests over, and you'll have the space for the whole family to be together.
2. Retracting Walls to the Outdoors
Do you have a back garden with room to spare? Connecting to the outdoors is one of the simplest home extension process you can use to give yourself a lot more space without breaking the bank.
Retracting walls are great because they don't limit movement in and out of the home. And having the ability to 'remove' the wall entirely allows your kitchen suddenly to become one big indoor-outdoor area that's perfect for casual (or not-so-casual) entertaining!
3. Add Glass Walls
Glass walls are another very popular kitchen extension idea because they let so much light into your kitchen. Bright spaces always feel larger than small spaces, so even if you don't have the budget or the room for a large extension, kitchen designs that incorporates glass walls will always be a winner!
And as a bonus, they allow you to make the most of your gorgeous garden views!  So, even though your kitchen may not have any extra square footage, it will feel much larger thanks to the extra light and the open feel.
4. Uniform Flooring, Walls, and Colours
Achieving a bright, light, and the airy kitchen doesn't necessarily mean changing the footprint of your home. Instead, you can opt for uniform design options that extend your kitchen space to other areas of your house.
By incorporating the same design elements in your kitchen, dining room, and living room, you can blur the perceived borders between these different spaces.
When the flooring and paint types are the same throughout, moving from the kitchen to the living room doesn't feel as though you're crossing a threshold into a new area.
5. Open Pantry/Shelving
If your small kitchen feels too cramped and closed in, open shelving might be your ticket to an open-plan kitchen. Cupboard doors act as a solid wall, especially if they run the length of an entire wall, so by opening your cupboard space, you can visually push the walls back further than they've ever been.
The absence of cabinetry doors will make your kitchen feel more open and inviting (but of course, you'll have to keep your kitchen storage nice and tidy)!
6. Side Return Extension
A side return extension is one that adds a lot of value while preserving your precious garden space. Side returns take up a small amount of space at the side of your home, usually in the alley between your home and your neighbor's. Even an extra meter or two of extra space will make your kitchen feel twice as big.
Of course, you must be careful of your property lines when adding this type of extension. And it's important to bring as much natural lighting in as possible, especially if your kitchen is naturally dark in the first place.
7. Peninsula Divider
A peninsula divider is another affordable option when designing kitchen layouts for small spaces. They provide a significant amount of counter space and can double as an eating area, a homework space for the kids, or a casual entertaining zone when guests come over.
By putting a few stool seats on your peninsula, you can create a comfortable place for your guests to sit while you cook. The Peninsula divider is an excellent addition for people who enjoy having a designated kitchen space but still want that open and welcoming feel.
---
Read Also:
---
8. Vaulted Ceiling
A vaulted ceiling is relatively labor-intensive, but it's a great way to add extra volume if you simply can't add any extra square footage to your kitchen.
A pitched room slopes upward from the sides to meet at the tallest point in the center. By opening the ceiling in this manner, your kitchen will feel twice as big because your ceiling height nearly doubles.
9. Ditch the Walls
If your kitchen feels small and boxed in, you may be able to knock down a wall or two. The easiest way to improve your kitchen space is to remove the walls separating your kitchen from other key areas of the home, namely the dining room and living room.
If one of these walls is load-bearing, you may be able to install a window instead so that you can still see and talk to people in the next room.
10. Roof Windows
Light is key to making a space feel open and welcoming, and roof windows are a signature way of brightening up your space without running up your electricity bill. This natural light source is possible on virtually every one-story home, and it's an easy fix for a dark, internal kitchen.
Although your ceiling height won't physically change, roof windows will make the ceiling seem higher because you can see the sky and enjoy a closer connection to the outdoors.
This is also a great way to improve ventilation – roof windows can be opened to allow the breeze to flow in and out of your kitchen. Of course, you'll need home extension builders for this project, but it will certainly be worth it for a ton of natural light.
11. Maximize Cupboard Space
There are tons of kitchen layouts for small spaces that maximize your cupboard space, without making the room feel too cramped. For example, your fridge most likely has a small space beside it that would fit a thin rolling pantry perfectly.
Add small shelving organizers in your cupboards to stack plates and other dishes. There's a host of ideas out there for storage – jump online and have a look then tailor them to suit your needs.
12. Bench Seating
Not only is bench seating look great, but it's super functional. Bench seating is an ideal choice if you prefer your table as a center focal object but want to conserve space.
The benches can be tucked under to table when not in use so that the table can be used as an island without any hassle. Your kitchen space will look and feel larger when there are no chairs taking up extra space.
13. U-Shape
A U-shaped kitchen is a great way to maximize space and functionality, especially for larger families. This style is incredibly efficient and makes organization oh-so-simple because you'll maximize counter and cupboard space.
The U-shape is compatible with every room size, allows for multiple workstations and generally larger, even if the center aisle only allows for two people at a time.
14. Add an Island
Does your kitchen have limited counter space and feel tiny even though you have open space? A kitchen island might will fix that problem.
An island adds a heap of counter space and a large work area for a small amount of square footage. You may even choose to install a large double-sink on your island to free up counter space under the cupboards.
Islands create excellent flow in your kitchen because they are accessible from all sides and create natural pathways within the space.
15. Go, White
Finally, opting for white cupboards, counters, and fixtures can make a small kitchen feel open and bright. Light colors feel more open, will breathe new life into your space; dark colors tend to soak the light and life out of your kitchen, and while this broody aesthetic is fashionable in a large, open-plan kitchen, it can make small spaces feel even smaller.
When choosing an home extension builder, London homeowners need a team that can handle their project from start to finish. Combat Constructions, specialist extension builders in North London, have the skillset, the experience, and the passion to take your small kitchen to the next level.  Call us today on and let's get your project underway!