Are you stumped as to what to do with your small garden space? Small garden and tiny terraces might require some more thought that larger garden spaces, but even the smallest areas can be transformed into a beautiful outdoor retreat.
Having a small garden comes with its advantages, they're low-maintenance and are great spaces to transform.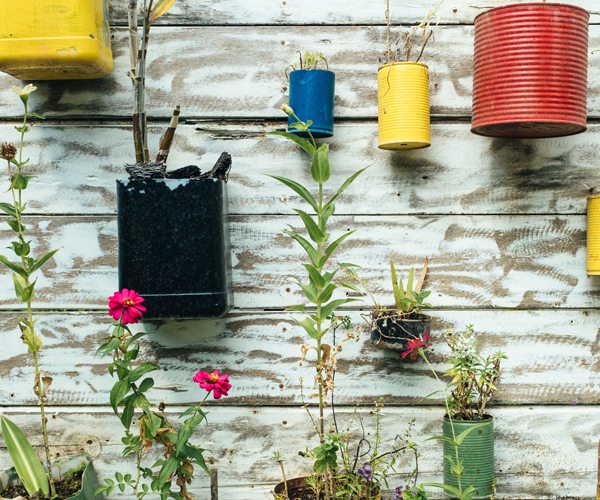 Ideas to Transform Small Garden Spaces
So, whether you're looking to create an impressive garden space or want to squeeze in some furniture, here are some renovation ideas for small gardens.
Work From the Inside, Out
This might sound unusual, but you should always work on creating your garden transformation from inside your home. Given the typical weather, we tend to get a large majority of the enjoyment of our garden from looking out at it, especially when the winter comes.
If you have a favourite viewing spot, such as a comfy armchair, or if you wash the pots looking out into the garden, this is where you should focus and visualise how you want your garden to look.
Choose Bold Shapes
When choosing shapes and accessories, opt for bold geometric shapes instead of curved shapes. Bolder shapes are easier to get right, particularly in smaller spaces, and actually, open up the look of the space they are in. Whilst curves do bring a certain softness to a garden, especially in city gardens, but garden spaces tend to soften up very quickly and bold shapes complement the straight lines that appear in a garden.
Choose Good Seating
For the majority of people, a garden is for sitting out in and relaxing after a long day or as a second dining area in the summer. To make this space as comfortable as possible, you need to choose some good quality garden furniture.
If you would prefer a sophisticated dining area in your garden, look at spaces near to the kitchen that you can place your table and chairs. You don't want to be carrying food a long distance away from the house if you don't need to.
If a comfortable and relaxing lounge area sounds more like your style, then choosing the right furniture is essential in maintaining that vibe all year round. Cane furniture is a good choice, as it is available in so many different styles, whether you want a luxurious outdoor sofa or a set of high back chairs. It's also easy to clean and is weather-proof, so if your garden looks like a great place to enjoy a morning cup of coffee on an autumn morning, you've got a great place to sit!
Keep It Simple
When renovating a garden, it can be easy to get carried away with different materials and accessories. To keep things simple and more aesthetically pleasing, stick with the rule of three. For example, for flooring, choose a maximum of three different flooring materials, such as sandstone, grass and gravel.
This will provide your garden space with consistency and will make your garden look a lot better. You can make your garden look good with more than three materials, but it's a lot harder, and why make like difficult? The rule of three also applies to colours that you choose to use within your garden. From fence paint to furniture, limit your colour palette to three colours to create a better-looking garden.
Add Some Light
The lighting really matters in garden spaces and in small garden spaces, this is even more applicable. Lighting is not just important for creating ambience whilst you are in the garden, but also that important view from inside your home. When the sun starts to set at around 4 pm on a winter's evening, you want your garden to look as welcoming as it does at midday in the summer.
A good tip for adding lighting into your garden is to layer it. Start with practicality, so light any steps, paths and seating areas. Then, light any features that you have in your gardens, such as water features or small trees. Finally, add a subtle layer of light to the eye or floor level. Adding a string of fairy lights to a wall or some lanterns that you use along your pathway will really make your garden glow.
Maintain Your Privacy
This can be overlooked when you have a small garden space, as it is unusual to find a small garden that isn't overlooked in some way. If you want to make your space a little more private, then a carefully placed shrub or tree will act as a great visual block.
If you have fencing or a low wall, then invest in some trellis to add to the top of it. This is an easy and low-cost solution to quite a large problem. If you have a seating area in your garden, think about where you put it. There may be a corner of your garden which is completely private.
---
Must Read:
---
Choose Your Plants Carefully
Lush and limited is the golden rule for plants and flowers in small gardens. If you have a list of plants and flowers that you want to grow in your space, halve it, then half again. Simple is better when it comes to plants and when you have limited space having too many can make space look untidy. Have clusters of your selection of plants and flowers in certain areas of the garden, as this will keep maintenance down and help your garden look great.
If you have focused your garden transformation on how it will look from the inside, then give priority to winter plants. During the darker months, you'll appreciate the little splashes of colour that will appear over time when you're looking out onto your garden.
Add a Feature Point
We don't mean that you need a cascading waterfall in one corner of the garden, but having a small focal point in your garden will enhance the overall look of your garden and make it feel bigger. If you want a water feature, they don't necessarily have to be big and expensive. There are solar-powered options available that start at around £50 and are often just the right size to give your garden a boost.