How to Create a Cottage Garden — Cottage gardens of old were not the beautiful whimsical gardens we see today. The Cottage garden was started for utilitarian purposes by poor workaday cottagers who utilized everything they grew. Read on to learn more about cottage gardening.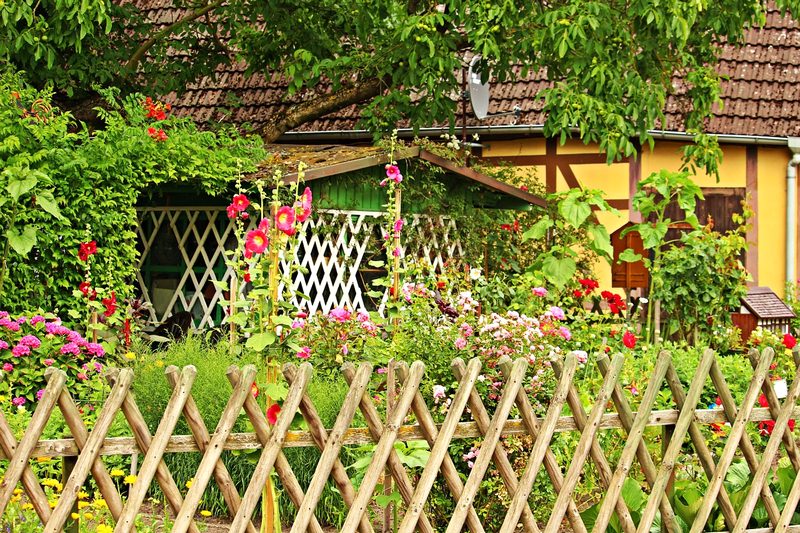 How to Create a Cottage Garden: a Guide to Cottage Gardening
Create a 16th-century cottage garden in your own backyard. Cottage gardening started with poor workaday people who begged and traded plants, making this a frugal and fun choice of gardening for anyone. Spaces were cramped, making the cottage garden perfect for those with small spaces.
Cottage Gardens of Old
The cottage garden of old (the 15th century) was not the sprawling mass of beautiful colors that we see in today's cottage garden themes. The cottage garden style evolved from poor cottage gardeners who utilized everything they grew. Gardens were grown for purposes of fragrance, medicinal, and nutritional value, rather than just for pleasure. If the plants happened to flower, this was accepted as a blessing.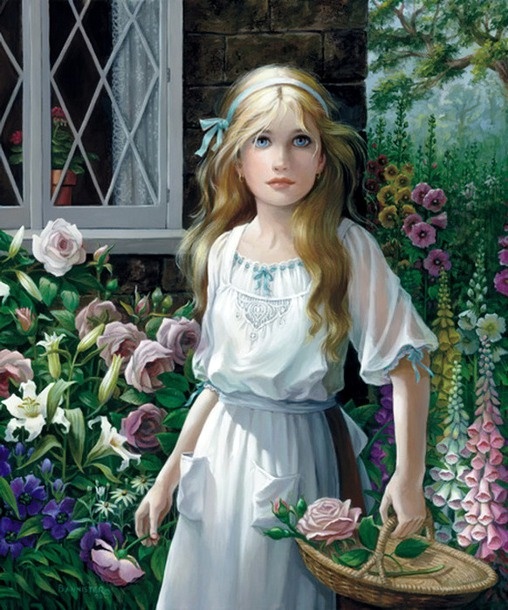 Fruit trees such as crab apple and cherry were planted not only to provide food, but also to offer shade to the cottage gardener. Often times, herb and root vegetable gardens were planted near the kitchen for easy access.
Garlic, leeks, onions, parsley, and fennel were common herbs and vegetables grown in a cottage garden for the abundance of flavor they could add to disguise the taste of meat that may have begun to go rotten. Fragrant herbs like lavender and rosemary were often strewn about the floors in an effort to conceal damp and musty odors.
The 16th Century Cottage Garden
It was not until later, toward the end of the 15th century and early 16th century, that the cottage garden began to take on some of the whimsical aspects of which it is known for today. Cottage gardeners often begged or traded sweet-smelling flowers that were used for medicinal purposes, or just enjoyed for their beauty and fragrance.
Sweet-scented flowers such as the Madonna Lilly were especially appreciated in the early cottage garden, for fragrant blooms such as these masked unpleasant scents associated with almost total lack of toilet facilities. Red, gallica rose flowers were grown and then intertwined with periwinkle to form fragrant crowns worn at weddings and other important occasions.
Hyssop and rue were grown for their orange scent. Cottage gardeners utilized every part of the plants they grew every part of plants they grew. Dried stems of lavender and sage were burned like incense, which released a sweet scent into the musty air. Mock orange and white lilac provided sweet blossoms in the garden.
Other cottage gardening flowers were used for distilling into sweet waters, which were used as perfumes and medicinal tinctures. Flowers used for this purpose included borage, columbine, bugloss, sorrel, English primrose, wild scabious, tansy, wormwood, sage, and dandelion. The sweet waters were given as presents on saints days and birthdays.
Your Cottage Garden
The wonderful thing about the cottage garden of yesterday is that it was suited to the cottage owners taste and preference. "Anything goes", is the idea when growing a cottage garden. Panama rose is a really beautiful addition to your garden, growing panama rose is really a simple process & doesn't require any hardwork.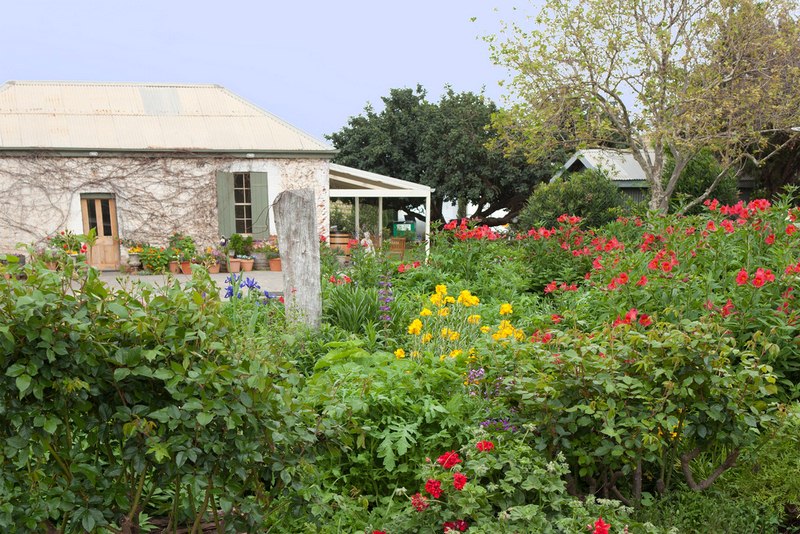 While there are some recommended cottage garden staples such as Hollyhocks, climbing roses, lavender, sweet pea, and a variety of others, the key is to make it your own. While there may be "standard" cottage garden plants, it is important to remember the roots of cottage gardening.
Cottage gardeners were poor workaday people who did not have the money to go out and buy the latest new varieties of plants. Plants were traded and begged from neighbors and literally "shoved" into the ground wherever there was space. This is where the idea of flopping, beautifully colored plants placed closely together came from.
So, if you have a heart for Hibiscus, the fact that it has tropical origins should not stop you from using this beautiful flowering plant in your cottage garden. Remember, the cottage garden is grown to suit your taste and preference, not someone Else's.
Putting It All Together
While cottage gardens are known for their happy disarray, it is important to know a few things about structure. In order for the flowers to be displayed at their best, you must provide a backdrop for them to lean on. The structure can be provided in many ways depending on your landscaping needs and the environment in which you live.
A simple way to provide an evergreen backdrop is to plant honeysuckle, jasmine, or ivy along a fence line. Covered in green, a fence provides an excellent source of structure for your new cottage garden. Knockout roses are another option for a sunny spot where you would like to provide a structure with a spot of color.
Plant several knockout roses together in a row, and soon you will have a beautiful hedge with roses all year around. For a shady spot, there are a variety of flowering shrubs that can be used for this purpose, including the camellia sasquanta. With a variety of new species to choose from, camellias will give you a burst of color ranging from whites and yellows to pinks and reds.
Read Also:
Once you have your structure in place, the sky is the limit as to what you can do with your cottage garden. One of the most important things to remember, however, is to place the tallest plants in the back, and the plants of medium height in front.
Adding border plants like creeping thyme that will sprawl onto pathways for a scented walkway will only add to the pleasure of your new cottage garden. While many cottage gardens were done in all pastel colors, this is not a sticking point. Remember, the cottage gardener gardened for utilitarian purposes first, and beauty came second.
Cottage gardeners of old did not subscribe to any planned gardening methods or "themes". This way of thinking is what lends charm to cottage gardening. So, if you see a new Hibiscus at the garden center that you must have, but are not quite sure where to put it, get it anyway. In the cottage garden, nature has a way of providing bare spots to place a new prized specimen like no master gardener ever could.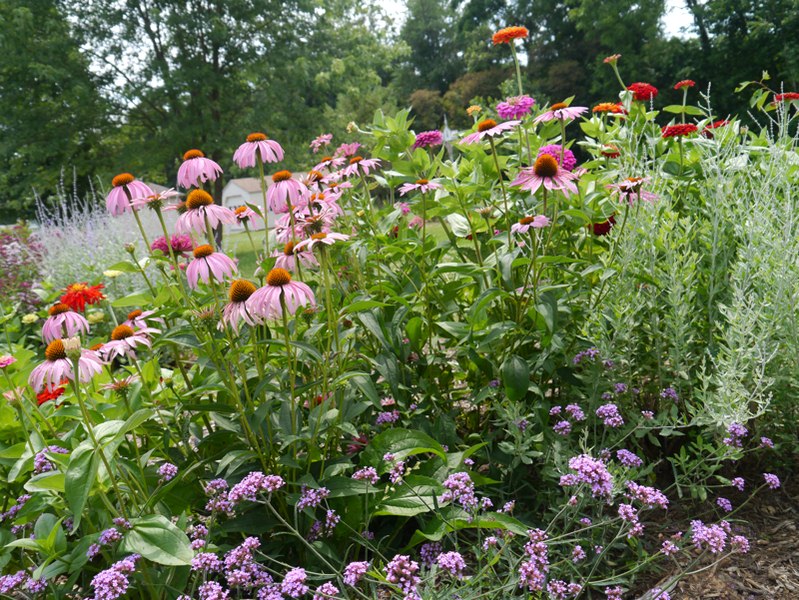 List of Cottage Garden Flowers
Roses – climbing and traditional
Foxglove
Sunflower
Coneflower
Pinks
Hollyhocks
Cosmos
Larkspur
Sweet Pea
Aster
Snapdragon
Petunia
Hydrangea
This is a partial list of flowers that can be used in the cottage garden. As you become more experienced with cottage gardening and your garden begins to grow, you will find others that will fit in perfectly with your needs. The whimsy of cottage gardening is not only in the growing of it but in the fact that it is never really finished.
---
How to Create Garden Scenes

This series will focus on how to create garden scenes simply and inexpensively. It will detail combining trees, shrubs, and flowering plants rather than timbers and stones for a charming effect. You will learn how to create a bird sanctuary, rose garden, and a cottage garden easily and frugally.

How to Create a Cottage Garden
---
References
Photo Credits