Routing is simply digging out and removing materials from whatever you're working on it.
Now the router automatically becomes the tool one is using to accomplish the job. There are different types of routing machines, and today's discussion will focus on a palm router.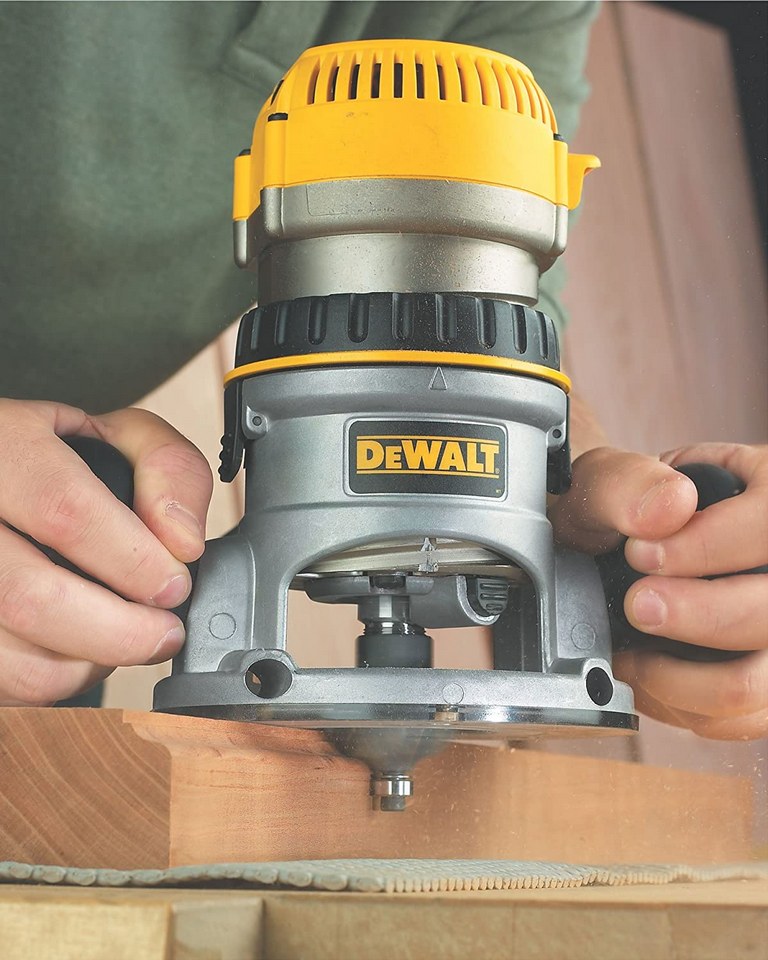 The article is all about how to use a palm sander that possesses a bit different characteristics. This device is equipped with a powerful motor that delivers excellent revolutions per minute. It incredibly rotates a spindle connected to a cutting bit, which is helpful in material reduction.
Complete Guide on How to Use a Palm Router
One can use a palm router to shave off plastic laminate, but still, it can be used on light woodworks. Below is a handy guide on you should operate a palm router.
Your Safety Comes First
Before you do anything with the best palm router, consider your safety first. This is a powerful tool that might leave you with many injuries and ensure you are safe from potential hazards.
Try to put on some items like protective gloves, earmuffs, safety goggles before running a palm router.
Equip the Router with a Sharp Bit
A sharp router bit is essential as it enhances clean cuts constantly; tear-out risk is reduced. Additionally, a sharp bit allows the machine to operate freely; now, energy wastage. You will use more energy when using a blunt router bit; it's hectic and may produce compromised cuts.
Therefore, you should learn to often secure and contain the bits in the collet correctly. Doing so will allow it to run smoothly with reduced vibration. So, this art is another safety measure that will prevent the rotating to bit be loose.
Secure Your Workpiece
Once you are through routing, don't forget to often lock the workpiece before working on it. Doing so will ensure it sticks in one place even when you apply much force.
Besides, you need to apply lubricant substances such as soap wax on the material to reduce burns and rendering the project unsuccessful.
Secure the Router on a Workbench
Pros understand that one can still route by pulling or pushing a workpiece on the router attached to the routing table. It's not a must to push and pulls the tool against your workpiece; there are several ways to kill the rat.
Despite being a palm router, it's possible to attach it to the available table; the router will be stationery.
Doing so will reduce injuries and increase accuracy. Besides, you can achieve more extraordinary designs and versatility on a job that you would not do freehand.
Start by Pilot Cuts
Sometimes it might be challenging to cut straight and accurate edges on workpieces. This mostly happens when you're a beginner in this game. So, it's advisable to utilize ball bearing and straight-edge guides to ensure a constant distance between the workpiece and the cutter.
Remember to use exceptional pilots for varying set distances.
Use Templates
A template is an essential guide that allows you intend to make many identical workpieces. However, this step is not essential when handling a single workpiece. Besides, it can be challenging for an amateur.
However, for several identical workpieces, it makes work easier. Therefore, it will save you a lot of time by producing precise workpieces.
Use Both Hands
If you decide to move the router against your workpiece, you need to hold it with both your hands. However, you should be ready for resistance because you are pushing a rotating drill bit.
Holding the router with both hands makes the work more manageable; kickbacks will be reduced.
Use a Sacrificial Block
Using sacrificial ramps and blocks offers you a great place when to start and finish cutting the workpiece. Experts recommend that it's not advisable to stop on the mark, follow-through for excellent results. Accurate and better results are now the work of testing blocks and ramps.
Place them after and before your materials; don't power on your router when on the workpiece.
Move the Router in the Right Direction
Now that your workpiece is set on the table and the machine is waiting for an okay, you must understand your rotating router's direction. You are supposed to move the workpiece in this direction. If it spins clockwise, move the device from the left to the right direction.
Doing so will allow the cutter to dig in the workpiece and not pull through it. If the router is mounted on the workbench, move your object from right to the left direction.
Cutting Deeper
This step involves penetrating deeper into the workpiece; inevitably, you should know. How you will do it will determine whether it'll be successful or not. Begin slowly, and don't overfeed the machine in the workpiece.
Remember, forcing the tool onto the object could lead to friction burns and tell-outs when it faces resistance. So, you need to make a hole to produce the desired size gradually.
Frequently Asked Questions
How Should I Hold a Palm Router?
Use both your hands to hold a router, unless you are a pro. Pros can use one hand and still produce excellent results. Besides, they can mount these tools on a workbench, making them stationary. Doing reduces not only injuries but also enhances accurate results.
Can I Use the Router to Trim a Door?
There are trimmers on the market for this job, but still, you can use a router if the doo material isn't rigid.
What Can a Palm Router do?
Palm routers are versatile tools that you can use to make many applications like trimming, drilling, and shaping light wood. Its size allows you to sculpt a material into your desired design.
Conclusion
A palm router remains a versatile tool that one can use to work on various DIY jobs to produce many household appliances. Its design work into hard-to-reach spaces makes it a favorite and suitable for multiple woodworking stations. This article has tried to elaborate on how to use the device successfully.