Nothing sucks like the situation when you have to deal with two gas cans on your Jobsite.
Admit it!
That's why we consider gas saw as a game-changer in the trimming industry. Because you don't have to worry about mix fuel any more!
Gas saw such a handy tool by which you will able to manage giant messy gardens and lawn with thick branches. The only reason why this saw has not gained popularity as expected is that it demands a lot of maintenance, and people often get confused about how to use a gas pole saw adequately.
Does this sound like you?
Keep reading, and you'll find out how easy it is to operate a gas saw if you treat it in the right manner.
Read: Best Chain Saw Mill Review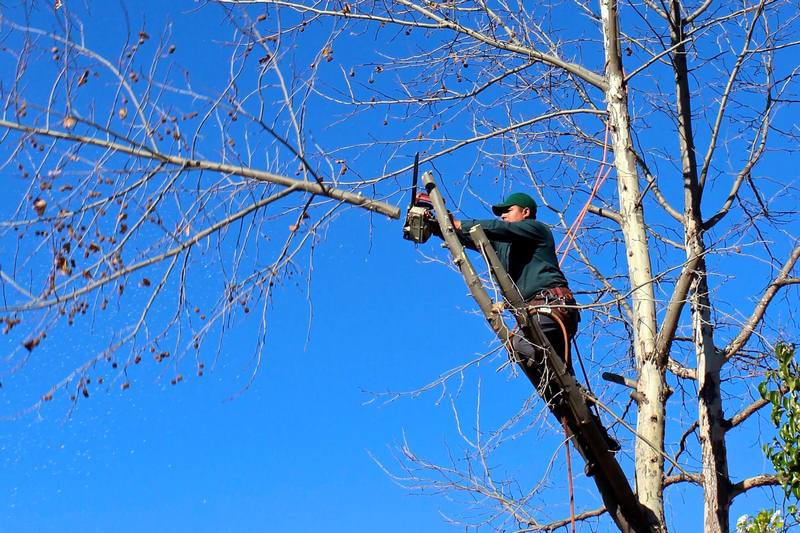 So, just what is a Gas Saw?
Believe me or not, a gas pole saw is the most powerful pole saws. It is a handy tool in dim and distant areas where it's hard to get the electricity for you.
So what am I talking about?
Like other pole saw, the gas pole saw are used for trimming thicker limbs. Also, it gives amazing support to the grip to cut at ease. The comfortable vibration reduction helps to cut the tree leaves easily for giving supports to the pruner.
Even if the gas pole saws are expensive, they give perfect support for working in forestry professions and landscaping. It has large bars or handles that are up to 10 to 12 feet in height to give your trees a better shape.
The only problem?
It requires a hell amount of maintenance, which makes it a costly tool for usage.
A Detailed Guide: How to Use a Gas Pole saw like you know what you're doing
We have covered some simple and practical steps that'll help you on using a gas pole saw at ease.
So, without delaying any further, let's jump into the process.
Before You Start
Unfortunately, these types of tools cause severe damage if you don't follow the safety rules. Therefore, when you are using the gas pole saws, the first thing to do is to follow the safety tips for avoiding mishaps.
Make sure the saw you are using is safe and ready to be used.
Use your pole saws in one limb at a time.
Clear the area to avoid a hazard by falling the limbs.
The best practice is one limb at a time.
Don't dare to cut branches thicker than 8 inches.
Check the weather for not having a terrible experience.
Choose the Right Saw
Well, there are a few things to notice before getting any pool saw to adapt better. We recommend finding a gas pool saw that has the right length for over 8 to 10 feet so that you can efficiently work with any of your pruning jobs.
Another thing to keep in mind that the simple maintenance. Obviously, you need a tool that provides easy installation for working quickly. Plus, try to get an automated oilers gas pole saws for simple usability. It'll take good care of both energy and money to go in vain.
See the difference?
Try to get an automated oilers gas pole saws for simple usability. It'll take good care of both energy and money to go in vain.
Keep that in mind, the more powerful engines, you will get more cutting efficiency and higher confrontation while cutting.
Techniques of Using a Gas Saw: A Step By Step Guide
Here we dropped in deep all the steps about how to operate a gas pole saw perfectly.
Step 1: Position Yourself in Right Position
It's obvious that you'll need a perfect position to hold the pole saw rightly to utilize. You have to find gripping of your pole saw by balancing your position to cut the tree branches at ease.
No doubt about it!
In trimming and pruning, jump cuts are a popular way to make a finishing cut. Also, try to pick a pole saw that helps with weight-bearing capability.
Step 2: Adjust the Length of the Pole Saw
When you take a gas pole saw to cut the tree branches, you'll have to check the range of it. You have to hold the pole saw in a vertical form to find more support.
What else?
Make sure to adjust the top extend of the pole length. In this case, you can adjust your position and set the aim to cut better. A little tip is always to set it close to your chest to find more balance.
Step 3: Aim for Vertical Cuts
After done with its adjustments, you have to cut the tree branches by making it in vertical form. You have to make deep cuts for the quick cutting experience. It gets better if you hold it in the right move to make closer cutting strikes.
Step4: Follow the Safety Terms
Last but not least, follow the safety rules to avoid mistakes or mishaps. You have to cut the targeted object at a safe distance and keep a perfect position to cut quickly.
A Word of Cautions
Gas Pole saws usually are to use on limbs, which are up to a couple of inches thick. The fact is, the thicker the wood, the more dangerous, and more tiring it will be to cut.
Don't attempt to fell branches and limbs overhead. You can take that risk when you are familiar with techniques.
Gas Pole saws, especially with extensions to reach above 8 feet, are quite heavy and tiring to work with.
Never, ever work around power lines or on limbs s with any part above the power line.
Be prepared for the kickback.
Wrapping up
As you can see, the gas pole saws are super simple to maintain yet a useful tool to handle big branches and limbs. It may seem hard, but trust me with few practices; you'll be a master of it.
Bottom line:
Start with knowing the tool better, getting prepared for use, and finally step by step guide on functioning.