If you are considering renovating your bathroom, you should be aware of the potential costs.  According to data from Core Logic, construction costs in Australia will increase by 9% next year.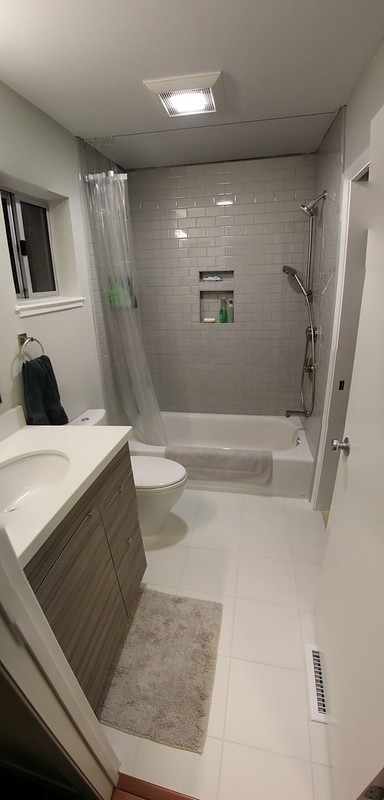 This is the second-highest annual growth rate ever recorded and is caused by rising raw materials and shipping prices. So if you are thinking about renovating your bathroom, it's essential to know how much it will cost and where you can save.
Here are our tips on how to save money on your next bathroom renovation:
Do your Homework and Hire the Best Tradespeople
If you want a good bathroom renovation, check out reviews online for the best trades in the Blue Mountains or your area. A quality job will not only make your bathroom look amazing, but it will also increase the value of your home.
Ask for references, previous examples of the trades' work, and a detailed quote upfront. A professional plumber that offers further services like design and construction for bathrooms may save you money too as you are only dealing with one company.
When it comes to renovations, be prepared for unexpected surprises, especially in older homes. When you hire the best tradespeople, you can rest assured that you'll be in good hands, no matter what.
Create a Wish List
When planning a bathroom renovation, consider which elements are most important to you and will have the biggest impact. For some, it might be a luxurious bathtub; for others, a spacious walk-in shower with high-end fixtures.
Think about what you'll use the most, and set your budget accordingly. For example, if you do not like to bathe, it may not be worth spending money on a new bathtub. Instead, focus on designing your ideal shower or custom cabinets.
---
Read Also:
---
Think Carefully About the Design of the Bathroom
The layout of your bathroom can significantly impact your renovation budget. If you want to make changes to the room's structure (e.g., adding or removing walls, changing the floor level, etc.), you'll need to set aside extra money for construction work like demolition, framing, and plastering. You will also need to decide whether to leave the main plumbing fixtures in their current place or move them to a new location.
If you decide to relocate them, you'll need to factor in the cost of additional plumbing work, such as installing new pipes. Although these changes may cost more upfront, they could be worth it if they lead to a better overall result. If you are happy with the current layout, you can spend more money on other aspects of the renovation, such as nicer tile or cabinets, if you leave everything as is.
Make a Plan and Stick to it
When planning a bathroom renovation, be aware that changes to the design or scope of work during the project can drive up costs significantly. This is because different trades will need to be brought in to accommodate the changes, which can cause disruptions in the workflow.
Therefore, it's essential to carefully plan and consider where you will place light switches, power points, exhaust fans, and other equipment before the project begins. This way, the electrician can complete all the necessary work before the project's next phase starts.
Put Some Thought into the Fixtures
As you plan your bathroom renovation, be sure to consider which fixtures will help you save money. For example, investing in a water-efficient luxury showerhead will not only improve the look of your bathroom but also help slash your energy bills in the long run.
You can make the most of your space by choosing high-quality custom cabinets, improving storage options, and giving your bathroom a new look. So, it makes sense to invest in these fixtures instead of spending half your budget on less important items like a mirror or towel rack.
Think Outside the Box When it Comes to Bathroom Materials
Thanks to modern manufacturing techniques, there is now a wide range of manufactured stone countertops that can give your bathroom the marble look you want without the price of marble.
If you love the look of natural wood in your bathroom but have concerns about the cost or the lack of suitability for damp conditions, you should opt for a high-quality wood-look product. These products are less expensive and easy to maintain but also hygienic and resistant to stains and scratches.
Tiles are another critical consideration. There are many different types of bathroom tiles that you can choose from. This allows you to find the perfect style for your bathroom without breaking your budget.
The time and labor required to install the tiles will directly affect the final cost. Factors such as the size of the tiles, the pattern chosen, and the type of grout can all affect both the price and the time frame. Asking your builder these questions before making a tile purchase will help you stay within budget.
Hire an Experienced Plumbing Contractor and Renovation Specialist
If you are renovating your bathroom on a limited budget, you must hire a professional contractor. This will help you avoid potential problems and costly mistakes during the project.
A professional design team that includes plumbing services will ensure that all of the important details are taken care of during the planning phase, and they can guide you through the various design options.
They can also help you plan a realistic budget for the project and provide you with a detailed estimate. A project manager will also help ensure that everything runs smoothly and avoid costly delays due to scheduling conflicts.