Wood is the most common material for staircases. Red Oak, White Oak, Mahogany, Pine, or Cypress, such staircases are there in every other house standing strong for decades.
You can have them last for over lifetimes if you know how to protect wood stairs. People don't usually think about replacing or rebuilding the staircase as much as the house.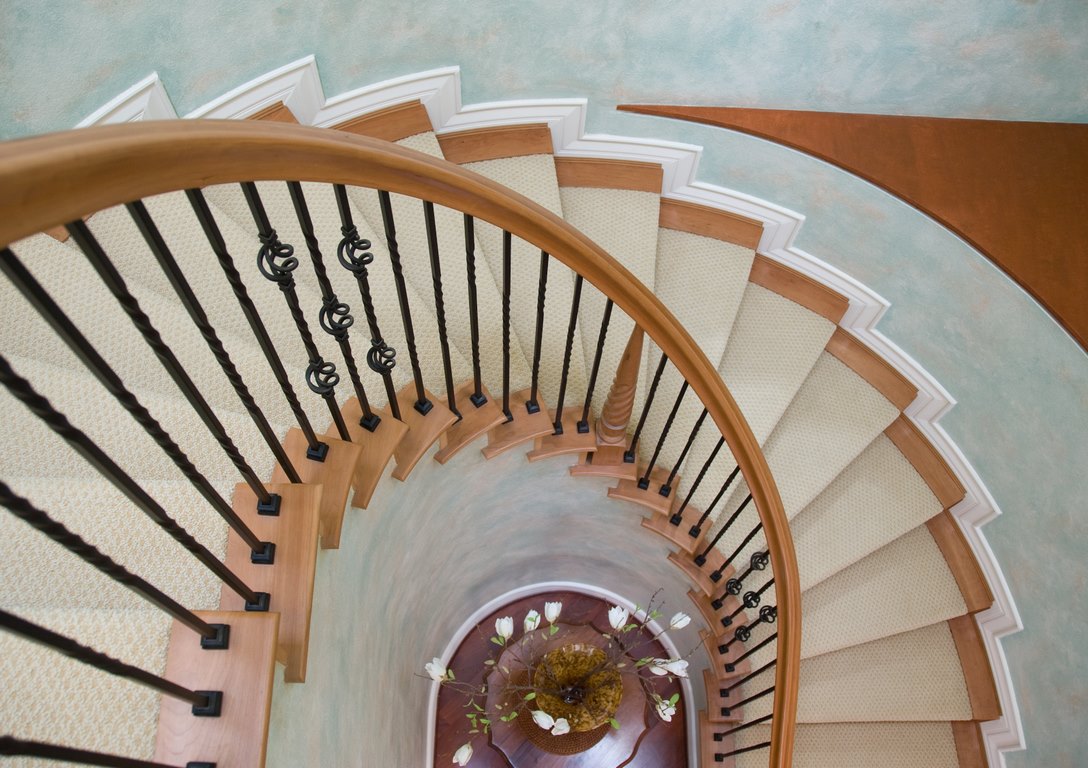 Yet, to think, the staircase undergoes more strain than any other part of the house second to the floor. The floor lays flat on the ground and so remains safe through wear and tear.
Besides, the simple structure makes it less expensive to repair than a complex staircase design. But, the staircase isn't something you should treat the same.
An aged and faulty staircase can end up with dangerous consequences. Simple slips and falls are as painful as it is a classic embarrassment. So you should do a general inspection of the staircase when you listen to the creaks and squeaks.
Here below are some general inspection tactics that you can follow when that time comes.
Walk up and down the staircase and note which step is making a noise
Remove carpeting if any before the inspection.
Check the rails, baluster, banister, hand-rail by nudging it a little and see if it moves.
Observe if there are gaps between the joints of the wood planks.
Check for undulations and inflammation over the surfaces that indicate that the wood there is starting to bend due to moisture.
There is probably internal deterioration If there is an unusual growth on any wooden surface.
There will be discoloration of the wood.
You can knock on them and inspect the sound. Notice if the reflecting sound is wholesome or hollow.
There might even be an odor coming from the wood.
Taking good care of a wooden staircase is vastly similar to taking care of most wooden furniture or element in the house.
Thus, what you need to know are some strategies to maintain the health of the wood built into it.
Here are some recommendations for you to apply to that cause whether you have a zig zag stairs or spiral. All you need to do is to take care of the wood.
Wood Oil
Wood Oil is one of the most common and effective wood stair preservers. It takes only a couple of coats and that usually lasts for years.
When you apply the oil to the wood, the pores absorb it, reducing the amount of water absorbed and preventing the wood from rotting. Wood OIls are not expensive and are available online and in carpentry shops.
Remember to mention the kind of wood your staircase is made of to get the right oil for it.
You can find detailed instructions on how to protect wood stairs by use of wood oils on the internet and from carpenters as well. Such oil can be helpful to prevent various wood-related issues.
To name some, the exterior wood is attacked by blue stain, fungal, and algae, destroying its substance and causing dark spots. Moisture and waterlogging condition the surface that is always exposed to humidity.
UV light causes lignin in wood to become water-soluble, which is washed away by rain, leaving wood brittle and grey. And not to forget the pests, wasps, for example, feed on wood and cause damage to surfaces and supports.
Polyurethane Varnish
The most common polyurethane varnishes are transparent water-based polyurethane varnish.
Water-based polyurethanes are far more environmentally friendly and simpler to use than solvent-based polyurethanes, but they do not have the same resistance to wear and tear. Multiple coating is the trick to a perfect measure.
The application typically takes three to four coats. You can apply it with a foam or nylon brush, but keep in mind that it dries rapidly, so be swift with it.
Before applying a second coat, it's important to apply a thin coat, let it dry overnight, and lightly sand it. The second coat could be applied in as little as 24 hours and dries to a tough, long-lasting finish.
Hard Wax Oils
The first hard wax oil products were developed in Europe in the 1990s and quickly spread throughout the world's wood finishing markets.
Hardwax Oil is an oil-based finish that soaks into the wood, colors it lightly, and leaves a protective film on the surface.
It's designed for homeowners who want a more natural wood finish with some sort of protective layer on top. Waxed wood has a nice sheen to it, rather than a gloss.
Today, this oil wax has evolved into Hard Wax Oil, which is made up of carnauba and beeswax, linseed oil, castor oil, wood oil, and a variety of other natural resins.
The exact recipe varies from one manufacturer to the next, but the principle remains the same. It dries in 4-6 hours and there's no need to reapply or varnish the wood once it's been applied.
However, because the fumes can be strong, make sure your home is well ventilated before applying. Always read the instructions carefully to ensure that you know what to do with the preserver you've chosen.
Here are some additional tips to take better care of your staircase design uk:
Consider Carpeting
Many homeowners cover their staircase with a rug runner or carpeting for added protection. The additional material protects wood stair treads and risers from scratches and other flaws.
You can also add more style to your home with these options. Simply choose a rug runner or carpet color that complements the room's design.
Spills Should not be Left Unattended
Any spills on your wooden staircase should be wiped up as soon as possible. If left unattended, any liquid can cause wood discoloration. These stains and marks can be difficult to remove in many cases.
Dirty Shoes Should Be Avoid
Water spots on a wooden staircase can be caused by water, mud, and other residues from dirty shoes. This discoloration can be difficult to remove and, if left untreated, can become permanent.
Such an issue can simply be avoided just by removing your shoes at the door when you enter the home if they are dirty or wet. Request that your family and visitors do the same.
Clean the Staircase on a Regular Basis
Dust, dirt, and other debris collect easily on wood stair parts. Vacuum and sweep the stairwell on a regular basis.
Remember to clean the hard-to-reach areas like the corners and around the railings. After that, scrub any remaining dirt away with a sponge and oil soap to keep the wood looking new.
It isn't all that difficult to take good care of your bespoke staircases London. It is precious to you as it wasn't a cheap and mediocre one. It makes clear sense that you'd want it to last for as long as possible.
It wouldn't as difficult for you to determine what you need to do for that now that you have a good idea about how to protect wood stairs.