Many of us are familiar with scratch and dent appliances, but do we really understand what they are? Scratch and dent appliances are domestic items that have been damaged during the shipping process or while being stored in warehouses.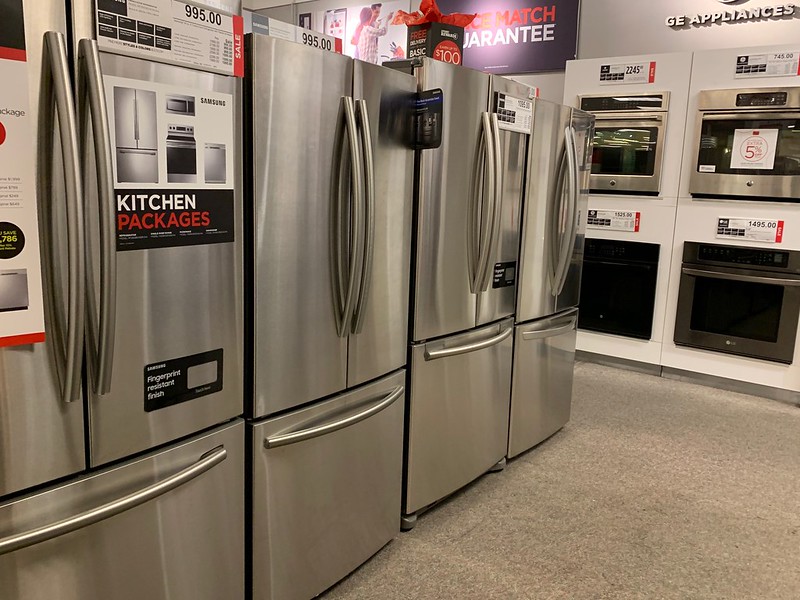 When it comes to scratch and dent appliances, it can certainly pay you off if you reduce the potential risk. If you have adequate knowledge, you can get these appliances in new, unused, and working condition and at a significant price.
The issue is not with the functionality of these appliances; instead, they are slightly cosmetic, and their external wrapping has been broken at some time.
When purchasing them, look for ones with minor scratches or dings. You may buy a refrigerator, washer, or stove that has never been used, and the price is the same as used appliances.
If you're fortunate, you might be able to save 40 to 60 percent off the retail price. However, you'll have to deal with removing old appliances and installing new ones.
Let's get started with this article, which will teach you everything you need to know about these appliances.
Buying Scratch and Dent Appliances
When buying scratch and dent appliances, you should do a bit more homework because all the appliances are not the same.
Pros
It's possible to save a lot of money compared to buying it at the store.
A basic, manufacturer-backed warranty is sometimes included.
The harm to the appliance could be minor and exterior (cosmetic)
Cons
The appliance will probably turn out to be junk.
It is your duty to install and remove the item.
If you're thinking about getting scratch and dent appliances, here are some of the steps you should take to be sure you get the appropriate ones and avoid any headaches.
First, Determine What You're Seeking For
The first step is to determine what you want and your needs. Also, you should have a plan; if you go shopping without one, you will end up buying something you don't need.
Do as much research as you can and write down whatever you find. Choose the appliance that you require.
The appliance you require could be a refrigerator, dishwasher, washer, or something else entirely, but determining what appliance and characteristics you need. Make a list of the features you'd want to see in the thing you buy.
For example, an in-door water dispenser may have to be in a refrigerator. What if you're a sucker for front-loading washers and dryers.
Stainless steel or a pearl-white finish may attract you in the same manner. Know what rocks your boat, then you can go.
---
Read Also:
---
Inspect Possible Equipment Thoroughly
When something appeals to you, it's vital to examine it with fresh eyes because you'll be spending your money on it. The scrapes and dents are most commonly seen on the sides and back of the appliance, where they are difficult to notice.
Scratches and dents on the front of the fridge and stove, on the other hand, are plainly visible. When there are cracks in glass surfaces, the worst-case scenario occurs.
When you notice cracks in appliances, especially control panels or displays, you should avoid them. These screens and controls are hazardous, and if they break soon, they will be costly to repair.
Do a Price Check
When an appliance catches your eye, you should check the price tag before purchasing it. Comparing the manufacturer's suggested retail price with the store's offer is the best way to go.
Don't buy appliances in a hurry, especially if the merchants offer you a lower discount.
The discount should be in the range of 40% to 60 percent. Consider the cost of the appliance twice before going to purchase it.
Understand the Risk
Buying scratch and dent appliances carry a higher risk and are more similar to gambling.
No matter how much experience you have with appliances, you could still end up with a machine continuously breaking down and requiring expensive components and repairs.
It pays to research for appliances with authorized, manufacturer-backed warranties.
Ask About Warranties
When purchasing an appliance, make sure to inquire about the guarantee, as some may not come with a full manufacturer's warranty. Always ask about the warranty status of any discount appliances you are thinking about buying.
Learn More About the Retailer
When shopping for scratch and dent appliances, it's critical to find a reputable retailer who will let you see and inspect the appliance.
You're considering purchasing in person, ideally in a showroom setting with knowledgeable customer service representatives who can also answer your questions.
Embrace the DIY Mindset
Everyone is not able to purchase scratch and dent appliances. Most people, however, are unable to do so.
This is an entirely self-contained project from beginning to end. To begin, you must remove your old appliances, which may be challenging, but it is your work, and you will complete it on your own.
When the new scratch and dent appliances arrive, you will also install them. This could include tinkering with dryer vents, water lines, electrical wiring, circuit breakers, etc.
If you can't do all these things yourself, don't think again about purchasing scratch and dents appliances.
This information is for you if you are quite confident in your ability to complete all of these duties. Go ahead and save some money, but utilize all of your senses while choosing scratch and dent appliances.
Final Thoughts
As you've read, buying scratch and dent appliances can save you money, but it can also be unsafe.
You should be more attentive while choosing them to ensure that you acquire the most incredible product for your everyday use. Re-read each step to ensure you don't make any mistakes when purchasing.
Also, go to large retailers like Buy Low Atlanta to receive a warranty and a good deal on each appliance. We hope and are thankful that we have provided you with all of the information you require to make your next purchase.