Before air compressors existed, tools received a lot of their power from complex systems with wheels, belts, and other larger components. These machines were heavy, large, and very expensive to run with costs out of reach for a lot of small operations.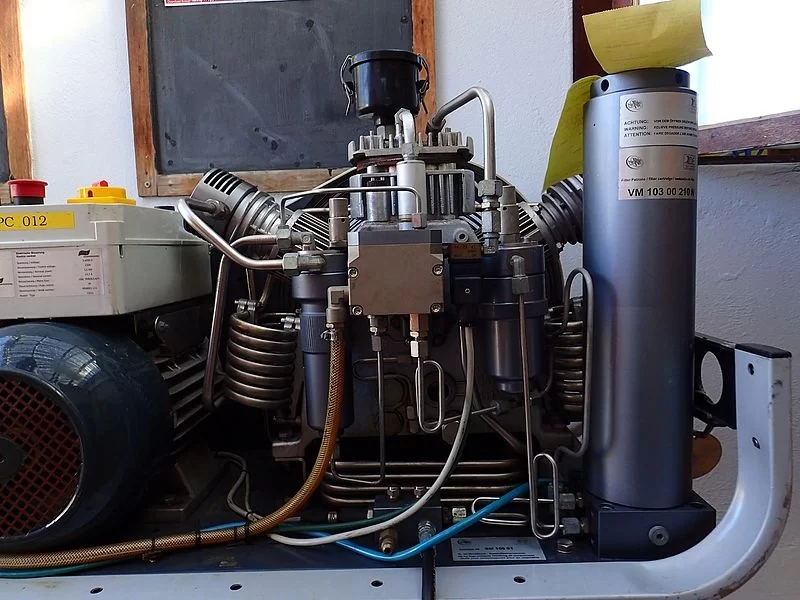 Nowadays, air compressors come in different shapes and sizes, and you can see them on bigger shop floors, in automobile workshops, and even in your neighbor's garage!
It's safe to say that people all over the world use air compressors for different tasks each day. But if one was thrust in front of you, would you know how to operate it, or explain how it works? If the answer is "no," then you've come to the right place!
The Basics of Air Compressors
This is a type of pneumatic (air) device that uses some form of an engine (diesel, gasoline, or an electric motor) to convert power into energy.
Air compressors work by forcing this air into a single container and then pressurizing it. The air is then forced through a small opening in a tank where pressure easily builds up.  This energy is then stored and can be used at a later time.
If you want to know more, you should visit about-air-compressors.com. This website is the ultimate resource for air compressor questions and answers, with a step-by-step guide for air compressor queries.
Air Compressor Mechanics
An industrial air compressor works similarly to a combustion engine. In terms of overall functionality, air compressors have a couple of major requirements. To begin with, they need to have the following parts:
An internal mechanism that compresses air
Inlet or outlet valve to draw in air and release it
Air storage tank
Electric or gas-powered motor
---
Read Also:
---
Air Compressor Types
Some air compressors utilize rotating impellers to create air pressure, although it is positive-displacement compressors that are far more common. These are the ones used by mechanics, homeowners, contractors, and woodworkers, and often use a reciprocating piston to do the job.
Most air compressors are either reciprocating piston type, rotary screw, or rotary vane. In addition, centrifugal compressors are commonly used in large applications, while scroll, reciprocating, and rotary screw air compressors are best for small or medium purposes.
Single-stage piston air compressors are driven by a gasoline engine or an electric motor. These motors function by compressing air and forcing it into a storage tank. As more air is forced in, the higher the air pressure will be.
Two-stage air compressors feature two pistons. The first one compresses all the air and pushes it through to the second piston via a check valve, which further compresses the air and delivers it directly to the tank. These are commercial models that are heavy-duty and deliver a considerable amount of air with higher PSI levels.
How Do Air Compressors Work?
We now reach that all-important question: how do these useful devices work? Well, there's a simple explanation. The concept of having compressed air is simple: when air from the atmosphere is stored under lots of pressure, it creates some sort of potential energy that can then be held inside a tank until it is truly needed to fulfill a specific purpose.
An air compressor forces more air into a storage tank which increases the pressure inside. When it reaches the upper part of its limit, the air compressor will completely shut down. This compressed air remains in the tank.
When the pressure inside the tank reaches its lowest limit, the air compressor will turn on once again and re-pressurize the tank. It must be differentiated from the pump as it works for gas and air, while pumps only work on liquids.
Much like a balloon, when the pressurized air is released, the potential energy that has been created can then be directly converted into kinetic (motion) energy. This can then be used for many purposes. Harnessing this sort of energy transfer via pneumatic tools makes it possible to work on difficult tasks in just about any environment.
Common Applications
To start with, it's important to note what air compressors are capable of doing. Air compressors provide power for various actions such as operating a nail gun, sander, or drill, and are even used to inflate a tire. However, air compressors are also used in gas and oil, drilling, and different types of mining applications.
Power Supply
The most common model of air compressors is an electric version, which is best suited for indoor use. These are quieter, require considerably less maintenance than their gas-powered counterparts, and can work in any area with an electrical supply.
Many of the compressors that can be used at home tend to function at a 120-volt current, yet larger models might have different types of requirements.
Gasoline-powered air compressors are great for outdoor work areas without easy access to electricity. They generally have a lot more horsepower than their electric counterparts, meaning they can easily generate greater PSI.
Common Features
To select the correct model, you must understand how an air compressor works. Here are some of the main features to keep an eye out for:
An oil-free pump to prevent oil from mixing with compressed air.
A belt-drive system as it provides quieter operation than direct-drive systems.
An adjustable exhaust to direct the exhaust away from the area of your work.
Thermal protection stops a motor and prevents overload damage.
Tools and accessories including blow guns and hoses.
Whether there are additional auxiliary air tanks available to increase the capacity of air storage.
How Expensive Are They to Run?
You can typically expect to spend around $500 per horsepower (HP) annually when continuously using an industrial-sized air compressor. For instance, a compressor with 10HP may equate to $5,000 in yearly operating costs.
Summary
That concludes everything you need to know about how air compressors work. These devices might seem like complex machines at first but their function boils down to one thing: turning pressurized air into useful energy for use in many situations.