Clean up isn't the most fun thing to do when it comes to outdoor trash cans.
Keeping your outdoor garbage cans clean year-round is easy when you follow these simple steps, even when they're extra dirty during the summer!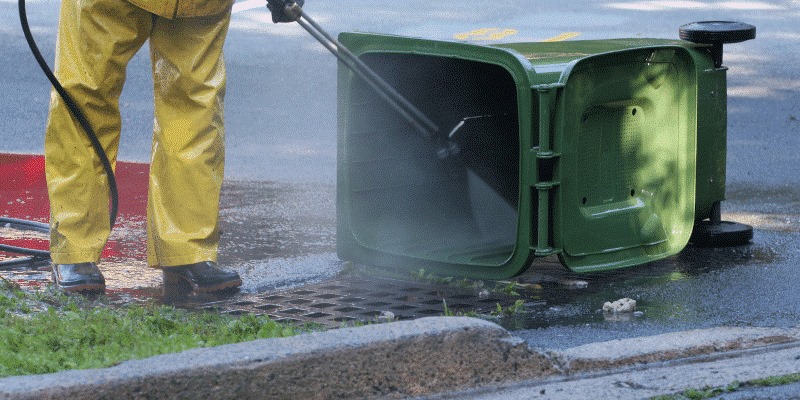 Rinse Trash Can
Make sure that your trash bin is clean by rinsing it out. Spray the trash can really well by turning it on its side. Using 12 cups of dish soap, water, and 4 cups of vinegar, make a cleaning solution.
Dip Scrub Brush
With your extendable scrub brush or whichever brush, you prefer, scrub the inside of the trash can. Because of the extendable scrubber, I don't have to reach all the way into the trash can to scrub it.
After cleaning the interior of the trash can thoroughly, turn it over and let all the gunk out. To prevent debris from going into my lawn or driveway, I lay down a tarp before I do this.
For bin washing,  wash the outside of the trash can now! Give the outside a good scrub with a scrub brush dipped in the cleaning solution.
Open the lid of your trash can once it has been cleaned inside and out, and let it dry overnight. Let's move on to some easy ways to keep those trash cans clean going forward…
---
Read Also:
---
How to Keep Clean?
Overfilling trash bags inside your house can lead to problems with tying them up and removing them without ripping them. The trash is almost always smushed down as much as possible, so people can throw it away as much as they can without having to take it out.
The first tip I have relates to this. Make sure you tightly seal a trash bag when you take it outside to prevent flies from getting inside. Maggots hatch from fly eggs. Clean trash cans and avoid leaks.
Without bagging fast food packaging, we have thrown it straight into the trash in the past. We should seal fast food bags tightly to prevent leaks.
It's okay to reuse grocery bags if they're tightly bound and there are no holes in them. If for some reason, the lid of your trash bin comes off, loose items, such as toy packaging, can puncture other trash bags in your bin.
Let the trash can dry for about an hour by rinsing it with your garden hose after the trash has been collected. Your trash cans will be cleaned if any liquid leaks into them.