Choosing the best doona cover can be difficult for you. But, knowing the features and qualities of a doona cover will make the job simple for you.
Doona covers, also known as duvet covers, come in different sizes and appearances.
Adding more to that, the amount of comfort and convenience you find in one cover, you may not find in others.
So, let's learn how to choose a doona cover.  We have made it easier for you by discussing the features that separate one from another.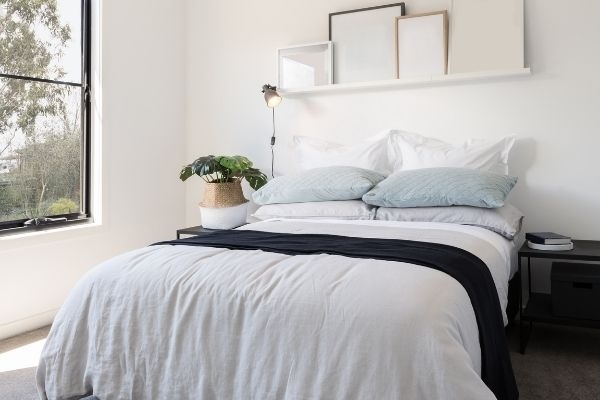 Detailed Guide on How to Choose a Doona Cover
Size
Doona covers have to fit on your doona. When you buy online, you have to have a good idea of the standard sizes of doona covers.
You can, however, click here for doona covers of different sizes. To make it clearer, see which of the standard sizes matches your duvet:
Twin – 68″ x 86″
Twin XL – 68″ x 90″
Full/ double – up to 86″ x 86″
Queen – 90″ x 90″
King – 104″ – 92″
Not to mention, the cover has to be larger than the doona itself. Some say it is ideal to have the duvet cover 2 inches larger on all sides than the doona.
It helps the doona cover fit on the doona more snugly. The standard sizes, however, meet this criterion.
Closure
The closure is a significant part of a doona cover. It is not a decisive factor that dictates the doona cover being better or worse, but it is worth considering as different types of closures offer diverse appearances and enhancement. Following closure types are the most popular ones:
You can prefer a type of closure over the other depending on your preference. But, make sure the closure keeps the duvet inside the cover.
Besides, the ones with a flap over zippers or buttons are good for a pleasant appearance.
---
Read Also:
---
Materials in use
Materials used in covers dictate how comfy the doona covers will be. For greater comfort, you have to choose the one made from the best materials.
Here are the materials, mainly fabrics, that the manufacturers use in making a doona cover.
Cotton
Cotton-made doona covers are great for softness and breathability. Besides, the cotton fabric is famous for being prone to accommodate different colors and aesthetic designs. They are easy to maintain as well.
Flannel
Flannel is softer and warmer than standard cotton. Not to mention, those are ideal for the winter season.
Polyester and Polycotton
Although polyester-made duvet covers are not as comfortable as the others, they are easy to maintain.
However, if you want softness and comfort at an affordable price, you can buy a cover made from polycotton.
They are soft like the standard cotton-made ones. But, they are prone to trap heat and moisture inside, something you may don't like.
Linen
Since it is made from hypoallergenic and antimicrobial materials, linen fabric is great for a healthier sleeping experience.
Although it is not as soft as the cotton fabric, it softens with each wash.
Thread Count
Thread count plays an important role when it comes to softness and comfort. What is thread count, then? Well, it is the number of threads used in a square inch of fabric.
Experts differ on what thread count is preferred to achieve more softness and comfort. Some say the ones with a 400 thread count per square inch are soft and comfy.
Others argue that thread count between 200 and 800 offers softness, given that the ones with more thread count will be softer and comfier. But a thread count over 800 will cause the doona cover to be coarser.
Last Words
Doona covers are in your best interest as they maximize the lifespan of your duvet while offering you comfortable sleeping experiences.
The features I have discussed in this article will help you recognize the best doona cover in the market. Remember that you want the best quality things at affordable prices.
Now, as you know how to choose a doona cover, make good choices in your next purchase.