If you're spending thousands of dollars combined on a mortgage, insurance, and all the possessions in your home, you want to make sure that you're protecting your investment, as well as improving that investment as you go.
Here are 5 household upgrades that will not only protect your investment but may also improve the value of your home as well.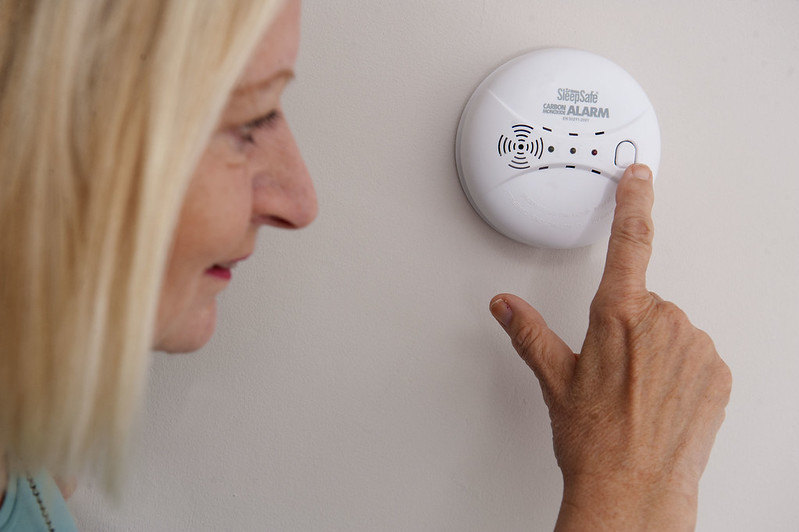 ---
Read Also:
---
Fire Detector & Carbon Monoxide Detectors
This might seem like obvious or outdated advice, but you'd be surprised how many people still don't update their smoke and CO detectors, replace the batteries, or even make sure they still work.
Fires devastate more than 354,000 homes per year and are easily avoidable with the properly placed detectors.
Cooking and kitchen fires are still far and away from the most common causes of household fires, so making sure your detectors are near the kitchen will ensure a quick response for everyone in the home.
In general, there should be one on every floor of the home.
While smoke and carbon monoxide detectors are often sold as a two-in-one alarm, it may be worth looking into stand-alone units.
This is because as CO is actually heavier than air, and typically generated from furnaces located in the basement, it builds up from the ground up.
CO monitors should be plugged in closer to the floorboards for the most efficacy.
There are some detectors that also integrate with smart home systems, so it's possible to get notified to your phone, or a monitored alarm system when smoke or CO is detected.
This is a tried and true way to protect your home, your possessions, and the lives inside of it.
Steel Doors
This is probably not the first thing you think of as an upgrade to protect your investment, but it's one that makes sense both financially and security-wise.
A front-entry steel door is much stronger than fiberglass or wood, making it much more secure.
If someone is trying to get in the front door, good luck with that! They'd have to struggle through a window, producing noise and endangering themselves in order to do so.
Steel doors won't warp, crack or give way under the same kind of pressures as regular doors will. And aesthetically they both look great and make a clear statement to potential intruders: don't even bother with this house.
They're more expensive than regular doors, but a steel door actually adds to the value of your home as well as protects it.
Home sellers actually recoup 20% of their costs when selling, so you can see how this is one of those upgrades that not only protects but improves your investment.
Moisture Sensors
There are many different ways that flooding can affect your home and your possessions. Hot water tank failure, sewage backup, leaking water from outside – you name it.
While it may be nearly impossible to avoid some of these problems, there's a very quick and easy (and cheap) way to be notified of this issue so you can rush home to solve it: Moisture Sensors.
There are many different smart home systems that you can connect a moisture sensor to, and they're very affordable.
For example, Samsung's Smart Things Moisture sensors, for example, run you around $20 apiece.
Because water will typically find its way to the lowest part of your home and build up from there, we recommend putting them in the basement, in the lowest section of the floor.
Place a marble on the ground and see where it rolls to, in order to find the lowest point. You can then set it up to notify your phone when there has been moisture detected.
You can either rush home or phone your neighbor to check out the issue. This cheap fix has saved homeowners thousands of dollars in damages.
A Whole House Surge Protector
If you use a power bar in your home to protect your TV, computer, Apple TV, etc. you are protecting these devices from surge protection.
However, these power bars only provide a certain amount of protection, and not always enough to protect these devices.
As well, ask yourself this – do you have a surge protector for the most expensive electronics in your home? Your refrigerator? Your washer and dryer? Dishwasher? You can see where we're going with this.
It's estimated many homes have more than $10,000 of unprotected electronics in their home.
That's why a whole house surge protector, which runs you only around $100, can save you thousands over the long run.
A whole-home surge protector, which you typically want a registered electrician to install, will soak upsurges big and small, protecting every device in your home, not just the ones you have plugged into a power bar.
It's one of the cheapest and best investments you'll ever make to protect the things you own.
Security Cameras/System
As technology improves, and we all have 4K cameras in our pockets with our phones with 5G connectivity, the affordability of security cameras and security systems has dropped significantly.
This is one of the most common ways to protect your home and is becoming more and more affordable.
In some cases, insurance companies will give you a discount on your home insurance if you have a monitored alarm system.
The most basic setup we'd recommend would just involve a front yard camera and a back yard camera.
These can be motion-activated, texting your phone to let you know when motion is detected, and starting to record right away.
You can also step it up and go for a full-on monitored alarm which may involve door and window sensors, motion detectors, and more cameras.
This is a safer option, but also more expensive. In almost all cases, existing security system infrastructure increases the values of homes as new buyers can integrate their system with the already installed gear.
This is a great way to protect your home and everything – and everyone – inside it.
Radon Mitigation
Radon gas is a colorless and odorless radioactive gas originating from the Earth that can build up in a home to dangerous levels causing cancer and other health issues. Radon enters your home through pores in concrete and gaps in walls and floors.
Most new homes have mandatory radon mitigation systems built-in, but it's important to look into if your home has a system in place or not.
You can get test kits online or hire someone to run the tests for you.
Most systems are just simple suction systems that vent out any potential gas build-up, but this is another one of those upgrades that not only protect you but also add value to your home.