Maintaining a sense of calmness in your home requires organizing practices.
All of your work spent organizing will be naught if you don't develop routines to keep it up. Organizing is a talent that can be learned and honed through practice.
Some people are naturally organized, but it is something that anyone can accomplish by adopting good organizing habits daily.
If you learn these organizing habits, you will only call a maid service for deep house cleaning. There's no need to contact them frequently.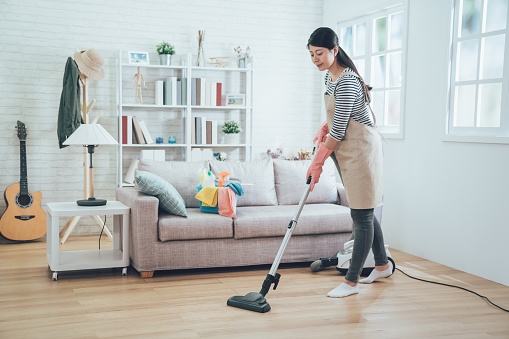 Start practicing these organizational practices that highly organized people swear by, and you'll see improvements soon.
Using a To-Do List
Keep a regular list of things to do around the house, so you don't forget anything and don't waste time trying to recall what you're supposed to be doing.
To-do lists help be organized but don't overwhelm yourself to the point of failure and frustration. Set attainable objectives.
Concentrate less on the number of activities to accomplish and more on the quality of the job to complete.
Well-organized people are skilled at striking the correct balance between the two.
Check in with the lists regularly to assess your progress and hold yourself responsible for your objectives.
Don't Just Place Things Everywhere
You must have a place for everything if you ever wish to arrange your home. Most homes include areas that serve as dumping grounds for items you don't know where to put.
Do a deep house cleaning and designate a permanent location for everything to avoid items piling up?
Make a walk-through of your home and look for anything that doesn't belong.
Put everything away, and if something doesn't have a home, make one for it. You can't put things away if you don't know where you're going to put them.
When you're looking for storage options, remember that you want to keep things close to where you use them.
You'll be more inclined to put them away after you've used them if they're stored in a convenient location.
---
Read Also:
---
Regular Decluttering
Decluttering is a habit for highly organized people. Even if you declutter daily, it's still a good idea to go through all your stuff once or twice a year to take stock of what you have and purge.
After all, our moods and tastes change over time, so you're bound to have a few items that no longer hold the same significance for you.
Do What You Don't Want to Do First
We all have tasks that we dislike doing more than others, whether it's doing the dishes, cleaning the bathroom, or laundry. Even those who take pleasure in their organizing abilities would agree.
Make that unpleasant chore-to-be-done your first task of the day instead of letting it consume your entire day. You'll clear your head and get ready for a productive day.
Use your Time Effectively
When it comes to remaining organized, having good time management skills is a plus.
Determine which tasks should be prioritized and how much time they should take to finish.
It's important to remember that perfectionist tendencies might have a detrimental impact on productivity.
Allow yourself to complete household duties during times when you will have the fewest interruptions or distractions.
You'll be shocked at the difference it makes if you start adopting these good organizing behaviors that highly organized people swear by.