Most parents are careful while outside their homes with their children and wary of danger.
However, unfortunately, not so many such precautions are taken at home because of the unwritten accepted rule that the home is the safest place to be.
The reality, however, may be different. The Royal Society of Prevention of Accidents has estimated that more than 2 million children under the age of 15 have accidents at their homes every year! That is right.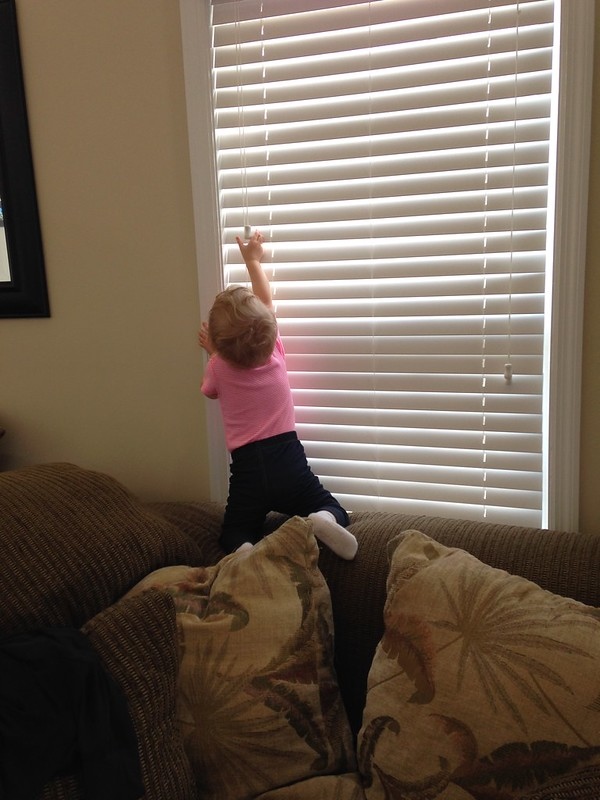 We are not talking about 1 or 2 isolated cases but 2 million! So, it becomes important that, as parents, we take certain precautions and avoid such accidents at our homes, especially in case your home has toddlers or babies.
In fact, according to Schmidt & Clark, a top law firm specializing in product liability cases, there are countless cases of serious injury or death resulting from thousands of types of consumer products.
It is thus best to be careful and plan ahead how to build up the best house for your baby.
There are different types of houses that are already modeled based on the requirements of a family with young children.
But even if not, your house can always be remodeled in a way that best suits your family's needs.
1. Blind Cords
Yes, you read that right. Those innocent-looking shades that give shade and cool to your home can be a potential threat to your children.
Looped cords can be fatal if wound around the neck as it can lead to strangulation.
This kind of accident is more frequent among children aged 1 and 2 as they just start to walk and discover new things.
Considering that most bedrooms have blinds, it is dangerous to have such cords left when your child is alone.
To avoid this situation, keep the chords way out of reach of the children and always purchase licensed and genuine chords that are trustworthy.
Also, keep cots, chairs, etc., away from the blinds. Even then, your safest bet would be to install blinds that are safe by design and do not have cords in the first place.
2. Hot Drinks
As an adult, coffee or tea is usually the go-to. As a parent with the increase in stress, even non-coffee drinkers turn to it for the added boost that caffeine brings.
And that's quite alright. However, what most parents do not remember is that these drinks can cause serious accidents at home.
Considering children are playful, they will always be around you, trying to get your attention by pulling your hand or clinging onto your clothes, and so on.
Or you might take your eyes off for just a second, and they might try to reach for an unattended teacup.
In any case, just a slight push is enough, and the coffee that you have in your hand can spill onto your child, causing serious burns.
Toddlers have skin that is extremely sensitive, so it is important to take certain precautions. It would be absurd to ask you to stop drinking coffee.
What you can do instead is to make sure that hot drinks are completely out of the reach of children.
Do not leave your drinks unattended and avoid having them while holding an infant. You can also make DIY cubbies for your kettle so that toddlers don't put the contents over themselves.
---
Read Also:
---
3. Mobile Phone Chargers
Just as in the case of the blinds, the cords of chargers can also lead to strangulation if in the hands of an unattended toddler.
However, the danger does not end there. Little children often have the habit of chewing anything they find, especially when they are teething.
Biting onto phone chargers can take a disastrous turn and cause severe burns if the live end is kept inside the mouth.
In order to avoid this, make sure that the chargers are kept switched off if not in use and kept way out of the reach of those tiny hands.
4. Electricity
This is one of the most common causes of accidents at home, even among adults. This is why it would be a great idea to childproof your home to keep your children as safe as possible.
First and foremost, only take the help of a licensed electrician to carry out any repairs or remodeling of wires in your home.
Next, ask this electrician to install safety switches that can cut off the power quickly in case of electrocution.
Along with installing genuine electrical parts with a proper safety guarantee, there is a lot of fancy PowerPoint covers available that you can use to keep your children safe.
5. Falls
This is again one of the most common forms of accidents at home, irrespective of what age the person is.
However, as parents of little children, your home should be extra safe, especially as your child starts to grow.
As soon as your child starts to crawl, install safety gates at the head and foot of all staircases and balconies.
When the child starts to climb, lock the windows and other openings, and put window guards.
All this, however, does not mean that your supervision is not required. Kids are curious by nature, and they can learn to unlock windows and gates.
Keep a watchful eye on them. Do this even at night by leaving hall lights switched on, especially if you have a toddler, so they do not trip and fall.
A very out-of-the-box idea would be to have slides instead of stairs at your home.
While adding the whole quirky fun element to your home, you will have the added benefit of your child not tripping and falling down the stairs.
Even if your child slips, he or she will simply slide safely to the bottom.
6. Furniture
Once children start to crawl and climb, it is highly probable that they try to copy their adults and sit on chairs and such.
And this can be dangerous, especially if the piece of furniture is not strong enough to topple over the kids.
To avoid such a situation, make sure the furniture in your home is sturdy from a licensed manufacturer with proper safety guidance practices.
As an added precaution, brace such furniture and anchor it to a strong bookshelf or cupboards, and so on.
Once the children start running and walking, keep furniture with sharp edges away from their 'runways' so they don't trip and hurt themselves while running around.
7. Button Batteries
If you have not seen one, button batteries are usually tiny, circular batteries that are put in toys and other such objects.
Again, owing to their curiosity, children might put these batteries in their mouths and accidentally swallow them, which would inadvertently lead to choking.
In more serious cases, these batteries can cause serious internal burns, which can sometimes turn fatal.
Therefore, it is important to be careful with this and purchase genuine batteries. Keep the battery compartments on toys and other objects tightly locked and sealed so children don't open them even by mistake.
If you have spare batteries, store them as far away from the reach of those little fingers as possible.
8. Doors
Children have a habit of putting their fingers into small crevices and openings. Thus, doors can be a source of accidents for them.
Now it's not possible to have a doorless home or store away doors till your children grow up.
However, what can be done is to install door jammers to avoid getting those fingers crushed anytime a door is opened or shut. Do the same for windows as well.
9. Candles
Candles are something found in every household. Not just for when you have an electric blackout, candles are also used in celebrations at home.
Any toddler would want a lot of candles for their birthday that they can make a wish on. However, it is very easy for them to get themselves burnt in such a situation.
Parents usually dress their children in fancy clothes for their birthdays, and these catch fire even quicker than everyday clothes.
Consider using battery-operated candles for your next birthday to avoid such an accident!
10. Household Tools and Equipment
Whether it be to frame and hang your family picture or for your favorite DIY projects, things like glue, nails, hammers, paints, saws, and so on can be dangerous for your children.
Needless to say, keep these far away from your children. Also, avoid using any of these when your children are running around.
If you take a break in between, unplug all the equipment and keep it on a high worktable to avoid any danger.
There are many more such precautions that you can take as parents for the safe upbringing of your children.
Additionally, many DIY home improvement tips are also available online that you can take guidance from if you are looking for a cost-effective method to remodel your house.
However, despite all these precautions, accidents can happen. Therefore, your supervision of your children is critical.
Additionally, learn basic First Aid steps that you can perform in case an unfortunate situation does arise.