If you have a baby or a toddler, it is important to keep the play area in the apartment safe.
Going to a playground cannot be a substitute for the activities a child needs to have in their home. That is why the space in which a child lives must be adapted to its needs, which changes according to its age.
You can find more resources here if you want to see some amazing ideas and toys for a great play area.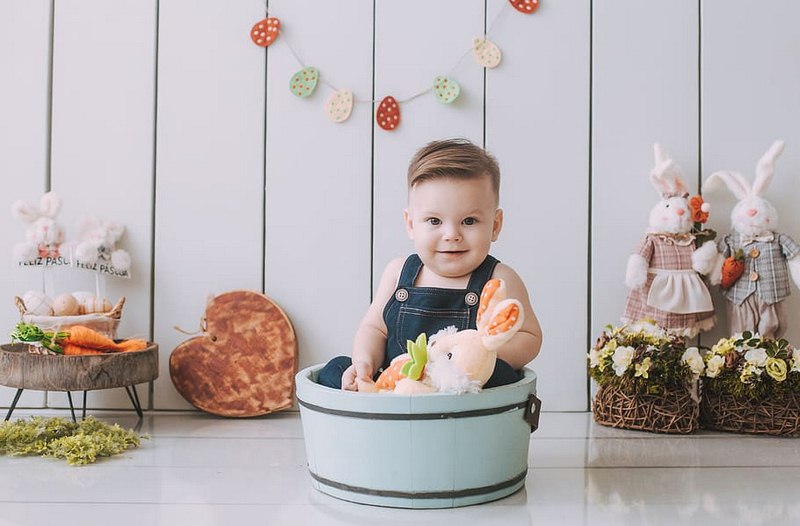 When a baby is born, a crib and a changing table are usually sufficient in the first few months. But when the baby starts crawling and later walking, parents are often unprepared.
Kitchen
Instead of parents getting annoyed that they can't cook lunch and do housework chores because the kid won't play in their room, parents can put their baby in a feeding chair or on a rug on the floor.
Give your kid a small pot and a lid. Don't forget that the pot must be smaller than their heads and bigger than their palms and feet.
This is quite important because the first thing your child is going to try is to get stuck in that pot. That is how they explore the objects around them. By trying to get into them and putting them into their mouths.
The child could have its own kitchen equipment, made out of toys. That is how the kid will still feel involved in your daily activities and will learn about the world that surrounds it.
When your kid becomes big enough to sit at the table, it should be allowed to cut fruits and vegetables with a blunt knife. The kitchen provides incredible opportunities for play and learning, while at the same time you are able to do your tasks and supervise your kid.
The Bathroom
Yes, the tub is not the same as a swimming pool, and your child can't swim here, but it can snorkel. A bathroom tub is an ideal place for your kid to get familiar with water, so it won't be afraid of it when the summer holidays come.
Make a bath and put toys in it. Play with foam, rubber ducks, let your kid use plastic cups to fill them with water and watch it pour… While bathing, a child can learn so many things about water, its properties, and how to behave in it.
Terrace
The enclosed terrace can be used for play throughout the year. If it is open, the child may stay there for a short time, with appropriate clothing, during the winter. During the summer, a little sand and water to play can replace going to the park or the beach.
But don't forget that if your terrace is not enclosed, or it is but has easily openable windows, to not ever leave your kid there unsupervised, not even for just a second. Small children are adventurous and can't see the danger in anything.
Hallway
The smallest room in the apartment is best suited for playing ball. There are no breakable items in the hallway and the door is ideal for scoring goals. Remove the rugs and the child can move safely around the floor.
Security
You need to make your home safe for your kid, especially when they start exploring their space. All the outlets must have a protective cover; the cables should be fixed and protected along the edges of the walls so that the child doesn't pull them or chew on them.
Also, the sharp edges of the furniture should be protected, the slippery rugs removed, and the rocking chairs fixed.
Parents are often unaware of the dangers indoors, but even a tablecloth hanging from a table can be a challenge for a child to pull, and if it has a hot coffee, tea, or a heavy container on it, it is clear that an accident can occur.
Don't forget to secure any furniture to the wall, such as dressers, wardrobes, and anything else on which a child might climb. There were a number of accidents including unstable dressers and kids and some of them were fatal.
If you want to check if your furniture should be secured to the wall, there is a little test you can do. Take a dresser for example. Pull out the top drawer all the way out, and hang a 50-pound weight to it. If the dresser is unstable or it seems like it could tip over, you should definitely secure it to the wall.
Supervision
If you have a baby, place it in a feeding chair or a baby fence. If she's crawling, put her on the floor mat and give her toys. Soon the child will want to imitate everything you do and follow you wherever you are in the house.
That is how they learn about the world around them. That is why you will need to secure your whole apartment, at least all those areas that are at the same height as your kid. Move away from all kitchen elements from its reach, such as dishes, plates, utensils…
Make sure that those that are left behind cannot be broken, nor small enough for your child to choke on them, or get stuck in them.
Even if you have enough space to make a playroom for your kid, and thus provide your child with all conditions for stimulating development, don't forget that your presence is irreplaceable.
Children learn by observing their parents. If they are isolated and don't have the opportunity to see you solve everyday problems, they will not know how to play. Children play through the imitation game.
Customization
When together, the family spends most of their time in the living room, and this is usually the largest room in the apartment. Small changes are enough to make this room a playing field.
Take away anything that can be knocked over and broken, and use the available furniture to make tunnels, tents, cottages… Sofas and armchairs can be mattresses on which children will rollover.
If you have a long corridor, here your child could play various games with a ball. Of course, remove everything that can be broken, and if doors are made of glass, keep them open.