The design of the workspace can make or break productivity. Employees feel more energetic and enthusiastic to work efficiently when the design inspires them. But a bland workspace will never inspire or attract anyone.
Not only it hampers the productivity of the employees but also it leaves a negative impact on the potential clients. So, hiring an interior design company is significant when designing a workplace.
The professionals take a few things into considerations and design the workspace in a way that it never looks cluttered or bland.
It's the responsibility of every business owner to ensure hiring a professional interior designer and creating a welcoming and safe workplace for their clients and employees.
Unfortunately, most business owners may have great managerial skills but they are befogged when it comes to designing the workspace.
So, it's best to allow professional interior design companies to handle the task. Since a lot of people can't find a head or tail of how to choose an interior design company, let's take a look at the few tips below to consider before hiring these professional interior design company,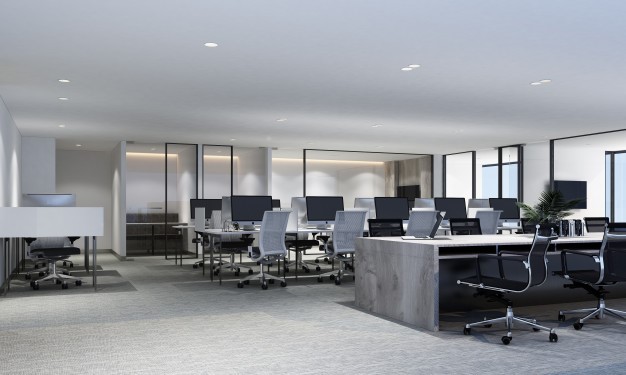 1. Budget
The most crucial aspect when hiring an interior designer is to consider the budget. Not every business can allow the same amount to be invested in hiring a fit-out company.
So, having a financial plan in mind is helpful to find the most suitable designer without spending more money. It allows people to narrow down the list of the best companies available under their budget and choose the one that can cater to their business needs.
Besides, having a budget makes it easier for the interior design company to choose the best materials according to the budget.
So, before people find office interior design companies in Dubai or any other place they should make a budget. At first, the budget may not match what a business needs for its office space.
In this case, one can determine how much extra they want to spend to make the plan work.
However, it's crucial to make a realistic budget based on the current market rates of materials. Sometimes, the small start-up owners that have a confined budget often make it look unrealistic.
It's because they're not aware of the prices of the materials. So, before even making the budget, conduct market research to understand the current prices. This will help people to make their budget.
2. Talk to Them in Person
Every interior design company has different ideas and expertise. It largely depends on the expertise and knowledge of the professional designers working for that company.
Some of them may specialize in specific interior styles while others are versatile. After all, decorating a commercial space isn't easy work.
So, before finalizing the decision, people should talk to the professionals in person. That's why most reputable interior design companies allow their clients to schedule a consultation.
During this stage, one can check out the portfolio of the past work done by the interior design company. A portfolio helps one to evaluate the skills and expertise of the designers.
By checking the portfolio during the consultation stage, people can understand whether the designers can fulfill their business requirements or not.
It must be noted that one must bring along their budget or speak it out over the call with the designer so that the expert can provide a reasonable solution based on the budget.
---
Read Also:
---
3. Ask Relevant Questions
There are a lot of questions that are at the back of the mind of a business owner when he tends to hire an interior design company.
But, often, they forget to ask these questions during the consultation stage. It's a serious mistake to avoid because it prevents people from taping into the potentiality of a designer.
So, one must keep their questions ready while talking to the professional designer and don't hesitate to ask. Some of these questions may include,
How do they bill for the project?
Are there any additional charges involved?
What will be the project's timeline?
These are the few important questions to ask before hiring an interior design company. One may customize their questions to clear all their doubts.
4. Review the Contracts
It's the designer's responsibility to specify the contractual obligations and customize them as per the unique business requirements. But, as a business owner, one needs to review it before it starts.
Plus, it's important for the designer company to have insurance for their business. It's because accidents can happen anytime during work, for instance, a window can break or a pipe can burst. So, one must check whether the company is bonded or not.
Having the right interior fit-out company is crucial. After all, an improved and modern office can boost morale and productivity.
It impresses the customer and potential clients. Plus, it boosts employee productivity. So, these points should be checked before hiring an interior design company.