If you have a dad who thrives on the great outdoors, Father's Day might be spent in nature, surrounded by the beauty and tranquility of the great outdoors.
He might wake up early to catch a sunrise hike with the whole family or head out on a fishing trip by himself. Alternatively, he might opt for a more adventurous activity, such as mountain biking or rock climbing.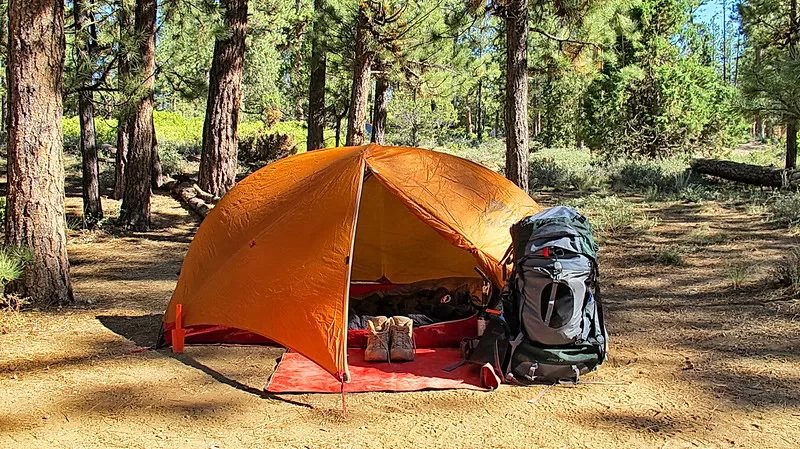 Regardless of the specific activity, the day will likely be filled with excitement and adventure, providing the perfect opportunity for him to bond with his family over their shared love of the outdoors. As the day draws to a close, he might enjoy a leisurely picnic or BBQ, soaking up the sun and enjoying some quality time with his loved ones.
Father's Day for an outdoorsy dad is a chance to escape the hustle and bustle of everyday life and reconnect with nature while also celebrating the special bond he shares with his family.
It's the perfect occasion to be thinking about what the outdoors-loving dad in your life might appreciate for his special day. From binoculars to compression socks, we'll look at the top six Father's Day gifts for the outdoorsy dad.
1. Camping Gear
Camping gear is a fantastic gift for a dad who loves spending time in nature. A high-quality tent, sleeping bag, or portable stove would be practical gifts he could use on his next camping trip.
A camping chair or hammock would also be a thoughtful gift to help him relax and unwind in the great outdoors. Other camping gear, such as lanterns, water filtration systems, and fire starters, can make his camping experience more enjoyable and safe.
2. Footwear and Compression Socks
Footwear and compression socks make a great gift for a dad who loves to stay active and on his feet. A durable and comfortable pair of hiking boots or running shoes can provide him with the support he needs for his outdoor adventures.
Compression socks can improve blood flow, reduce fatigue, and aid muscle recovery after intense activities. They're especially beneficial for those who are on their feet for extended periods, much like your outdoorsy dad. These gifts can help him stay comfortable and healthy while pursuing his favorite outdoor activities, making them practical presents for Father's Day.
---
Read Also:
---
3. Outdoor Apparel
For a dad who loves spending time outside, outdoor apparel is an ideal gift. A high-quality jacket or rain gear would keep him dry and comfortable during wet weather, while insulated pants and layers would keep him warm in colder temperatures.
Sun-protective clothing, hats, and sunglasses would protect him from harmful UV rays. Choosing apparel with moisture-wicking properties and quick-drying fabrics can also be beneficial for those who engage in sweaty activities.
4. Binoculars
If you know a dad who enjoys birdwatching, wildlife spotting, or any other outdoor activities that require observation from afar, you can't beat binoculars. A good pair of binoculars can enhance his experience by providing clear and detailed views of his surroundings. They are also essential for safety, allowing him to spot potential hazards or wildlife from a safe distance.
Choosing binoculars with high magnification, waterproofing, and shock resistance can make them even more useful for outdoor adventures. Binoculars can help him get closer to nature and make his outdoor activities more enjoyable, making this a Father's Day to remember.
5. Outdoor Accessories
If your outdoorsy dad is like most, he collects outdoor accessories like no one's business. Why don't you add a few more to his collection?
First, a multi-tool is a versatile accessory that can be used for a wide range of outdoor activities. It can be used to cut, saw, screw, and open bottles, making it a valuable tool to have on hand.
A headlamp is a practical accessory for hiking, camping, or other outdoor activities that involve low-light conditions. It's hands-free and provides bright light, making it easy to navigate in the dark.
If your dad is something of an explorer, a GPS device is an excellent accessory for outdoor enthusiasts who enjoy hiking, backpacking, or exploring new trails. It can help them navigate unfamiliar terrain, track their progress, and stay on course.
A portable solar charger is a convenient accessory for charging devices like smartphones or cameras while out in the field. It harnesses the power of the sun to keep devices charged and ready to use.
6. Adventure Experience
Gifting an adventure experience is a thoughtful way to create lasting memories and allow your father to try something new and exciting. A guided hiking or kayaking tour can offer a new perspective on a familiar area, while a rock climbing or whitewater rafting excursion can provide an adrenaline rush.
For dads who enjoy a challenge, a survival skills workshop or a backcountry camping trip can be a rewarding experience. Hot air balloon rides, zip-lining, and helicopter tours offer a thrilling way to see the outdoors from above.
Give the Gift of the Great Outdoors
From practical outdoor gear to thrilling adventure experiences, there are plenty of gift-giving options for outdoorsy dads. These gifts can enhance his outdoor activities and show appreciation for his love of nature.