Tree removal and landscaping can be daunting and overwhelming tasks, especially if it's your first time.
To help you achieve a successful project outcome, it's important to avoid common mistakes that many people make.
Our experts share their advice on what not to do when removing trees or working on your landscape.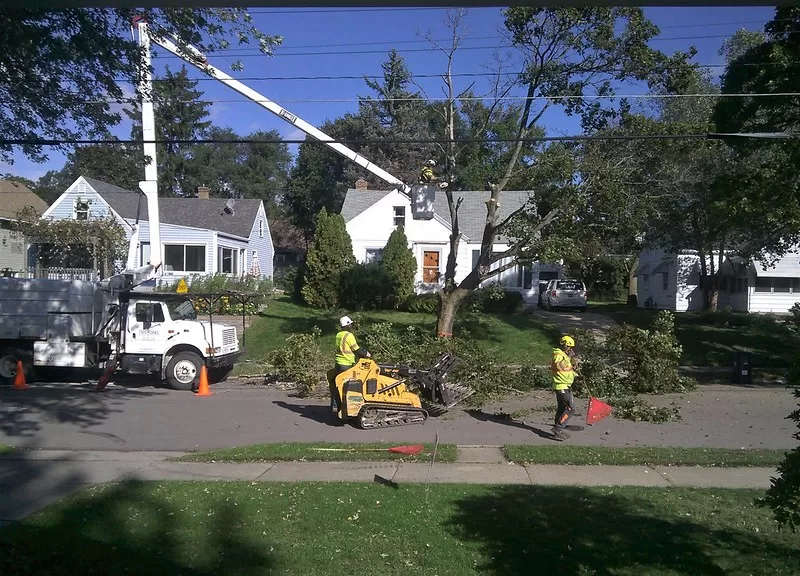 Understand The Scope of The Project Before Starting
It's important to understand the full scope of the tree removal and landscaping project before beginning any work. This means considering all aspects of the project, such as tree size, location, and potential obstacles. Failing to do so can result in unexpected issues arising during the project, which can cause delays or increase costs.
Make sure to consult with professionals and create a detailed plan that outlines every task involved in the project before starting anything. This will help ensure that you are fully prepared for each stage of the project and can avoid mistakes that could lead to frustrating setbacks down the line.
Avoid Removing Trees or Plants That Could Be Saved or Relocated
One common mistake that people make during tree removal and landscaping is removing trees or plants that could have been saved or relocated. Before beginning the project, it's important to assess the trees and plants on your property to determine which ones can be saved or relocated.
This not only helps preserve the natural beauty of your landscape but also helps you avoid unnecessary expenses.
Removing a healthy tree, for example, can lead to additional costs down the line if you need to replace it with a new one.
Consult with professionals who specialize in tree removal and landscaping to ensure that you are making informed decisions about which trees and plants should be removed, saved, or relocated as part of your overall project plan.
---
Read Also:
---
Always Follow Safety Procedures and Hire Professional Help, If Necessary
Tree removal and landscaping can be dangerous work, especially if you don't have experience or training in the field. One of the most important things to remember is to always follow safety procedures when removing trees or doing any landscaping work. Use appropriate safety gear and tools, such as helmets, goggles, gloves, and safety ropes.
Additionally, if you're unsure about how to tackle a particular task during the project, it's best to hire professional help from experienced arborists or landscapers. Trying to do too much on your own without the proper knowledge or skills could lead to accidents or injury.
Always prioritize safety first and seek professional help as needed for a successful and safe project.
Consider The Long-Term Impact on Your Landscaping and Plan Accordingly
Another common mistake to avoid during tree removal and landscaping is not considering the long-term impact on your property.
It's important to have a plan in place before starting any work, so you can make informed decisions about which trees to remove, how much space to dedicate for landscaping, and what kind of plants or trees will thrive in your area.
Keep in mind that some plants may require more maintenance than others or may not be able to survive extreme weather conditions.
Consider hiring a professional landscaper who can advise you on the best options for your property and help you create a plan that takes into account both short-term and long-term needs. This way, you can ensure that your landscaping will continue to look its best for years to come.
How To Choose the Best Tree Service and Landscaping Company in Your Area
Maintaining trees and landscaping is an important task that requires a skilled professional. Hiring an inexperienced or untrained contractor can lead to damaged property, overpriced services, and unsafe working conditions.
Whether you're looking to update your lawn or remove a hazardous tree, finding the right company for the job is essential.
Here are some tips for selecting a reliable and experienced tree service and landscaping provider in your area.
Ask For Referrals from Family and Friends
One of the most effective ways of finding a reliable and experienced tree service and landscaping company in your area is to ask for referrals from family and friends. Chances are one of them has used a local provider before and can give you first-hand insight into their experience.
Be sure to ask specific questions about the quality of work, customer service, timeliness, and pricing. This feedback will help you determine if the company is worth considering or not.
Another advantage of getting referrals is that you may also receive recommendations for companies that offer great rates but may not have much advertising reach.
Check Their Qualifications and Certifications
When choosing a tree service and landscaping company, it's important to check their qualifications and certifications. Make sure the company you're considering has the necessary licenses and insurance to protect both you and your workers from liability in case of an accident or damage to your property.
Look for certifications such as the International Society of Arboriculture (ISA) certification, which indicates that the company has achieved a high level of knowledge and expertise in tree care practices.
You can also check with local regulatory agencies to ensure that the company is complying with any city or state guidelines or regulations.
By doing your due diligence, you can ensure that you are hiring a qualified and reliable tree service and landscaping company for your needs.
Verify Insurance Coverage and Licensing
Before hiring a tree service and landscaping company, it's essential to verify that they have proper insurance coverage and licensing. The company should have liability insurance to cover any accidental damage caused to your property during your work. They should also carry workers' compensation insurance in case one of their workers gets injured on the job.
In addition, make sure that the company is licensed according to your state's regulations for tree and landscaping services.
Licensing ensures that the company has met specific standards set by the state government and is qualified to provide such services.
By verifying insurance coverage and licensing, you can feel more confident in hiring a trustworthy and reputable tree service and landscaping company for your needs.
Get Multiple Quotes and Compare Services Offered
Before making a final decision, it's important to get multiple quotes from different tree service and landscaping companies in your area. This way, you can compare the costs and services offered by each company to make an informed decision that best fits your budget and needs.
Be sure to ask for an itemized breakdown of the costs so that you can see what services are included in each quote. Don't be afraid to ask questions or for references from past customers to ensure that you are hiring a reliable and experienced company.
Taking the time to compare quotes and services offered will help you find the best tree service and landscaping company in your local area.
Read Reviews and Check References Before Making a Final Decision
Before you make the final decision to hire a tree service and landscaping company, take some time to read reviews and check references. Don't solely rely on the testimonials listed on their website, as these can be manipulated or cherry-picked. Instead, look for unbiased reviews on third-party websites or social media platforms.
These can give you an accurate representation of the company's services, customer satisfaction rate, and overall reputation.
Additionally, ask the company for specific references from past customers who have had similar work done to what you are looking for.
Contacting these references can provide valuable insight into how reliable and professional the company is, and what kind of experience you can expect if you decide to hire them.
Don't Neglect Maintenance or Tree Care in The Future
One of the most common mistakes people make in tree removal and landscaping is neglecting maintenance or tree care in the future. After a project is completed, it's tempting to relax and enjoy your newly landscaped property without any further upkeep.
However, this can lead to issues down the road, such as overgrown trees or plants that become diseased or damaged. Hiring a professional tree care service can help you establish a regular maintenance schedule and keep your landscaping looking great for years to come.
Additionally, consider investing in preventative measures like fertilization and pest control to ensure the health of your trees and plants. By taking these proactive steps, you'll be able to enjoy a beautiful, healthy landscape that adds value to your property for years to come.