There are countless styles to choose from when it comes to decorating your living space.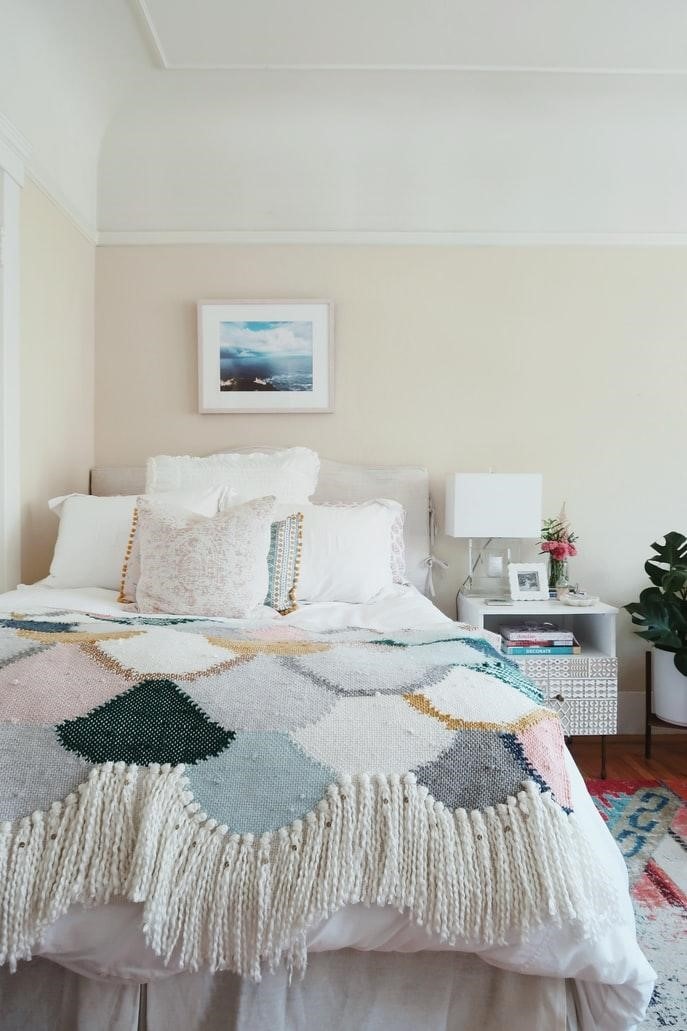 However, not all styles fit everywhere in your home. An industrial look might be great for your living room, but it will make your bedroom feel cold and clinical.
Your bedroom should make you feel warm and fuzzy inside. That's why we'll show you five of the best DIY projects that make your bedroom instantly cozier.
1. Pillows and Blankets
There's nothing like a bunch of soft pillows to make you want to dive into bed. When we say a bunch, we mean it; we're not just talking two or three. Don't be shy with the number of pillows you have in your bedroom.
The more, the cozier! Just make sure you have somewhere to put them while you sleep. You want to be cozy, but be careful that the pillows don't hijack your bed.
It's a similar story with blankets. A thick, warm blanket will make you want to get in bed and cocoon yourself inside. Besides, you can never have too many blankets, especially on cooler winter nights.
When choosing your pillows and blankets, go for soft and plush ones. Satin can look nice and shiny, but it won't make your bedroom cozy.
Instead, opt for fluffy pillows and chunky knit blankets. It's always wise to read reviews before you buy, and Sleepingnorth.ca has a ton of them. If you're ever in a dilemma as to which pillow is cozier, they're the ones to ask.
2. Decorative Wood
Most natural materials will give you a comforting, warm feeling. That feeling is especially pronounced with wood: with enough of it, your bedroom will feel as cozy as a ski lodge! Let's review some of the ways to incorporate wood in your bedroom:
First and foremost, consider wooden wall panels. You can wholly clad one of your walls in wood or, if that's too much, only do a section. A very effective and accessible way to incorporate wood is to make a wooden headboard for your bed.
Next, we have wooden decorative elements. Vases, small sculptures, jewelry boxes, you name it! These are all readily available and will make a world of difference when used right.
Lastly, let's talk about your furniture. A beautiful wooden bed frame will really soften the ambiance of your bedroom. If you have the space, a wooden bookcase will do the same.
A quick warning about wood, though: some people find that they get overwhelmed with too much wood around them. When styling your comfy bedroom, ensure that you're not overdoing it.
---
Read Also:
---
3. Dark Colored Walls
The only way to get a good night's sleep is in a dark bedroom. Any light source before and during sleep will disrupt your sleeping pattern and lower the overall quality of your sleep.
Colors work similarly to light; bright, vibrant colors will make you more alert and motivated. On the other hand, darker, more subdued ones will calm you down.
We'd recommend choosing something along the lines of navy blue or forest green. When it comes to painting your walls, the choices are plenty: you can choose to paint your entire bedroom in a dark color, or you can paint an accent wall. Everything in between is also an option. For example, you could paint one wall in dark green and the others in a slightly lighter shade.
You need to consider two things here. Firstly, be careful with saturation. Too much saturation will introduce an unwanted intensity to the color, defeating its purpose. Secondly, same as with wood, be careful not to overdo it. Think carefully about how many walls you want to darken.
4. Use Rugs and Carpets
Laying down rugs is a very convenient way to make your floors visually and physically warmer. However, carpeting brings one benefit that most people don't realize: it makes things quieter.
We think you'll agree that coziness is not only about the look of your bedroom; the sounds play a significant role as well. Thus, rugs and carpets will significantly dampen any sound coming from your floor or bouncing off of it.
You can even choose to completely cover your floors in carpeting for the ultimate experience of peace and quiet. Choosing a thick, plush carpet will also make your feet cozier.
5. Get Rid of Electronic Devices
Electronics and coziness don't really go well together. Your computer, phone, tablet, TV, and more all emit lights and sounds that will disrupt your sleep.
Even when turned off, your electronic devices can still emit a buzz, not to mention their omnipresent light indicators. Let's be honest: nothing kills a cozy atmosphere faster than blue LED lights.
While we're on the subject of lighting, you should only use light bulbs labeled "warm white" for your bedroom. Anything brighter than that will work to keep you alert, and it's more suited to a workshop than a place meant for rest and relaxation.
To take things a step further, you can even try the original warm white lighting: candles. Just don't go overboard, or they'll use up too much of the oxygen in your room. Additionally, ensure you put them out when you go to sleep to avoid starting a fire.
Get to Work
With these DIY projects, you're sure to bring your bedroom's coziness to an entirely new level. Do them all, or choose whichever project you think works best for you.
They're all relatively simple; you'll need basic DIY experience for some of them, but others don't require any skill whatsoever. Still, they're all equally effective; each of these projects will make your bedroom feel more relaxing than ever.