Whenever you want to add energy storage to your solar system, a solar charge controller is in order.
While its significance may not be self-evident to some, this regulator serves to prolong the lifetime of your battery, makes your system safer, and eventually saves you a lot of money. All the details – here, in this article.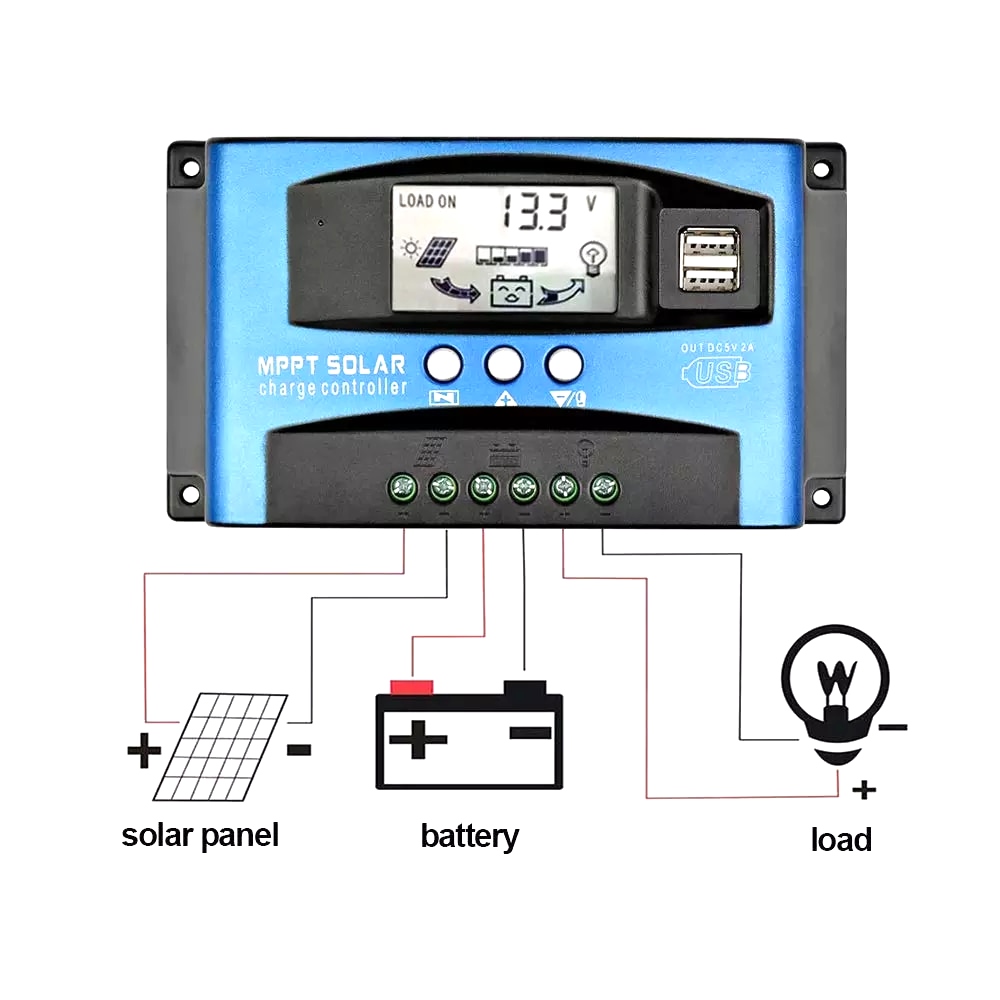 What is a Solar Charge Controller?
A controller regulates the flow of energy that comes from your array to the battery. Its functions are the following:
The controller lowers the voltage that comes from solar panels. Without it, your battery dies much quicker, because the voltage of an array is typically higher than the one of a battery.
It also stops the charging process when it's not needed and prevents the usage of a battery when it's discharged. After all, the easiest way to kill a battery is to constantly overcharge it or use it when it's empty.
It makes monitoring the state of a battery much easier: a controller always shows the charge of a battery and its current condition. Some models allow you to adjust and program the charging process.
At night the current tends to flow back from batteries back to panels in a system without a controller. Reverse currents can potentially start a fire on your roof. Adding a regulator nullifies this risk.
It appears that people are starting to recognize the importance of controllers: the global market of regulators shows 15.1% of annual growth, according to financial experts.
Two Types of Solar Charge Controllers
You can choose between PWM and MPPT controllers. They differ mainly in the way they handle high voltage from panels and it impacts their price, longevity, and efficiency.
PWM solar charge controllers are less expensive than MPPT. They tend to be more simple and have a longer lifespan. PWM can be used in any solar system, while MPPT is usually recommended for bigger arrays that operate at higher voltages.
Pulse Width Modulation (PWM) solar charge controllers the name implies, PWM solar charge controllers use pulses to lower the voltage from solar panels to the level that's safe for batteries. These pulses are produced by a transistor that switches on and off really quickly.
The main advantage of PWM regulators is their simplicity: since there are no moving parts in them, they have a longer lifespan than MPPT regulators.PWM controllers are also more resistant to temperature changes, so you can use them in colder climates.
PWM Charge Controller
The PWM controller (pulse width modulation) is a very simple and cheap device. Basically, it cuts off the voltage of your array to the safe level for the battery.
It's not the most efficient method, therefore it is recommended to use PWM controllers only in installations where the voltage of the array slightly exceeds the volts of the battery.
For example, 60-cell panels and a 24V battery generally go well with a PWM regulator. The overall efficiency of a PWM charge controller is at 75%-85%, but they serve diligently for 20-25 years.
For a while it was the most popular type of controller, accounting for 45% of revenue shares on the market in 2019 until MPPT regulators truly started to surpass them.
---
Read Also:
---
MPPT Charge Controller
MPPT controllers (maximum power point tracking) fit every system and ensure a great power output. They don't just cut the voltage from panels, but convert it into the extra current, trying to find the sweet spot where volts and amps are balanced for maximum production.
This becomes especially important on sunny winter days when the voltage of an array increases greatly. Since MPPT controllers are far more complicated, they cost more and break down a little sooner than PWM regulators.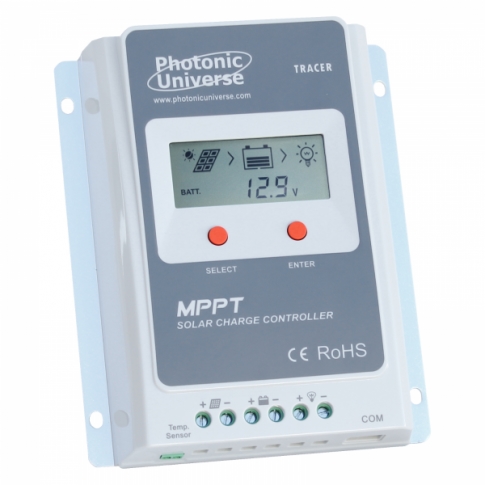 In return, they give you much more production and more control over your system. Overall, you can expect an MPPT charge controller to be 20-25% more efficient than a PWM one even if it's the system that both types fit. Generally, people choose MPPT whenever they have more than two panels in a system.
Where is a Solar Charge Controller Used?
In grid-tie installations, you don't have energy storage so there is no need for a controller. However, you do need a regulator in an off-grid or hybrid system with batteries.
Marine and RV solar systems fall into the off-grid category. It is especially important to use a controller with lead-acid batteries as they are much more fragile in general and more susceptible to overcharging and deep discharge.
The controller goes in between your energy bank and array. Normally, you connect the regulator to batteries first, turn the controller on, and adjust it so that it recognizes the battery. Then it is safe to wire the controller with the panels.
It's better to put the controller in plain sight so it is easier for you to check the battery load if needed. The most simple regulator should be able to measure the volts of your battery, its load and condition, and the voltage of panels. More complex models show outdoor temperature and allow you to program the charging process.
Every controller has amps size and maximum input voltage. If you use a series connection in your system, the amp size is the combined power of your array divided by the voltage of the battery. You can combine parallel and series types of connections in your system to adjust the current and voltage to your preference.
Average Cost of a Solar Charge Controller
When it comes to the cost, a controller won't be much of a financial burden compared to the overall cost of a system with batteries.
You can find fine PWM controllers for under $100. MPPT controllers, on the other hand, have a wide price range from $100 models to the ones that cost over $1000.