As a guest at someone's home, most of us don't consciously notice the front door. Yet, it's something most of us still pick up on.
The first thing we see before we knock, your front door has power. More than seeing your home from the curb, this is what indicates to someone what to expect inside.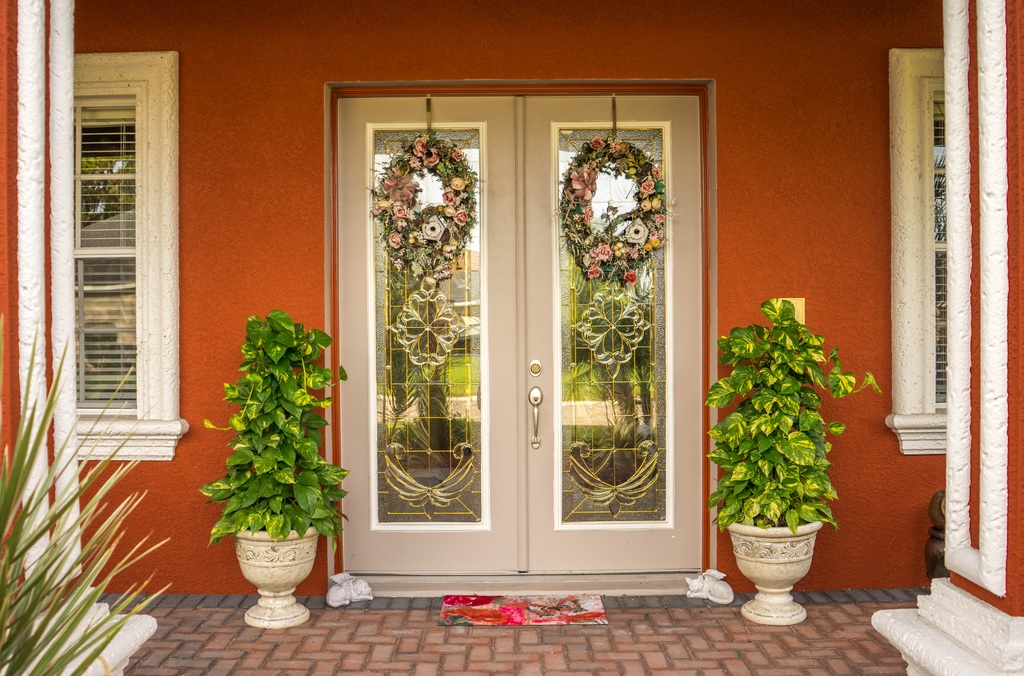 Having front door décor is a way to introduce a guest to the type of people you are and the atmosphere that awaits them inside.
It's also a way to show off, add some style to your entranceway, and communicate a little about you. Like what you do inside, home décor is something you can have fun within this context.
For any interior designer or home decorator, creativity is a friend. You can bring out your personality with a carefully accented front door.
Here are our favorite creative home décor ideas for your front door:
1. Hardware
Your front door is an open canvas. Use it. Style it up with some hardware. From the doorknocker to the handle, lock, and the rest of the door, you have lots of areas to install innovative, eye-catching sculptured hardware.
2. Sculptures
You may reserve sculptures for your home garden. However, you can certainly get away with a small statue somewhere around the front door.
If you do decide to use a sculpture, maximize it! Make sure it counts. You don't want run-of-the-mill décor here. You want something that pops.
---
Read Also:
---
3. Garden Stakes
You can plant a uniquely crafted set of front door garden stakes along a walkway or on the respective sides of the door. A garden stake is a tall cast, typically adorned with something aesthetically catching on top.
4. Signage
Signage, once again, opens the door up to endless possibilities on what to write. It could be an image, a quote, or phrase, or a simple 'Welcome'.
The signage can be modern or antique or eccentric to the nines. It's yours to play with and give some personality to your entranceway.
5. Front Door Lights
What does your front door might look like when you turn it on? Most take this for granted.
You can do so much with front door lights, from changing the encasing and bulb to adding secondary or complementary LED lights.
Try to have fun with it. Think of a unique lighting arrangement you can use to welcome guests during dinner parties or nighttime get-togethers.
6. Stylish, Eccentric Planter
Try a new take on a prevalent wholesale home décor item – plants. A minimalist-inspired eccentric planter is fun and an instant conversation piece.
You can put someone in a good mood before they even raise their hand to ring the doorbell.
7. Highly Decorative Wreaths
You can incorporate anything into a wreath, from model car pieces to music notes, flowers blossoming, seasonal décor, and more.
Though a relatively standard front door décor piece, a superbly styled wreath can hit the mark and give insight into your interests.
8. Address Number Plaque
If your address number is near your doorway, it's an excellent opportunity to craft a custom address plaque.
Positioning it either above or to the side of your door, you can build your address plaque or combine a few different ideas from front door décor online.
9. Expressive Doormat
A creative doormat for your front door is another way to set someone up for what's inside. Doormats can be a simple form of self-expression.
They can take an abstract shape, have a quote you appreciate on them, or indicate if there are pets inside your home.
10. Artificial Boxwood Topiaries
A set of artificial boxwood topiaries – one on each side – adds some shape to your front door presentation.
Although real topiaries work, the faux variety needs no tending. Ultimately, they can be left to their own devices year-round.
11. Seasonal Front Door Décor
Let's be honest. The year gives you four distinct seasons – summer, autumn, holiday-inspired winter, and spring.
How to deck out your front door with seasonal décor could be a complete manual unto itself. For those who adore décor, building out four unique front door and entryway décor setups is a tremendous amount of fun.
12. Unique Wind Chimes
Self-made chimes or front door wind chimes can create a whole rhythm out of the activity occurring outside and at your step.
It can also alert you if someone is opening your door or if a storm is arriving. Like other décor items on this list, there are so many possibilities in what chimes would best suit your front door.
13. Custom Sitting Bench
A sitting bench is a kind sight to see for anyone arriving at your property for the first time. Although you don't have to build a sitting bench yourself, this is by far the easiest way to customize it.
There are also plenty of vendors already offering various sitting benches and similar front door-friendly seating.
14. Mailbox
If you have the mail carrier coming right up to your front door, don't mistake the mailbox solely for function.
We all need a mail slot or mailbox in our homes. You can get creative by crafting your own with wood and a little paint or buying an antique mailbox.
15. Front Door Mural
If you can't seem to find front door décor that matches your style, the only thing left to do is to create it yourself.
A front door mural painted by you can add all the unique colors you want, instantly grabbing attention and making a statement.