Finding the correct bar or counter stools is vital when making your dining room checklist, whether you've moved into a house with an eat-in kitchen or you've converted a bar into a family room.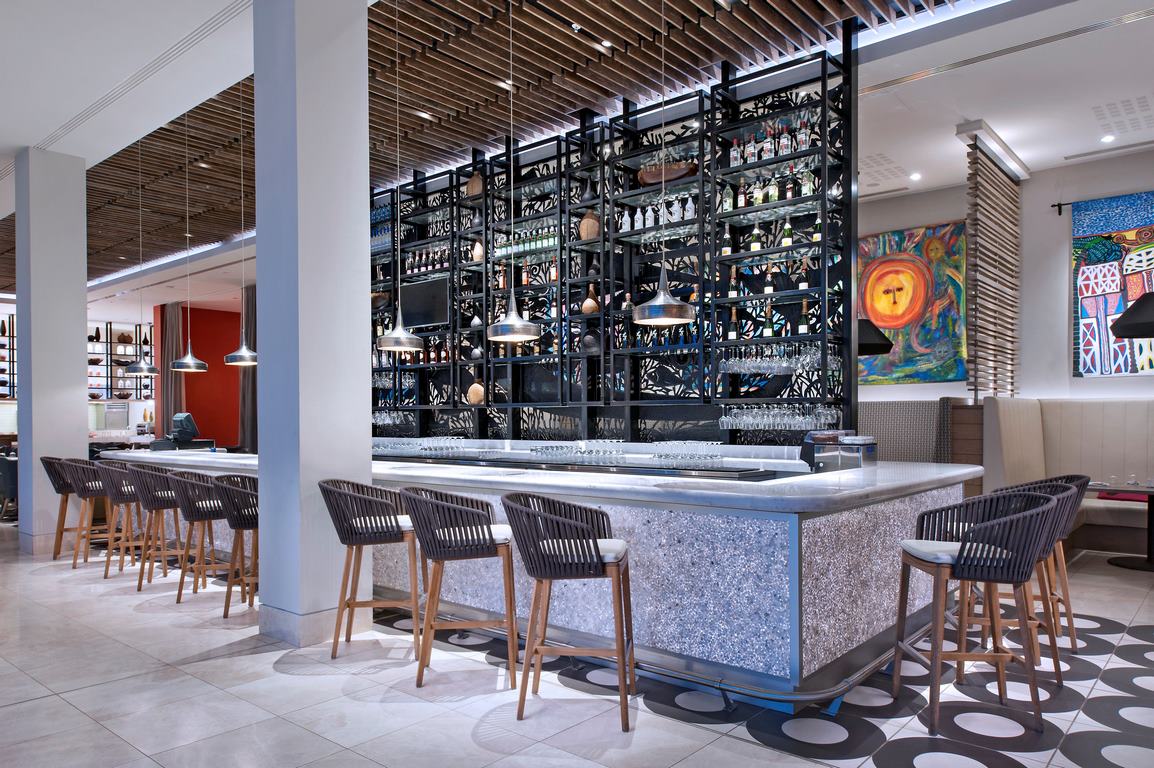 A counter may be your sole formal eating location in a small space. Others may simply be looking for a more relaxed eating experience. In any case, it's critical to locate the perfect seating for this space in order for it to operate well!
Are you having trouble deciding on the bar or counter-height stools for your space? We'll guide you through all you need to know about bar height and counter stools so you can have the ultimate counter seating!
Bar or Counter-Height Stools
The height of your bar or counter should be the first consideration when looking at the bar and counter seating alternatives. It's also worth noting that bar-height and counter-height stools are two different sizes of chairs, not two different names for the same thing.
Counter-height seating is designed to fit a conventional 35-37-inch-high counter-height surface. Counter-height stools have a seat height ranging from 23 to 27 inches. Hampton Bar stools, on the other hand, are a little higher.
Because bar-height countertops are 41-43 inches high, bar stool heights from floor to seat range from 28-33 inches.
In kitchens, bar-height countertops sometimes include a raised part, resulting in two different counter heights. So, instead of measuring from the prep and serving area, measure from the top portion, where you'll install seating!
Key Features of Bar and Counter Stools
There are a few crucial elements to consider when purchasing bar and counter stools. What you pick is entirely dependent on your particular tastes in terms of appearance, style, and comfort.
Backless
Bar and counter stools are either backless or feature aback. If you have a limited area, backless stools are ideal since they can be tucked completely behind the counter and take up no more floor space when not in use.
They are, however, less pleasant to sit on for extended durations. If you simply have a counter to dine at, a backless stool may not give the posture support you require.
Arm Rests
Stools, like dining chairs, are available with or without armrests, and which you pick is purely a question of personal choice. Armrests are only available on stools with backs, as you might expect.
Armrests offer your area a more formal feel while also providing extra comfort while you're sitting for lengthy periods of time.
Stools with armrests, on the other hand, make it more difficult to get on and off your stool, so they're not ideal for compact areas.
Swivel
Swivel chairs are a frequent characteristic of bar stools! The seat of a swivel stool spins all the way around while the stool legs stay motionless.
If you have an open kitchen/dining/living space, swivel bar stools are ideal since they allow people to turn and connect with individuals at the dining table or on the sofa.
Foot Rests
Do you mind if your feet dangle? Consider a stool with a footrest built-in. Some stools even have numerous bars to accommodate persons of various heights, which is a useful feature if you have a diverse group of people utilizing them.
Other stools don't have "formal" footrests, but they do feature a horizontal bar that may be utilized as one. This function will make you feel more at ease, especially if you are sitting for an extended amount of time.
Stackable
Some stools are stackable, so they may easily snuggle into one other. If you don't use your chairs all year and want to make them easy to store at the end of the season, this is a terrific option, especially for outdoor bar settings!
---
Read Also:
---
Styles and Materials
Consider the style and material of your stools once you've decided on the aspects that are most essential to you since this will assist to reinforce the overall design style of your room.
But you shouldn't only choose a material that matches your design style; you should also think about your lifestyle demands and which materials are best for them.
When it comes to selecting the proper material for your area, consider comfort, cleanability, durability, and overall aesthetic. We've compiled a list of some of the most prevalent materials below to assist you in selecting the proper material for your stools!
Metal
Metal may not be the most comfortable bar stool material, but it is a highly easy-to-clean and sturdy material, making it an excellent choice for families with children! Metal stools may be used in both industrial and Modern Farmhouse settings.
Wood
Wood is one of the most common materials for bar stools since it is quite durable. And, depending on the stain or finish, they might be rather different in terms of style.
A lighter, more natural finish is appropriate for a coastal, rustic, or Scandinavian-style setting, but a white wood stool is more cottage-inspired, and a dark stain is more conventional.
Rattan
A rattan bar stool may give your home a beach, bohemian, or Parisian chic atmosphere. This material is lightweight but strong, and when properly cared for, it lasts a long time. When weather-treated, it may also be used outside, making it an excellent material for outdoor dining sets.
Leather
Leather bar stools may offer a touch of class to your dining room. Whether you choose lighter or darker leather, this material provides a touch of class while being quite practical.
Metal legs are common on leather stools, giving them a sleeker, more basic appearance. While leather isn't the simplest material to keep clean, it does age gracefully, turning scratches, scuffs, and tiny spills into a lovely patina!