Every house should have at least one step stool handy. It's not uncommon to need a little boost!
Step stools usually offer anywhere from one to four steps, are portable, and, at least for some models, collapsible.
But which style of step stool is right for you and your needs? We look at the different models below to help you make the right choice.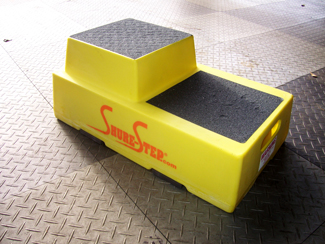 Box Steps
Box step stools are essentially like a short set of stairs. They do not collapse or fold up, but are very sturdy and durable. The boxy design means that it can bear a large amount of weight, usually around 500 pounds.
By design, there is no danger of the step stool collapsing or in you overshooting a step. They are usually made from plastic.
Collapsible Plastic Step
These single-step stools fold up in the middle, making the stool nearly flat. If you have three inches of storage space, you can slide this step stool right in.
While they can't handle a large amount of weight, they are perfect options for children to use in bathrooms or to keep around kitchens to reach high shelves.
Folding Steps
Foldable step stools are a handy option to help you reach high shelves and cabinets. They fold up when not in use to be tucked away without taking up much space.
You'll find these made from a wide variety of materials, from steel for maximum durability to aluminum for a lightweight option.
Most foldable step stools will have rubber, nonslip mats on the wide steps, and rubber tips on the feet. They can hold anywhere from 200 to 375 pounds, on average.
Stationary Steps
Stationary step stools are found frequently in garages and warehouses and are typically made of metal. As the name suggests, they are stationary and do not fold up.
The steps feature deeply serrated treads to reduce slipping. These heavy-duty workhorses can bear a 500-pound load with ease.
Step Stands
Step stands are the perfect combination of a folding step stool and an A-frame ladder. These short stepladder stools have feet placed wide to help provide stability, even on uneven surfaces.
The top is usually made from molded plastic and can be stood on, as opposed to the tops of traditional ladders.
The foldable side cars lock open. Aluminum and fiberglass step stands can hold around 200 to 375 pounds, while models made from plastic and polyethylene can handle 500 pounds.
Round Office Stools
These round step stools are seen in every environment, from libraries and offices to commercial kitchens and garages.
They feature hidden casters so that the stool can roll around, but the casters retract when you step on the stool to hold it still and provide stability.
The bottom edges of this circular stool have a rubber bumper so that there's no danger of them bumping into walls and furniture and doing damage.
Rolling Steps
Rolling step stools look very much like the stationary step stools mentioned earlier, except that they are on wheels. Some have a hand lever that allows you to lock the stool in place once it's rolled into position.
Others have spring-loaded wheels so that they sink when you step on the ladder, and rubber-tipped feet in the corners then can make contact with the ground.
These are made from aluminium, stainless steel, and regular steel, and the amount of weight they can bear varies by the material used.
Sawhorse Steps
These collapsible step stools are similar to the stepladder stools, except that you can use the steps on both sides of the A-frame.
They usually only have two or three steps but are also two or three feet high. This means that, while they can be used as a step ladder, they can also function as a work stand or sawhorse.
You'll see them with heavy-duty gusset bracing, to help durability and structural stability. Being as they're so large, they're often made from lightweight aluminum.
Fiberglass options are also available for electrical use.
Rolling Platforms
These mobile step stools, usually made from aluminum or steel, offer a durable, long-lasting, and strong single-step option. Similar to the taller rolling step stools mentioned above, rolling platforms feature spring-loaded caster wheels.
These roll easily in any direction and then retract out of the way when the platform is stepped on, letting the rubber-tipped feet bear the load.