When it comes to owning a home, not only do you want a comfortable and aesthetically pleasing space, but you also want your investment to appreciate over time. Home improvements can significantly enhance your property's value and increase its appeal to potential buyers.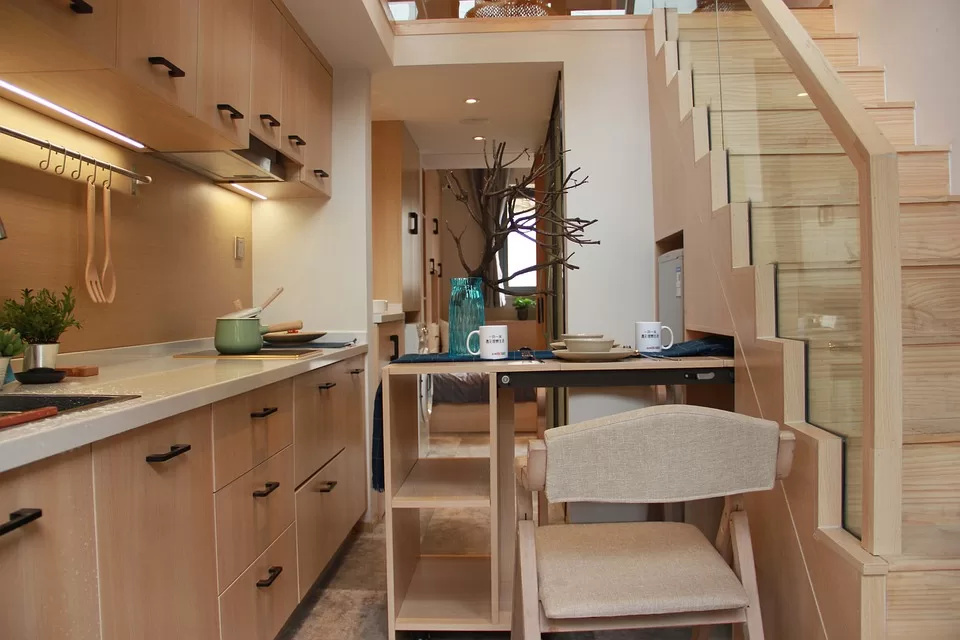 However, not all renovations are created equal in terms of return on investment (ROI). To ensure you make smart choices when it comes to improving your home's worth, we've compiled a list of the top eight home improvements that pay off. Consider these upgrades to boost your home's value and potentially attract more buyers.
Kitchen Remodeling: The Heart of the Home
The kitchen is often considered the heart of the home, and it's no surprise that a well-executed kitchen remodel can provide a significant return on investment. Focus on high-impact updates such as replacing outdated appliances, installing new countertops, upgrading cabinets, and improving lighting fixtures.
A modern and functional kitchen can greatly enhance your home's value and appeal to potential buyers.
Bathroom Upgrades: Spa-like Retreat
A spa-like bathroom is a coveted feature for many homeowners. Upgrading your bathrooms can yield a high ROI. Consider replacing old fixtures, updating the vanity and countertops, adding new tiles, and improving the lighting. Additionally, creating a sense of luxury with features like a walk-in shower or soaking tub can add an extra touch of elegance and appeal.
---
Read Also:
---
Curb Appeal: First Impressions Matter
The exterior of your home sets the tone for potential buyers. Enhancing your home's curb appeal can make a lasting impression and greatly impact its value. Invest in landscaping improvements, such as planting fresh flowers, trimming trees, and maintaining a well-manicured lawn.
Repainting the exterior, replacing the front door, and upgrading the garage door can also make a significant difference in boosting your home's overall appeal.
Energy-Efficient Upgrades: Sustainability Sells
In today's environmentally conscious world, energy-efficient upgrades are highly sought after. Installing energy-efficient windows, upgrading insulation, and adding solar panels can not only reduce energy costs but also make your home more appealing to buyers. Energy-efficient features are considered valuable assets and can contribute to a higher resale value.
Basement Conversion: Utilizing Unused Space
If you have an underutilized basement, consider converting it into a functional living space. Finishing your basement can provide valuable additional square footage, which translates into a higher home value. Options for basement conversions include creating an entertainment area, a home office, or even an additional bedroom. Ensure proper lighting, ventilation, and insulation to make the space comfortable and inviting.
Smart Home Technology: Convenience and Connectivity
Investing in smart home technology can be a game-changer in terms of home value. Buyers are increasingly interested in homes that offer convenience, security, and energy efficiency through smart devices.
Consider installing features such as smart thermostats, security systems, automated lighting, and video doorbells. The integration of smart technology can enhance the overall appeal and desirability of your home.
Outdoor Living Spaces: Extending Your Home's Footprint
Outdoor living spaces have become highly desirable for homeowners. Creating a well-designed outdoor area can significantly increase your home's value. Install a patio or deck, add comfortable seating, and incorporate landscaping elements to create an inviting outdoor oasis.
Features like outdoor kitchens, fire pits, and pergolas can further enhance the functionality and aesthetic appeal of your outdoor space.
Home Office: Meeting the Demands of Remote Work
The rise of remote work has made a dedicated home office space more important than ever. Converting an underutilized room into a functional home office can greatly boost your home's value. Focus on creating a space that is well-lit, properly wired for technology, and equipped with storage solutions.
Consider built-in desks, ergonomic furniture, and adequate outlets for electronic devices. A well-designed home office can attract buyers who prioritize a productive work-from-home environment.
Consulting with an Investment Property Buyers Agent
Making informed decisions about which home improvements will yield the highest return on investment can be challenging. That's where an investment property buyers agent can provide valuable guidance. These professionals specialize in real estate investment and have extensive knowledge of market trends and buyer preferences.
By working with an investment property buyers agent, you can receive expert advice on which home improvements are most likely to enhance your property's value and attract potential buyers.
Factors to Consider for Maximum ROI
While the above home improvements can significantly boost your home's worth, it's important to keep several factors in mind to ensure maximum ROI:
Budget: Determine your budget for home improvements and allocate funds wisely. Focus on projects that align with your financial resources and provide the most significant impact on your home's value.
Market Analysis: Conduct thorough market research to understand buyer preferences and current trends in your area. This will help you make informed decisions about which improvements will attract the most attention and yield the highest ROI.
Quality Materials and Workmanship: Use high-quality materials and work with reputable contractors to ensure the longevity and durability of your home improvements. Cutting corners on materials or craftsmanship can have a negative impact on the value of your home.
Neighborhood Considerations: Take into account the expectations and standards of your neighborhood. While it's important to improve your home's value, over-improving beyond the market standards in your area may not yield a commensurate return.
Long-Term Versus Short-Term Goals: Consider whether you plan to stay in your home for the long term or if you're looking for immediate returns. This will help guide your decisions on which improvements to prioritize.
Conclusion
Investing in home improvements can have a significant impact on your property's value and desirability in the real estate market. By focusing on the top eight home improvements discussed in this article, such as kitchen remodeling, bathroom upgrades, curb appeal enhancements, energy-efficient upgrades, basement conversions, smart home technology integration, outdoor living spaces, and home office creation, you can increase the worth of your home and potentially attract more buyers