If you're a caffeine freak, then there are possibly two options that you've got to get your best cup of joe. The easiest is getting one from a coffee shop.
It's simple and quick. You can grab a cup of mocha by just ordering it from the shop.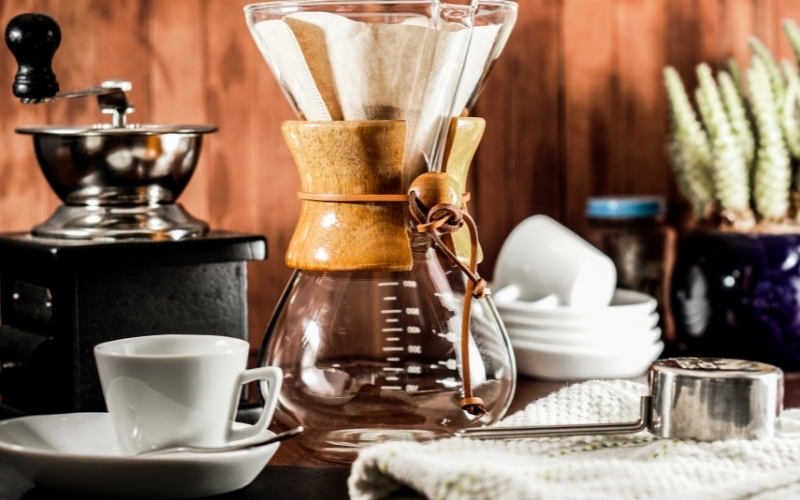 But it's not the most cost-effective, nor is it the best idea if you're at home and thinking of getting a cup of it.
Another option is using an automated coffee maker that does all the tasks from grinding to brewing all in one.
Knowing the benefits of using a coffee maker with an integrated grinder may help you get a better idea of it.
We'll talk about all the benefits of the machine in this guide. But before that, it's important to know the reasons why you should consider grinding your coffee on your own and not buy the pre-grinded one from the store. Let's get that clear first.
Reasons to Grind Your Own Coffee
Since pre-grinded coffees are readily available, why take the time and hassle to grind them on your own, right?
There are a few solid reasons why you should leave the easy option and do the grinding yourself. Let's talk about them below;
Real Flavors
When coffee beans are roasted, they start to let out the aroma of the oils inside. And once the beans are ground, the aroma only keeps getting stronger and stronger with time. But this happens for only a short period of time.
The more the ground beans are left, the more aroma they lose, and the more oils inside start to get stale.
When you buy a pre-grinded coffee, there are virtually no ways you can truly know how the beans were ground and in which method.
As the coffee waits on the store's shelf for some time, the flavors and the freshness start to leave. What leaves at this point goes away permanently. There's no way you can get it back.
But if you just take some time and buy beans from the store and freshly grind them before brewing your cup of joe, the results will amaze you.
In fact, if you take one step more and roast the beans beforehand, the aroma will multiply by a few factors.
---
Read Also:
---
Personal Taste
There are several coffee brewing methods. All of them have distinct tastes and ways of expressing their flavors.
Similarly, there are no universal grinding techniques available. How your coffee beans need to be ground depends on how you want to brew them.
You can buy differently ground beans for your specific taste needs. But that means spending more money on multiple bags.
On the other hand, you can decide to get the beans and do the different grindings manually. Some brewing methods call for thick grinds, and some are best suited with the finest ones.
Cleanliness
Do you ever get to see where your pre-made coffee is ground? If you do, then it's great. But the chances are high that you're among the people who don't.
What if the grinding area is dirty? And what if the coffee factory doesn't follow basic hygiene maintenance? You're probably someone who has these questions.
For these reasons, it's a good idea to buy whole beans. When you grind them, you know how clean they are, and you've got all the control related to it. Isn't it better than getting the pre-grinded ones?
Well, if you buy coffee from reputable manufacturers, you can probably rest assured about the qualities.
But there are many manufacturers who have questionable hygiene maintenance in their factories.
Benefits of Using a Coffee Maker with an Integrated Grinder
Now that we know the rationale behind grinding your coffee on your own, let's start talking about why it's a good idea to get a coffee maker with an integrated grinder.
These coffee makers are also called all-in-one coffee makers because they can do everything from grinding to final brewing in just one package.
Time-Saving
When you have an individual grinder to use, what does the coffee-making process look like?
You may or may not roast the coffee beans in the first stage. But the steps look like this – put the coffee beans in the grinder and load water.
As it's grinding, wait for a few minutes. Once the grinding is complete, take the coffee out and put it in the brewing machine, let the coffee pour down on the cup slowly.
On the other hand, if you have a coffee maker with grinder, the process looks much simpler.
All you need to do is load the seeds in the grinding chamber in the coffee machine and load it with water.
The remaining process happens automatically without any need for work from your side.
Compare this to the previous process. When the machine is automated, it saves quite a few minutes of your time that you can spend on other important tasks.
Maybe a few minutes of time saved isn't a big deal, but when you have several cups per day, the cumulative time saved is significantly huge.
Cost Saving
Buying multiple machines will cost you more than buying a single all-in-one coffee machine and grinder. You'll save some amount of electricity too.
Even Grinding
Now, this is an important factor. Manually grinding can open two risks for you. The first is under-grinding the beans, and the other is over-grinding.
Going extreme in any way can make your coffee get some undesirable smell as well as release some bitter-tasting oils.
But when you use an automated machine for this process, the grinding gets even and perfect.
As a result, the flavors had some opportunity to let them out completely, giving you the chance to taste the highest number of aromatic compounds in your cup of mocha.
Final Words
We showed you some solid reasons why you shouldn't go for the pre-made coffee beans and afterward explained the benefits of using a coffee maker with an integrated grinder.
Hopefully, you have a clear understanding of what we tried to explain in our writeup, and you're ready to get one integrated coffee maker.