Sump pumps are necessary for homes, but unfortunately, only a few realize how a water-powered or battery-run sump pump can benefit them.
There are days when heavy rain and thawing snow become a significant issue and result in flooding or developing water patches in the basement, where your main water pump lies.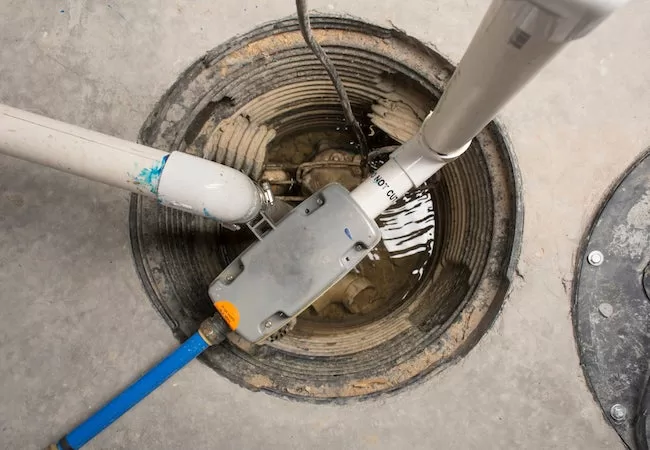 If your machines are submerged under water in the basement, it will damage them, and a flooding basement is equally unhealthy for the house and people living in it.
A flooded basement can result in mildew growth, dampen the floors and walls of a home, make the basement very humid and unhealthy, and degrade the indoor air quality of homes.
All these factors must be addressed quickly, and only sump pumps can save you from such issues. If you are worried about the money, the sump pump installation cost is as less as $1000, and once installed, it can last a lifetime.
The Function of Sump Pumps in Homes?
Sump pumps are beneficial for homes, especially those with a basement. During harsh winter days or heavy rainfall, the effect is badly seen on the basement floors and walls of your homes. Sometimes, the scenario worsens, and the basement becomes flooded.
The most common issue during harsh weather conditions is power cuts; without electricity, you cannot drain the water out of your basement. It is during these times these pumps are required the most.
Run mainly by batteries or utilizing the water pressure from the municipal supply, sump pumps work like magic when draining water from the basement without electricity.
The primary function of a sump pump is to use a vacuum-like force and suck water and pass it through the drainage system. The machine does the job until the basement is dry and humidity levels have been restored.
---
Read Also:
---
5 Benefits of Installing a Sump Pump
Sump pumps are beneficial in many ways for homes, and some of the most vital benefits they provide to homes are:
Preventing homes from flooding and eliminating moisture from basements. This also prevents your home from damage caused by water clogging.
There is a certainty of mildew growth when there is an issue of water clogging or dampening walls and floors. Molds can not only worsen the air quality in the basement but also can give rise to bacteria, contaminating the indoor air quality, and sump pumps prevent homes from such issues.
Since they do not depend on electricity, you can rely on them even on days when there are power cuts for long hours. They either run depending on the pressure of the municipal water supply or batteries.
It does not require much maintenance; annual maintenance is enough to last more than ten years. It is an ideal one-time investment; some people have also reported that their sump pumps have endured around 20 years. Hence, it depends on your use and maintenance.
When the primary sump pumps at homes fail to function, water-powered or battery-run pumps are the backup you need to deal with worse scenarios.
How Costly Is Installing Sump Pumps?
Usually, the sump pump installation cost is lower than you assume. Generally, when you are installing a brand new pump, it will cost you not more than $1000 to $1500.
This price range may vary from brand to brand, and the expense can be a little more if you need extra parts or tools to adjust a position.
Conclusion
A backup plan is always beneficial, especially when you live in a place with heavy rainfall and snowfall. No one would like to see their basements submerged in water or, if not submerged, dampened by large water patches.
During these times, sump pumps do the miracle of sucking in all the water and moisture and keeping spaces dry. And the best part? They do not rely on electricity to function.