Concrete cutting is a task best left to professionals. Untrained individuals can easily injure themselves or the people around them while handling concrete cutting tools.
Moreover, the quality of a professional's work cannot be matched by an untrained individual.
Another benefit of hiring a professional is that you wouldn't have to invest in the various tools required for concrete cutting.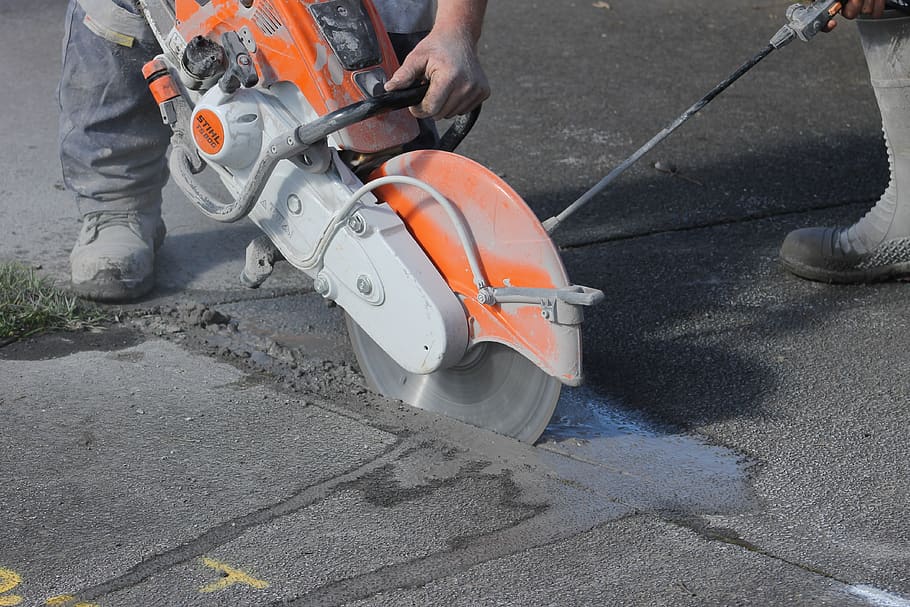 Thus, you wouldn't strain your pocket too much. For instance, if you're situated in Melbourne, you only need to type in the keyword concrete cutting Melbourne in a search engine.
Once done, you'll have a long list of concrete cutting professionals on your hands. However, if you've set your mind on completing the job yourself, it is better to gather some knowledge about the process of concrete cutting.
You'll need information about various tools, techniques, and the general know-how of concrete cutting.
In this article, we will go over some essential concrete sawing tips for beginners and some common mistakes that can easily be avoided.
5 Beginner Concrete Sawing Tips
1. Pick the Right Blade
Picking the right blade is of utmost importance before beginning to work on a concrete cutting project.
Almost every concrete cutting expert will recommend the diamond blade to get the job done quickly and efficiently.
It's a known fact that dry-cutting saws produce a lot of dust. However, diamond dry cutting saws do not produce as much dust as your plain dry cutting saws.
Thus, picking a diamond blade will be a good decision for your respiratory health, and you'll also have a cleaner environment around you.
2. Surface Cuts All the Way
The importance of surface cuts cannot be overstated. Most beginners tend to go all-in when they begin the process of surface cutting.
Making deep cuts straight away can lead to messy and faulty cuts. Thus, it is recommended to make a surface cut that can guide the rest of the process, and then you can gradually make this cut deeper.
This method will help you avoid making any mistakes, and you'll quickly get the desired cuts. To make a surface cut, you can use a precision-based saw that can easily be held by hand.
---
Read Also:
---
3. Control the Dust
Concrete cutting produces a lot of dust. If you're using dry-cutting saws, you're bound to produce a lot of dust.
Even wet saws and diamond saws produce some dust, which can be harmful to your health. You can easily develop respiratory problems if you're exposed to this dust for a long period of time.
Thus, it is very important to have a dust-controlling system in place. You can invest in a vacuum that can get rid of all the concrete dust from your vicinity.
Coupled with a wet saw, a vacuum can easily make the process of concrete cutting completely safe for you and others in the immediate area.
4. Online Tutorials
If you're new to concrete cutting, it is best that you get some research done before pouncing on the job.
It can be tempting to roll up your sleeves and get to work straight away. However, it is best to research the kinds of blades you can use and various sawing techniques.
There are many visual tutorials available online that can guide you through the process of concrete cutting.
With proper information and know-how in your arsenal, you can do a decent job of cutting concrete on your own.
5. Go for Professional Services
If the nature of your job is a tad bit too complicated or it is a big project, then it would make sense for you to go with professional concrete cutting services.
This way, you will not have to invest in any tools, and you'll get results of the best quality.
No matter how much you prepare and research beforehand, you will not be able to match the quality of a professional's work.
Common Concrete Cutting Mistakes to Avoid
1. Sabotaging Your Health
Concrete cutting is an activity that can easily lead to accidents. Moreover, the dust produced can also harm your respiratory system.
Therefore, you should invest in a decent breathing apparatus and safety gear before beginning the project.
2. Exceeding the Budget
Concrete cutting tools and all the gear required for this activity can be a bit expensive. Moreover, you won't be using these tools regularly.
Thus, it is better to keep an eye on the budget when investing in these tools. If these tools strain your budget too much, hiring a professional for the job is better.
With these tips and tricks in mind, you'll be able to finish your concrete sawing project with ease.