A lot of people opt for more minimalist designs when decorating their bedrooms. It can make for a peaceful space and give you the option to sell the home more easily, without having to redecorate when you want to put your home on the market.
That said, it's still nice to add a dash of color here and there, especially if you want to let your personality shine through in your decor.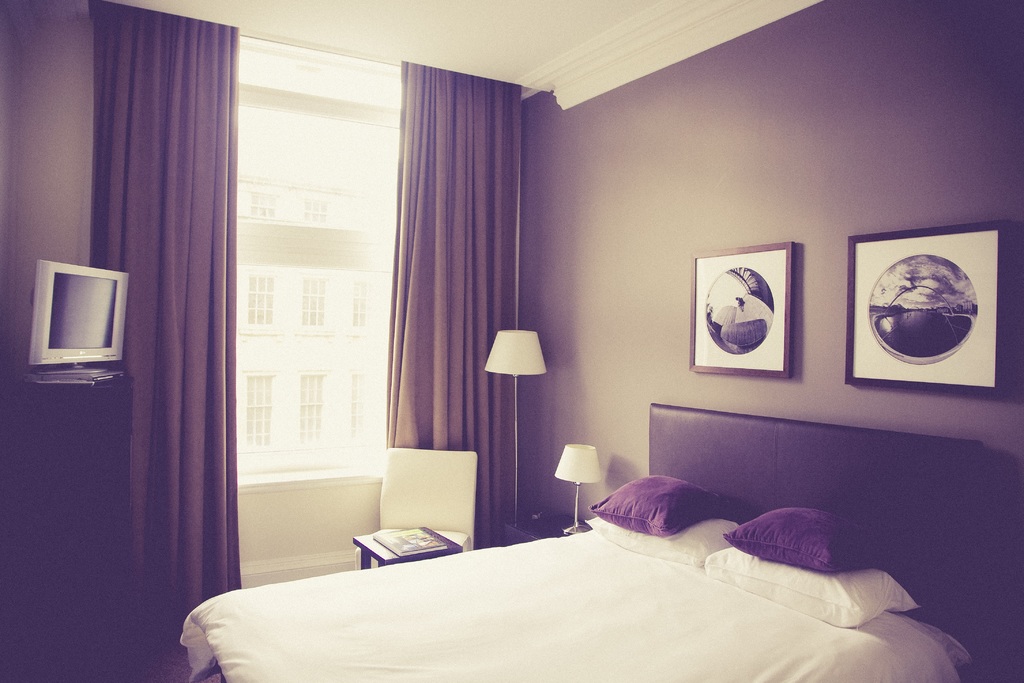 Whether you want to totally redesign the space, or you just want to add a few smaller details, we've got some tips for you to add color to your bedroom below, and many of them are cheap and simple to implement, plus totally reversible if you get bored.
Choosing a color could get challenging very fast. You can get ideas from looking at other homes, taking inspiration from design magazines, or taking advice from your general contractor, but, at the end of the day, you have to create a space that is comfortable to live in.
Incorporate Flowers and Plants
The thing that is wonderful about this method of adding color is that it is temporary, and can even be seasonal. In the autumn, you might go for totally different plants and flowers when compared to what you are likely to get in spring or summer.
There are many benefits to adding flowers and plants in the room, and it is really nice to have a connection with nature in your room. Flowers can also be inexpensive, and if you're really lucky you might be given them as a gift.
One of the great things about plants and flowers is how many different styles and varieties you can opt for. There's something to suit every climate. If you don't want to buy fresh flowers, you can even get imitation flowers as a permanent fixture.
---
Read Also:
---
Fabric
Fabric is another thing that can be chopped and changed and give you a way to add more interesting colors and even textures to the room. A lot of people hear "fabric" and they will automatically think of bedsheets.
Sure, pillows and bedding can be great for making your room more colorful, but there are actually ways you can use fabric remnants and offcuts to make an impressive look in your bedroom. You can try to cover a lampshade or even add a footstool.
If you are the crafty type then the idea of being able to use some fabric in your home will probably already have your head whirling with ideas of things you can do to make your bedroom more colorful and interesting.
The chances are you're already using fabrics in your bedroom on your bed, or elsewhere around the bedroom as a seat cover, for instance. It's a great idea to start adding a few different colors to your rotation.
Window Treatments
Window treatments and drapes can be a great way to add some color to your bedroom. As well as looking good, they can even serve a purpose, it's a good option to block out some of the suns in the summer and keep the room cool, too. There's nothing to say you can't have multiple treatments and use these seasonally, too.
Blinds, curtains, and drapes make all the difference to the way a room looks. Ask any interior designer and they will tell you that these can be a real tool among a minimalistic design to break things up.
Opt for a Colorful Rug
Not enough people utilize rugs in their bedrooms. Many people think of them as more of a living room or dining room addition, but they can look exceptional in a bedroom, too. If you have wooden flooring, a rug can be the perfect contrast against treated wood.
A rug is a chance to make a statement. You can buy some beautiful rugs made all over the world. Many countries make rugs as part of their tradition. Patterned rugs are the norm, and it's a chance to play with textures too to create a fascinating look.
Fun Throw Pillows
Throw pillows are another minor accessory that can make a really cool impact on the look of your bedroom. Throw pillows come in so many different designs and you can even get covers that are interchangeable.
It's a chance to show your sense of humor and add something fun or even amusing to your bedroom. You can even buy pillows with your partner's face printed on them.
Conclusion
Your bedroom is your own space, so it should definitely have a hint of your personality in there. If you open design magazines you will probably see a lot of very minimal designs rather than anything too exciting or fun.
While you probably don't want to paint your room in bright orange and blue stripes to make a statement (especially if you plan to sell up before you redecorate) it's a great idea to add things like wall coverings, rugs, and even some window treatments to give the bedroom a fun feel and provide something more homely for you.