Who said living rooms should always be confined indoors? As we blur the boundaries between indoor and outdoor living, patios emerge as undeniable stars of this home revolution.
These captivating spaces are no longer just outdoor extensions of your home; they have evolved into serene retreats where comfort meets nature, creating an enchanting backdrop for relaxation, entertainment, and even work.
So, how can you transform your ordinary patio into a delightful retreat? While it might initially seem intimidating, it's certainly achievable.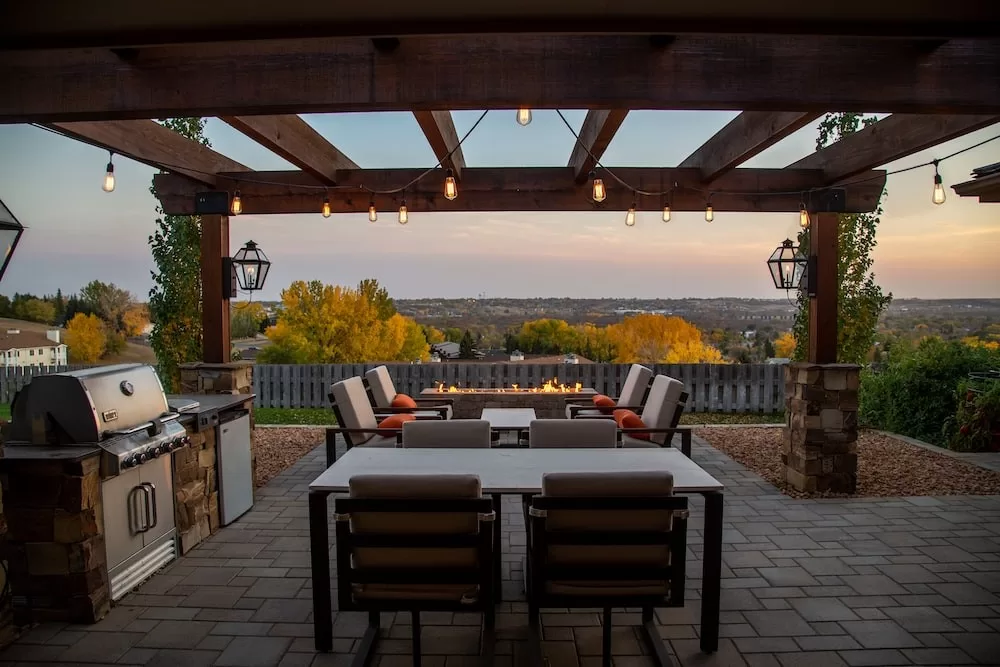 No matter the size of your patio, whether it's a spacious yard or a petite balcony, it holds the potential for a cozy transformation.
This article offers innovative ways to give your patio a cozy makeover, creating an outdoor living room that you, your family, and your friends will absolutely adore.
Enhance Your Patio with a BBQ Island Setup
If you're eager to elevate your outdoor cooking experience, consider adding a BBQ island to your patio.
A BBQ island is a dedicated space that combines a grill station, countertop, storage, and sometimes even a sink, all in one convenient setup.
Not only does it boost your grilling capabilities, but it also creates a central point for gathering and entertaining guests.
When it comes to designing your BBQ island, the possibilities are endless.
You can explore incorporating a built-in smoker, a side burner for whipping up delicious sauces and side dishes, or even a mini fridge to keep your beverages refreshingly chilled.
Consider adding a stylish backsplash, comfortable seating options, and ambient lighting to create a warm and functional outdoor kitchen and give your patio a personal touch.
For inspiration and tips, you can search for Ideas for Your BBQ Island Setup through blogs or other online resources.
Set the Mood with Lighting
Lighting plays an important role in setting the mood for any outdoor space, making it an essential element when creating a cozy patio.
Soft, warm lighting usually provides the most inviting ambiance.
One way to achieve this is by hanging string lights across the patio, lending a charming, magical glow that can transform an ordinary evening into a special occasion.
Lanterns, both electric and candlelit, offer another flexible lighting solution, enhancing the atmosphere with their warm and welcoming radiance.
Consider lanterns of various sizes and designs for added interest.
---
Read Also :
---
Similarly, candles set around your patio can evoke an enchantingly serene mood, especially when paired with reflective elements like mirrors or glass surfaces.
In addition to these options, LED fairy lights delicately draped over plants or around an umbrella stand can create a whimsical, fairy-tale-like ambiance.
For a more modern look, geometric pendant lights or sleek LED strips installed under seating or along the edges of your patio can lend a touch of sophistication.
Cozy Up with Comfortable Furniture
Comfortable seating is crucial for a cozy patio.
Opt for padded outdoor sofas and chairs to provide maximum comfort.
To foster a more intimate ambiance, arrange the seating in a circular formation.
This way, everyone can chat easily without having to shout across the patio.
Swing chairs or hammocks can be a fun and cozy addition too.
Consider adding a few bean bags, as they not only offer comfort but also bring a playful touch to your patio.
Moreover, they are lightweight and easy to move, making them perfect for impromptu seating arrangements.
If you're on a budget, simple floor cushions can be a great alternative for creating a boho-chic vibe.
They can be easily piled and stored when not in use and spread out for comfortable seating when needed.
Poufs are another budget-friendly option that offers both functionality and a touch of style.
Remember to add a few small tables to hold drinks and snacks.
Nesting tables can be a great choice as they offer flexibility–spread them out when you need more surface area and stack them up when you want to save space.
Add Greenery
Greenery plays a vital role in creating a cozy and inviting ambiance in your patio area.
Plants add to the sense of relaxation, provide a breath of fresh air, and give the impression of a private oasis.
Here's how to add flora to your patio:
Potted Plants:
Potted plants are the simplest way to add greenery to your patio.
They provide flexibility because they can be moved as needed.
Consider employing a variety of plant varieties, such as flowering plants, foliage plants, and even tiny trees.
Hanging Baskets:
Hanging baskets can bring a touch of beauty to your patio, especially if space is limited.
Trailing plants like ivy or vibrant flowers like petunias or begonias are ideal for this purpose.
Vertical Gardens:
If you're short on floor space, consider going vertical.
Your green space can be maximized by using vertical plants or living walls.
These might be as straightforward as a trellis with climbing vines or as intricate as a system mounted on a wall for cultivating a variety of plants.
Climbing Plants:
If your patio has a pergola or gazebo, climbing plants can offer natural shade and give the space a romantic feel. Excellent choices include climbing roses, jasmine, and wisteria.
Soothing Sounds
Consider incorporating ambient noises into your patio design to create a tranquil and peaceful setting.
These ambient sounds can create a soothing symphony around your patio, drowning out the commotion of the outside world and immersing you in a tranquil oasis.
To establish the ideal ambiance, consider the following options:
Use outdoor speakers or portable Bluetooth speakers to play relaxing music or tranquil nature sounds and incorporate wind chimes.
For aesthetic interest, as well as calming noises, use a wind sculpture or a wind spinner.
Add a Fireplace
Include a fire pit or outdoor heater to extend the functionality of your patio beyond the warmer months. These additions not only provide needed warmth but also create an inviting focus for family gatherings.
If space is an issue, tabletop fire pits or standalone heaters are excellent alternatives that provide the same appealing environment. When using open flames, remember to emphasize safety by following safeguards and local rules.
With a fire pit or heater, your patio becomes a year-round sanctuary, allowing you to enjoy the outdoors even during the colder months.
Introduce Textures and Patterns
Textures and patterns can enhance the warmth of your patio. Layer a variety of fabrics, such as faux fur, knitted blankets, or weather-resistant textiles, cushions, throws, and rugs, to add depth and a tactile element to your outdoor environment.
In addition, patterns such as stripes, florals, or geometric motifs can add personality and character to the space.
The interplay of these varied textures and patterns generates visual intrigue, making your patio incredibly inviting and visually beautiful.
Conclusion
Remember that your patio is an extension of your house, so don't be afraid to personalize it to reflect your unique style and comfort.
With these suggestions, you can design a patio space that is pleasant, comfortable, and ideal for relaxation or entertainment.