The last COVID-19 pandemic has made it possible for people to work in the comfort of their homes. And businesses let them since working from home did not hinder employee productivity. It made them even more productive and generated more sales than ever.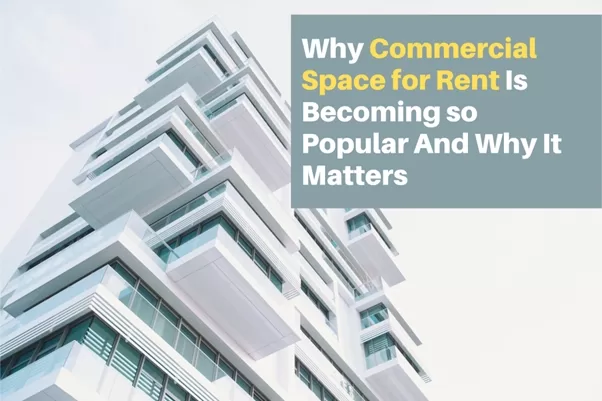 While a work-from-home setup proved to be ideal, people still want an office to go to. That is, more people are eager to go back to the office. Gensler surveyed 2,300 U.S. workers across 10 different industries. They found that only 12% of them are willing to continue a work-from-home set-up.
This growing demand has made commercial space leasing popular today. Instead of buying commercial properties, business owners are looking to rent office spaces. But why is that the case? This article explains the reasons why businesses prefer a retail space for lease. You'll also learn how to identify if your business is ready to rent an office space.
Why Do Businesses Prefer to Rent Commercial Office Space?
The demand to go back to the office is just one of the few things businesses opt to rent an office space. After all, they have the option to buy a commercial property and have the place to themselves.
Not to mention that a property is an asset that increases in value over time. It offers a lot of benefits, but it's not ideal for new and startup businesses. Most companies lease their real estate, which is favorable for newly established companies. Below are some of the reasons why they choose to rent an office space.
1. You Can Choose the Right Office Space Size Based on Your Needs
It's not a good idea to buy commercial property if you expect steady growth for your company. Let's say you choose to buy a 10,000-square-foot warehouse for your company. This space was enough at the time you bought it, but what if your company expands quickly?
You can sell extra warehouses, but that's easier said than done. Not to mention it takes a considerable amount of time to do that. You may even have to sell the property and find a bigger one to accommodate the added space your company needs.
Renting a commercial space means you can find spaces that meet your current and future needs. If you don't need a lot of staff working on a specific site, you should rent a small office space. Opting for a small commercial space for rent means you don't have to pay for any extra space. You can put the extra money on other important things that help your business grow.
Renting a small office space also lets you provide a place for meeting with clients. Even if you have a work-from-home setup, a small executive suite makes a huge difference. Instead of meeting them in a noisy restaurant, it's better to have a private area to do business with them. This way, you send a message that you're serious about making a deal with them.
---
Read Also:
---
2. It's Cheaper Compared to Buying a property
Being new in business means you only have limited sources of income. That means you need to be wise about allocating the budget to different aspects of your business. Before you decide, you need to compare the costs of buying a property versus renting a space.
Buying commercial property may be cheap, but you'll need a huge sum of money upfront. It also needs constant upkeep as well as paying property taxes and insurance. The true cost of buying a property is actually expensive.
When it comes to renting office space, landlords tend to increase rents. Not to mention you'll have to pay for common area maintenance. Full-service leases can include routine maintenance fees and other service fees. Despite this, you'll get a better deal with renting office space.
The cost of rent varies, depending on where you are. Class A office spaces for rent in Dallas Fort Worth are approximately $49.2 per square foot. This will be different if you're looking for spaces in New York.
3. It Builds Strong Employee Relationships
Ever since the pandemic, companies developed solutions to bridge the communication gap. And providers continue to upgrade these solutions to meet company needs.
Despite the ongoing personalization development, nothing beats communicating in person. In fact, workers want to come to the office to socialize with other people. Even if they have to sit through a meeting, face-to-face communication is their main reason for going back.
This is not the only reason why businesses opt to rent office spaces. In-person communication lets you forge stronger relationships among your employees. It helps you and your employees understand each other. You can also express your thoughts and feelings when you're talking with them in person.
Virtual communication has a lot of benefits to offer your company. Unfortunately, it fails to produce stronger bonds between employees. To do so, they have to attend to the nonverbal cues of the person they're talking to. This can take away their focus on listening to what they're saying.
4. It Promotes Better Work-Life Balance
Working from home is convenient, nobody can't deny that. But to be productive, you need to follow a strict work and rest schedule. This means you should know when you should be working and when you should be relaxing. It's possible, but it's not the case most of the time.
A survey revealed that remote workers work an extra 1.4 days per month compared to those based in the office. This robs them of the opportunity to finish their chores at home as well as enjoy a day with their families. With office spaces, your employees can separate their work and personal lives. Maintaining a work-life balance makes your employees happy. This, in turn, offers a lot of benefits to your business.
5. It Gives You More Geographic Options
A busy commercial area is often a strategic location to set up a business. But this also means that a lot of businesses have considered doing the same. Because of that, you'll have a hard time finding the right commercial space to buy in the area.
Not to mention that in these areas, retail space often makes up a small piece of a larger property. So a retail space might not be for sale unless you buy the entire multi-story building. You have more options for a location that works for your business if you rent space. You can choose to rent one that is strategically located to maximize the potential of your business.
6.   You Can Take Advantage of All-Inclusive Leases
Aside from a lot of money, you also assume a great deal of responsibility when you buy a commercial space. There are specific utilities to pay for, such as water, gas, and electricity. You are also in charge of cleaning services and all property maintenance. This is pretty expensive, considering the fluctuating energy or utility costs.
Besides this, you're also responsible for fixing anything that breaks in the office. It can be challenging to plan for these costs, especially if you run a small or startup business.
But, if you rent an office, you can find a management company that offers an all-inclusive lease. This agreement means you only pay the rent and everything else is taken care of by the rental charge. You will occasionally have to pay more for some services. But the rent often includes most of these things.
When is it Time to Rent Office Space?
Finding a shop space for rent provides a lot of advantages not only to businesses but also employees. But just because the benefits are attractive doesn't mean you should take the offer. The decision is not as easy as choosing an outfit to wear. You need to consider a lot of things before renting an office space.
After all, growing your business at home is the most affordable and convenient option for you. But, as your business grows, you'll find that working remotely also has a lot of limitations. So how do you know if your business needs a physical space to rent? Here are some factors to determine if you should rent or buy a commercial space.
1.   You Need to Hire More Staff to Work On-Site
Managing a business means you'll need more hands to help you in the future. Not only will your audience grow, but your workforce will, too. If you want your business to succeed, you should consider hiring more employees.
But this depends on what kind of employees your company needs. If you need independent contractors or remote workers, then you can continue having a virtual office space. But if you need full-time staff to regularly engage with in person, it's time to hunt for office space.
2.   Your Work Is Expanding
You can't expect to work on the same number of projects if you want your business to succeed. Of course, hiring more staff means your workload is growing. And when that happens, you'll find that your home office setup is not enough.
There will be more meetings and you'll need additional equipment to keep the company going. Renting office space lets you expand your business by providing extra space for things that your company needs.
3.   You Need Fresh New Ideas
It's important to keep your mind active to stay inspired. If you're running out of creative thoughts, you're not giving your mind enough time to "connect the dots."
Your best ideas will emerge when you take a step back and process what you're learning. Relate it to experience and allow your thoughts to connect with other people. You can spend a lot of time focusing on specific areas and narrowing in on what you're doing. With this, you can produce more creative and higher-quality ideas.
But this can only happen when you're in an environment that pushes you to interact with others. Having an office space can broaden your experience, help you learn new things, and allow your mind to make connections.
It shouldn't be difficult to find an office space where you feel at ease. There are a lot of office spaces that your business can enjoy. Working in a stimulating environment can motivate and increase your company's productivity.
4.   Building a Company Culture Isn't Possible Anymore
It is nearly impossible to develop any type of business culture with a remote crew. Your company already has a culture even if you're the only employee. But what happens when you start hiring more staff? How can you make sure that they instill your company values?
If that's the case, you should get everyone together to begin laying the basis for your startup's culture. Renting office space can help your employees pick up your company's culture.
5.   You Have the Money to Do It
The cost of leasing office space is one factor that prevents many people from doing so. Some commercial leases require an upfront payment of a sizable deposit and last for 6 or 12 months. If your company generates enough revenue to afford one, it's time you look for an office space for rent.
Final Thoughts
Leasing office space enables your company to be more adaptable, scalable, and agile. You can start operations thanks to the recent advancements in office space leasing. For instance, renting office space with a build-to-suit term lets you move right into a fully equipped office. The furnishings depend on your business's distinct brand personality and values. More importantly, having a business address will help you further build your reputation.