Redesigning or remodeling your home can be one of the most exciting things, and enthusiasm reaches its peak when it's about the kitchen.
The center of your house and heart, a kitchen draws a lot of attention no matter what you do. You want it to be both functional and aesthetic so that whenever you cook for your guests or family, it becomes an enjoyable experience.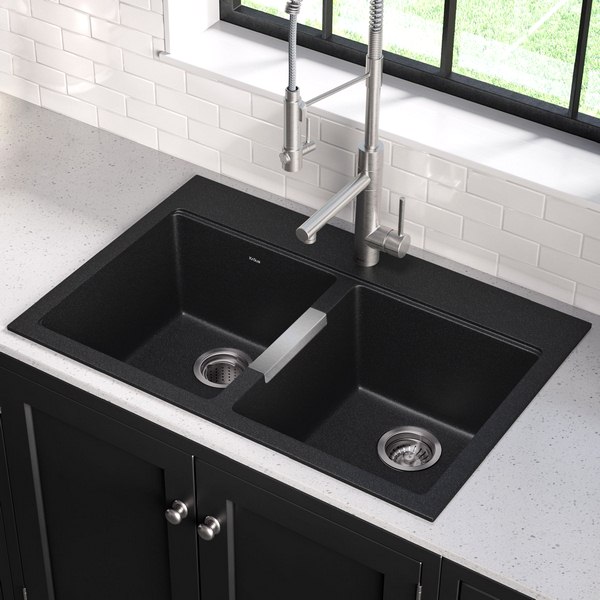 Going by the latest trends, workstation kitchen sinks are gaining much love and appreciation for being effortless in serving practical, strategic, and visual purposes.
They can be one of the greatest assets in the kitchen that not only make everyday meal preparations easy but also add value to your nest by giving you a long-term service.
From this, you can easily comprehend that these are not something ordinary. You get them with certain accessories, such as drying racks, cutting boards, bowls, and bottom grid, for higher functionality.
As a result, you don't use them to do dirty dishes, but for many other chores, too, making your space more efficient and multi-functional.
It means if you choose the best workstation kitchen sink, you can expect it to be advantageous for you and your kitchen and home in many aspects.
What are the Benefits of Workstation Sinks?
---
Read Also:
---
Multi-functional Space
Every single inch of the space matters, especially when you consider a kitchen. Since it's one of the busiest places in many homes, you would not like to leave any corner underutilized or not fully optimized.
That's why you need to bring the best workstation kitchen sink home. If your countertop is not spacious enough, you can benefit from the cutting board accessory of the sink.
Similarly, the drying rack eliminates the need for storing washed dishes on the counter. Then, the bottom grid lets you put dirty utensils inside the sink while water and waste can easily pass through the drain.
So, whether you have a large or small kitchen, you can opt for this sink to enjoy higher performance and neat design.
Organized Look
You can perform different tasks in this sink without making space look cramped, dirty, and unsanitary. You can keep everything separate, whether it is storing washed fresh fruits and vegetables or dirty plates simultaneously, thanks to the different accessories.
So, when your guests visit, you don't have to feel embarrassed because there are dirty dishes in the sink. You can ensure that everything is lying in it neatly and orderly.
Storage
Each item occupies some square footage, be it a colander, chopping board, or a drying rack on the countertop or in the cabinetry.
But workstations equipped with accessories make stacking and storage convenient without blocking any area in the cabinet or on the counter.
Cleaning
One of the best things about these sinks is that they allow keeping your countertops mess-free by extending their functionalities.
You can use them for chopping, straining, and washing, due to which the countertops don't have to suffer the risks of damage or stains potentially caused by lemon, vinegar, or other liquid spills.
Then, the accessories like colanders and cutting boards with the sinks come with perfect fitting. So, you don't have to worry about using something that is either oversized or too small for it to balance adequately.
Additionally, some accessories can be dishwasher safe, and hence, you can clean them without any worries.
Variations
From undermount to apron-front and drop-in, these sinks offer great styles for you to pick. Plus, you can choose between single and double basins in numerous proportions to suit the space available in your kitchen.
The choices of materials are also interesting as they feature stainless steel and composite. You can select from them based on your taste, budget, and need. Among the affordable range, stainless steel sinks with limited accessories can be an ideal selection.
Types and Styles of Workstation Sink for Kitchen
Since you now know how it can be useful for you, it makes sense to explore choices in this particular category to understand what you may want to have. Like other sinks, you can get single or double bowls in them.
The single bowl basins are large and open without any division. These are comfortable for cleaning bulky pans and pots. You can opt for this functional design for any size of the kitchen. Double basin sinks, on the other hand, feature a division that separates the sink into two.
Both sides can be equal or one larger than the other. Many homeowners choose double basins because they can soak and clean in one and rinse in another.
No matter which type you choose, you can find them in stainless steel, composite and other materials. Steel is the most affordable and durable, and that's why they are the pervasive choice. Granite and quartz composite alternatives are available under the composite section.
These can resist scratches and dents. Plus, they can be found in different colors. With these materials, you can always expect long-term association.
Other than this, you also get choices in mounting options, including undermount, drop-in, and farmhouse. Undermount sinks sit under the counter, creating a clean and sleek look. This style goes well with granite, quartz, solid surface, marble, and other countertops perfectly.
The drop-in sinks need a pre-cut hole in the countertop to settle down. The lip of the sink carries the weight. This choice can be superb for laminate countertops.
Besides, apron front or farmhouse sinks exhibit an apron in the front that protects the cabinetry against water and other forms of spills. Many homeowners go with this range as it offers impressive decorative appearance.
Every workstation sink, including a single bowl or double bowl, has its unique proposition. Therefore, you must be aware of your expectations, budgets, and daily needs from the beginning.
For instance, if you are ready to spend, then a sink in the composite material can be your first and prized choice. Otherwise, you can invest in stainless steel for pure functionality and smooth lines.