These are the interior shutters, and they come with wider louvers. They are also known as plantation blinds, and they are typically between3.5 and 4.5 inches in width.
Various factors are considered when choosing the right shutters for a building. The best ones have to look perfect in your windows.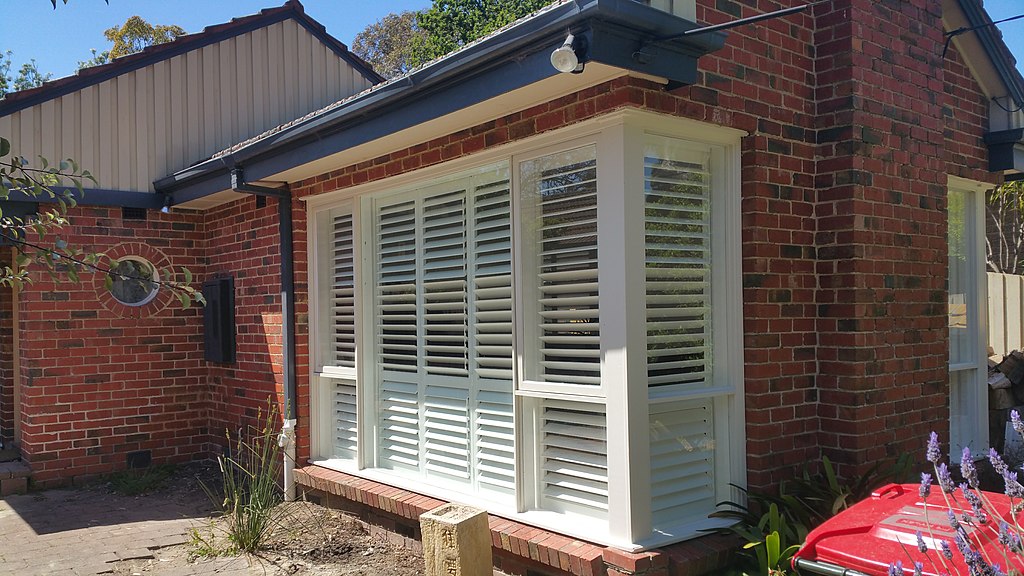 Similarly, the best material for plantation shutters should be cost-friendly, durable, and offer aesthetic beauty.
Besides making the house attractive, shutters are vital in reducing energy costs. To make the best out of the plantation blinds, you need to ensure you invest in the perfect material.
There are different materials used to make shutters. Choose what fits your lifestyle—keeping in mind the other factors. Without a doubt, some will be a better choice than others.
What are Vinyl Plantation Shutters?
They are less costly than plantation shutters, but the ones on the low-end could have structural problems.
Vinyl blinds have no wood, and to give them stability, they have aluminum or strong plastic support.
They are preferred because of their costs. These shutters are ideal for areas with high moisture, and they are weather resistant.
If you are looking for the best vinyl plantation shutters in South Carolina, trust us because we're the leading supplier and installers of all types of shutters.
The following are some of the common types:
Hollow vinyl: As the name suggests, these blinds have a hollow vinyl frame, and they offer the same benefits as vinyl. However, they have limitations in size because a hollow frame cannot withstand frames with larger weights. Although they are not as expensive, and with time they can sag.
Structured hollow vinyl: These shutters have better quality and they are made with a vinyl skeleton that supports the shutters. With their structure, they reduce sagging. They have superior structural integrity.
Solid vinyl: It is a frame made of vinyl and filled up with blown PVC. They are inexpensive and relatively more stable compared to hollow shutters.
Solid vinyl having aluminum inserts: These shutters provide the same support as metal while being light.
Vinyl-clad wood: They are shutters with a hardwood frame that is wrapped in vinyl. They've got the durability and the strength of wood with the added benefit of vinyl coating. This attribute improves their resistance to moisture.
Faux Wood
Faux wood is among the common materials of plantation blinds. The modern variety resembles wood and offers superior insulation, and costs less.
They are suitable for rooms with high moisture and humidity. This is because they are lightweight.
Additionally, if your building is close to a water body, this material is ideal for such a place. Saltwater and intense rays can degenerate natural wood.
These shutters are energy efficient and sturdy. They are also quite solid with no hollow.
Quality faux wood shutters, like our products, don't crack, peel, or chip. They also need no adjustment and should not bend or warp.
---
Read Also:
---
Hardwood
Hardwood has been used in building for several years, and it is a premium shutter material. It is light and durable.
However, it's not ideal for rooms with excess moisture or humidity. A quality hardwood shutter is made from basswood or poplar, furniture-grade woods.
They have an impressive natural beauty and can retain paint.
The hardwood shutters come with the following benefits;
Hardwood is durable and robust
They are attractive.
They are taint-free.
Composite Wood
Composite wood materials are made from one wood type or several varieties combined. Such material is sturdy, making it the best choice for plantation shutters.
Besides, it comes as a great alternative to plain wood shutters. This is attributed to its flexibility and durability.
To point-up, your building's beauty, choose from the many shapes and colors of the composite wood shutters.
Medium-Density Fiberboards (MDF)
These are simply sawdust combined with glue and then cut into preferred shapes. The various medium density fiber varieties include vinyl wrap, wood, and painted finishes.
They are available at reduced costs and are resistant to warping. Without a doubt, they look as popular as the wooden shutters.
They require relatively low maintenance and are resistant to dampness and chipping.
All Materials Come with Their Specific Benefits
Whether a shutter is made from poplar, aluminum, basswood, or PVC materials, each has its pros and cons.
There is no one-fits-all type of shutter. One person might be after having an attractive and fashionable house; on the other hand, someone else could be looking after a shutter to cater to the house's insulation throughout.
We add value and style to your house while improving your privacy with vinyl plantation shutters from Plantation Shutters Pros.