Offering high standard and professional liquid screed services in Reading is part and parcel of what we do.
One reason why we lay screed floors is after we've installed underfloor heating. We are highly experienced at applying different types of underfloor heating, whether you're in Reading or another part of the UK.
While it's a common misconception that underfloor heating is only for those with lots of money, it's also common to think this is a recent invention.
Suppose you're interested in investing in underfloor heating for your commercial or residential property. In that case, you may be interested to hear a little more about the past, present, and future of this heating solution.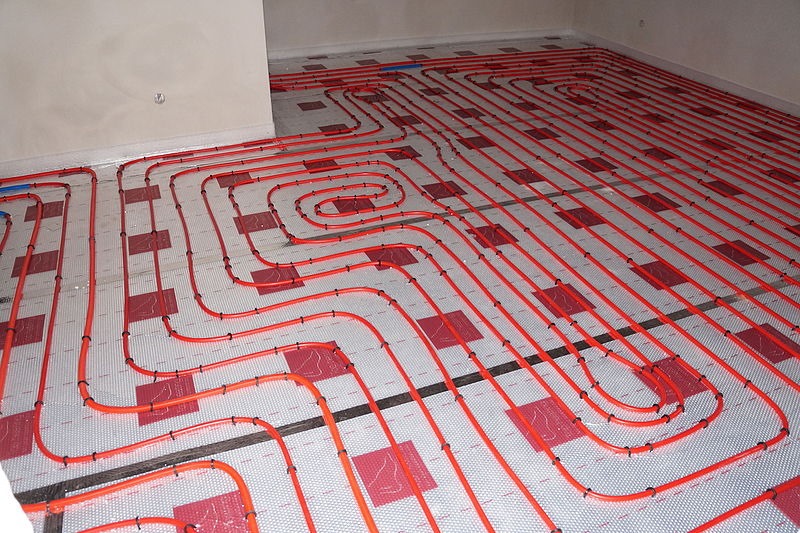 The Past
While today's homeowners are beginning to understand that underfloor heating can be an affordable option, this includes situations such as when you're considering a new extension, conservatory, kitchen, or building your new home from scratch.
However, in the past underfloor heating was undoubtedly seen to be a luxurious addition to a building.
Let's rewind to 1,000BC. That's how old the first or earliest example of an underfloor heating system is thought to be and was discovered in modern-day Unggi, North Korea.
The system is called an Ondol or Gudeul system and is actually believed to have been developed 34,000 years ago in what we now know as the Russian Far East, Korea, and Northern China.
This type of stem had a small hearth along with a horizontal flue. The purpose of this was to carry hot smoke under a home's floor or beneath an elevated living area and was used not only for home heating but also as a cooking system.
A fire was lit inside a furnace for cooking. Then, the flame would travel horizontally thanks to the flue placed beside the furnace. Heat and smoke traveled down a series of passages to heat rooms.
It's also well-known that the Romans and Greeks used underfloor heating systems in homes and bathhouses, called hypocausts, where floors were raised with pillars, and hot air traveled underneath. One later example of a hypocaust was at Liverpool Cathedral, where it was used up to 1904.
---
Read Also:
---
The Present
Fast forward to the (almost) present-day and America, wherein the 1940s, the installation of water-based radiators into homes paved the path for the eventual modern central heating systems we see in today's homes.
As far as modern underfloor heating is concerned, Canada invented this, leading to the first underwater heating system using water pipes being laid in 1960.
Korea played a part in the further development of this heating style when it replaced traditional coal heating methods in buildings with underfloor water pipes to heat its facilities in the 1970s.
The Europeans began to embrace underfloor heating in the 1980s. By the turn of the century, underfloor heating began to be more commonplace not only in homes but also in non-residential buildings.
This type of system is now used not only to heat buildings but also to keep buildings cool. As a result, it has become an effective means of climate control. For example, in the Summer months, cool water can be passed through the underfloor pipes to cool the floor to a lower temperature than the surrounding air.
Today's underfloor heating systems are typically wet or electric. The former operates by pumping warm water through underfloor plastic tubing or pipes, and this type of system can also be used to keep rooms cool in warmer temperatures.
A heat pump or a boiler powers wet systems. Electric systems work with electric coils that are placed under the floor.
A liquid screed is then applied to the floor once the heating system has been installed. The thickness of the screed will impact how long the heating system then takes to warm up, and your screed floor contractor in Reading or elsewhere can advise on the best approach for your project.
Whether it's Winter or Summer, the result should be that an even and comfortable temperature is reached and maintained throughout the building or room being heated.
The Future
Recent statistics suggest that the global underfloor heating market is expected to grow from $4.6 billion in 2020 to $6.6 billion by 2025, at an annual growth rate of 7.3%.
Add to that the current estimates that show the UK needs on average 345,000 new homes per year; we're going to stick our necks out and say that it's likely that the popularity of underfloor heating in new builds will increase.
This type of heating system will become part and parcel of new builds and will no longer be seen as something only wealthy people can afford.
The increased popularity of underfloor heating is also a result of consumers looking for more energy-efficient yet long-term, cost-effective heating solutions for their homes and businesses. This needs looking at in tandem with the UK government's pledge in 2019 to reduce overall energy consumption to net-zero by 2050.
That said, it is still possible to heat an existing or older property in this way. But, again, your contractors can discuss with you, especially if you want a more even and balanced distribution of heat in your home and want a more streamlined radiator-free and space-saving design.
While the climate control debate continues and increases gas prices, underfloor heating can be a more energy-efficient way of heating homes.
Traditional radiators need heat of around 65-75C to heat a room, whereas an underfloor system only needs to run to 29C or even lower.
Installing underfloor heating means your home is using less energy and therefore lowering your bills. Also, there are no cold spots in rooms with underfloor heating, as underfloor heating provides a more even heat distribution.
This is unlike traditional heating systems that use radiators and a boiler. The result is often that the heat rises to ceil height – unlike underfloor heating, where the heat rises from the ground upwards.
Contact us to find out more about underfloor heating, screed floors in Reading or elsewhere, or floor sanding and pump hire.