Cleaning your gutters is vital to ensure that leaves, twigs, and other debris don't start to pile up. If they do pile up, they can clog your gutters and cause overflows, leaks, ice dams, and a whole host of other issues.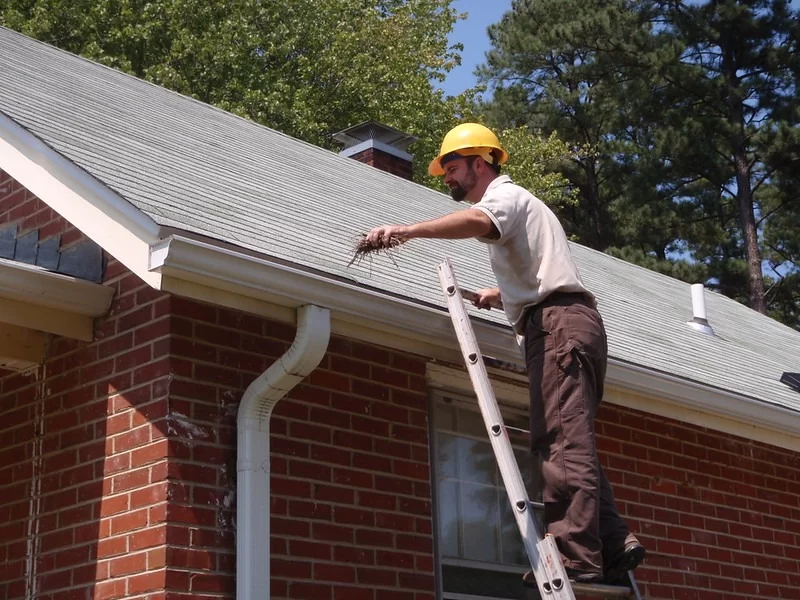 Although cleaning gutters isn't an easy job by any means, nowadays there are many useful tools that can help things a little less difficult.
So, before you next clean your gutters, it would be a good idea to look at some of the more useful types of tools that are out there.
Stable Ladder
Arguably the number one tool for cleaning gutters is a stable ladder that will let you get right up next to the gutter to clean it effectively. By investing in a solid and durable ladder, you'll be able to scale it with confidence and remain steady as you stand on it and clean your gutter.
Try to opt for extension ladders that are high enough so that you can easily reach your gutters without having to stretch. It is best if they are made from more durable materials such as aluminum and fiberglass and have a high weight tolerance just in case you need to carry slightly heavy equipment while cleaning.
Some ladders have a wide platform that you can stand on which may be helpful. Similarly, certain models may have extended railings that you can use to stabilize yourself even when you're on the top step (or near it). Additionally, you should consider buying stabilizers for your ladder that will give it some extra support and make it steadier.
---
Read Also:
---
Gutter Scoop that is a Good Fit
Gutter scoops are the most basic type of gutter cleaning tools – yet they can be extremely effective as long as you're comfortable on your ladder. Essentially these are scoops that you can use to reach in and manually remove any debris from your gutter.
The only real downside to using gutter scoops is that you'll need to come down off your ladder and move it after cleaning a couple of feet of your gutter.
As you may notice there are many different types of gutter scoops out there. Choosing the right one is easy, however – all that you need to do is find one that is a good fit for your gutter and that is preferably made from hard plastic so that it is durable and yet a little bit flexible.
Telescopic Hose Wands and Claws
Both telescopic hose wands and claws come in several shapes and sizes, but all of them will let you do the same thing: Clean your gutters without having to climb up a ladder.
Telescopic hose wands are extension poles that connect to your hose so you can spray your gutter with water and dislodge any debris. Similarly, telescopic claws are extension poles equipped with a large claw (or sometimes a scoop or brush) to dislodge and remove debris.
While not as effective as manually cleaning your gutter with a normal gutter scoop, in most cases these tools will get the job done. Some types of telescopic hose wands have pressure washer attachments that make them more effective, and telescopic claws with brushes can do the same.
The main appeal of these tools is definitely the fact that you won't need to climb up and down a ladder and move it every few feet.
Gutter Vacuums and Leaf Blowers
A leaf blower is a slightly faster way to clean gutters than a manual scoop by simply blowing out any debris. Nowadays some leaf blowers even come with special gutter-cleaning attachments, so you don't have to climb a ladder to get the job done.
If you aren't using a gutter cleaning attachment it would be best to look for leaf blowers that are handheld and medium-sized so that they aren't too cumbersome. Be aware however that if debris is firmly lodged it may be difficult to clear with a leaf blower.
Another option that can be a little less messy is to suck up leaves instead with a gutter vacuum. Just like leaf blowers, some of these models come with extensions so you won't need a ladder but others may not. Additionally, some types of debris may be too lodged in for your vacuum to suck up or maybe simply too large to fit into the vacuum.
Protective Gear
It may surprise you how much strange and nasty stuff is stuck in your gutter aside from just leaves and twigs. Typically gutters can contain animal feces, pine needles, bugs, pollen, rotten food (left by animals), nails, roofing materials, and more.
With so much nasty stuff potentially up there, it is a good idea to equip yourself with some protective gear such as:
Work or garden gloves that will protect your hands from not only the nasty stuff in your gutter but also any sharp edges so you can avoid cuts and infections.
Safety goggles or glasses to make sure that nothing gets into your eyes as you remove debris from the gutter.
Face masks so that you don't accidentally inhale any dust or other types of containments.
While this may seem like overkill it is always best to be safe rather than sorry. That is especially true if you haven't cleaned out your gutters in a long while in which case there's likely to be more unpleasant material in it.
Conclusion
As you can see, all of the tools listed above can help you clean your gutters – but in slightly different ways. It is up to you to decide which fits best depending on the type of gutter and debris that tends to accumulate as well as whether you want to use a ladder or not.
Regardless of the tools and gear that you choose, try to make it a point to clean your gutter frequently and at regular intervals. If you do less debris will accumulate and get stuck in, so you should have a much easier time cleaning it out than if you wait longer between cleanings.