We won't judge you if sometimes you look for a convenient way to brew instead of the classic way.
Because let's be honest; not every morning we have the time or mood for brewing in the traditional way. Again, not every coffee lover out there has access to the kitchen. In that case, a Keurig coffee maker can be your lifesaver.
It may not give you a delicious brew like espresso or Moka pot, but will surely satisfy your morning joe craving. And in this article, we will share every tips and trick to make the most out of it.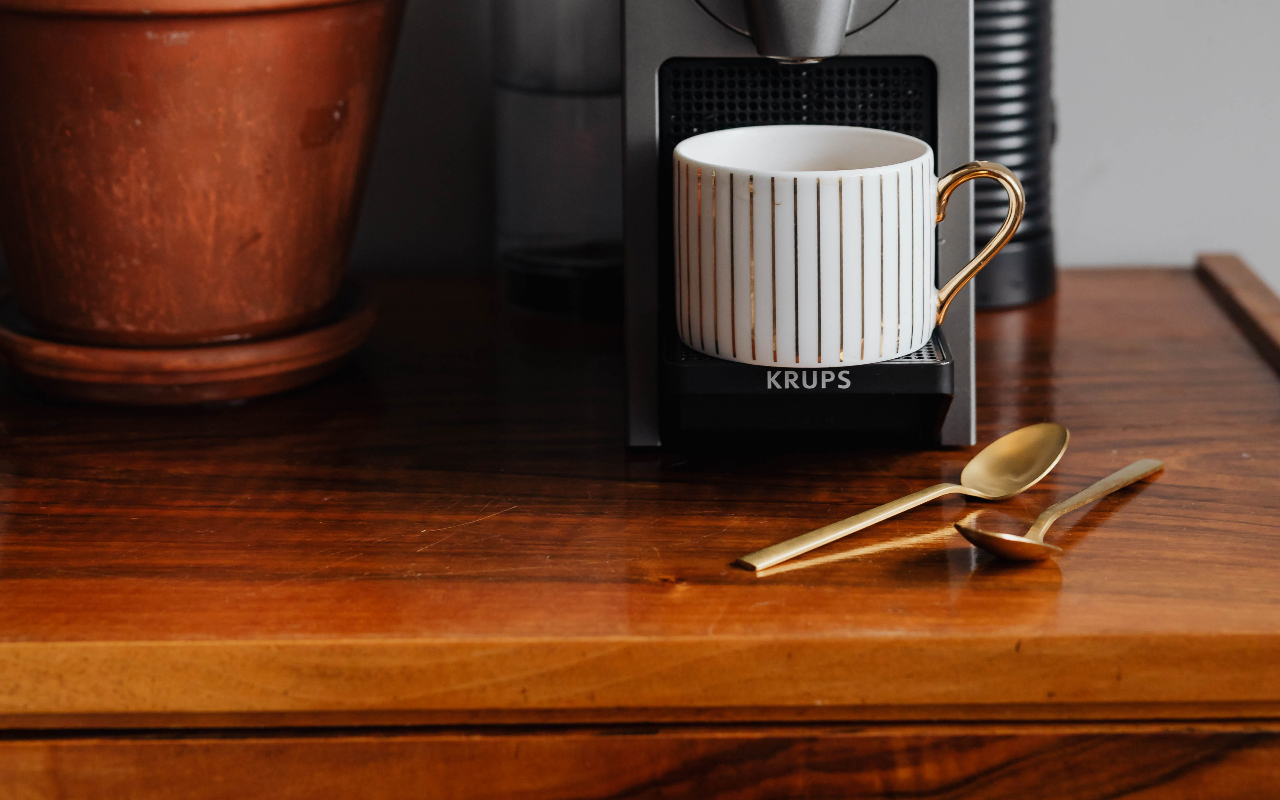 So, read on to learn more about how to grind coffee beans for Keurig and get the perfect aroma, taste, and flavor every time you turn it on.
Learn here for the best-selling top tea coffee.
Benefits of Using Kcups
With Kcup, you can forget worrying about the right amount of coffee to put. Because it already comes with the perfect amount of ground coffee for a single-cup brewer.
That's the fun of using Keurig. You can use kcups that are designed to use with this electric brewer. They are super convenient and has a wide variety of range that covers almost every flavor out there.
So, buy them in bulk to cut the cost. The good news is, they last more than regular packaged coffee grounds. You can easily store some in your office cabinet and kitchen corner.
Make sure to use them before the "best-to-brew-by" date. If you pass the date, they won't put your health in jeopardy but might give stale and old flavor.
Grinding Coffee Beans for Keurig
Well, the preground in kcup can't give you the rich and bold cup of coffee like a freshly grinded one can. Furthermore, you can infuse your java brew with the exact flavor you're looking for.
Are you wondering that can you use ground coffee in a Keurig? Yes, absolutely you can! So when you have got time in your hand, we suggest you grind it on your own and get the most authentic flavor.
Grinding coffee for Keurig plays the most significant role in how well the brew will extract the taste and aroma. If it's too coarse, it will cause under extraction.
So your coffee will taste weak and plain. Again, if it's too fine, the filter may get blocked.
So you may ask how should I grind coffee for Keurig or what grind for Keurig? Well, grinding coffee beans for Keurig is easy.
Grab a grinder. Take the beans which fit your taste. Set it to grind in the medium-fine setting. Don't go for the fine ground that you prepare for the espresso machine.
Get the reusable Kcup mesh filter. Pour the 1 tablespoon ground in that and enjoy a wholesome cup of java.
If you find always grinding before brewing tiresome, then a single cup coffee maker with built-in grinder can be your thing. You can check the link to find your best-suited single cup, coffee maker.
Tips and Tricks to Use the Keurig Coffeemaker
The Keurig machine can do magic if used in the right way. So check these do's and dont's to get the most out of it for a long time:
When you're using the machine for the first time, run a standard brew with just hot water to avoid the hint of plastic taste in the first few cups.
You should do it for the regular cleanup of the machine. Again, this tip comes in handy when you're using the device after a while.
Pre-puncture your kcup pods. Open the brew basket of your Keurig. Take a pack and press down gently until you puncture the cup.
Doing this will prevent grounds from fixing up with your coffee. You're manually puncturing the sealed pack instead of lowering the handle to make a hole on the bottom. So, it extends the life of the handle.
Use fresh filtered water to produce a cleaner tasting java. Cleaner the water, the better the taste. Furthermore, it prevents limescale buildup. So you don't need to de-scale the machine often.
When you've got enough time, try to pre-heat the Keurig and your cup. A nice hot cup contributes to the taste even more!
If you notice weird tasting coffee or inefficiency in heating, de-scale the device. De-scaling depends on how frequently you use it. But doing it once a month keeps its performance top-notch.
Best Kcups For Your Keurig
With so many tastes and flavors, it's easy to get confused about which one to get. Have a look at our favorite picks on every category:
Refreshing Light Roast
Want some light-bodied joe that you can sip in throughout the day? Here is the list that offers refreshing aroma and light roast:
Peet's Light Roast Coffee
Starbucks Veranda Blend
Gevalia Signature Blend
Evenly Balanced Medium Roast
Love something stronger and richer? These coffee grounds give the perfect in-between brew:
Dunkin Donuts Original Blend
Laughing Man Hugh's Blend
Starbucks Breakfast Blend
Starbucks Pike Place Roast
Strong & Bold Dark Roast
If your taste buds want a sharp taste robust with flavor then try these packs that will infuse your brew with a high amount of caffeine. Perfect for students or jobholders who need to stay highly focused for the entire day.
Here's the list of kcup packs that are best when you want a kick:
Green Mountain Double Black Diamond Extra Bold
Death Wish
Wild Jo Organic Dark French Roast
Starbucks Sumatra Coffee
Decaf Coffee Blends
Minimum 97% of the caffeine has been removed from the blends for coffee lovers who have health conditions that don't support having joe. Best for pregnant, nursing, or female having PCOS problems.
Green Mountain Coffee Dark Magic Decaf
Newman's Own Organic Special Decaf Blend
Eight O'Clock The Original
Flavored Blends
Are you a fan of some interesting flavors with your cup of joe? Lucky for you, these Kcups offer a wide range. You name the flavor they've got it packed in Kcups for you.
Nutty Flavor
Laughing Man Columbia Huila
Mad Monkey Swingin Bold
Chocolate
Tully's French Roast Extra Bold
Caribou Coffee Caribou Blend
Caramel
Gloria Jean's Butter Toffee
Starbucks Caramel
Cinnamon
Cinnabon Classic Cinnamon Roll
Hazelnut
Green Mountain Coffee Hazelnut
So, all you need to do is- get a kcup. Put it in. Turn the machine on. And ta-da! Your coffee is ready within a minute.
Last Words
Now that you've learned the easiest way of how to grind coffee beans for Keurig, what's stopping you from making yourself a nice cup of joe? Hope you've got the guidance you were looking for using your Keurig machine.
So, win the heart of your colleagues, dorm mates, or family member by making them the perfect cup of coffee real quick.