Learn about the placement of recessed lighting. Whether you're remodeling or building a new home, using recessed lighting successfully depends on placing the lights correctly for what they are used for. All about the various uses of recessed lighting as general room lighting, task lighting, or display lighting. Recessed lights in the kitchen, and bathroom, for displaying art, lighting a task, focusing on an area, in the bedroom, basement finishing and remodeling, dens, living rooms, and even walk-in closets.
Learn About the Placement of Recessed Lighting: How to Use Recessed Lighting
The placement of recessed lighting affects how well it performs the task asked of it. Space lights are too far apart and you have bright and dim spots in the room. Place lights too close together and the brightness is overwhelming.
Learn about considerations for recessed lighting placement.
Placement of Recessed Lighting: How to Use Recessed Lighting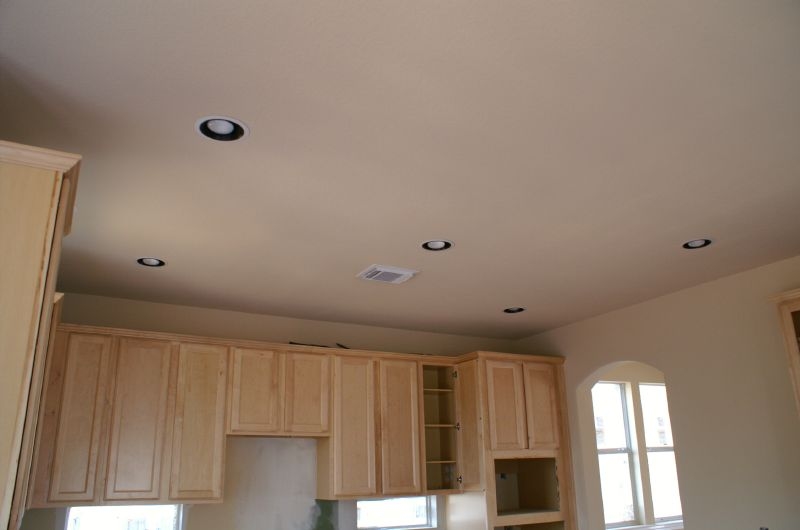 Overview
Recessed lighting finds used as general room lighting, task lighting, or to highlight a specific room feature such as art on a wall or shelf. The placement of recessed lighting is important for all of these functions. Improper placement or use can cause annoying shadows in a work area, make it difficult to see items on display, or provide less light than desired.
Task Lighting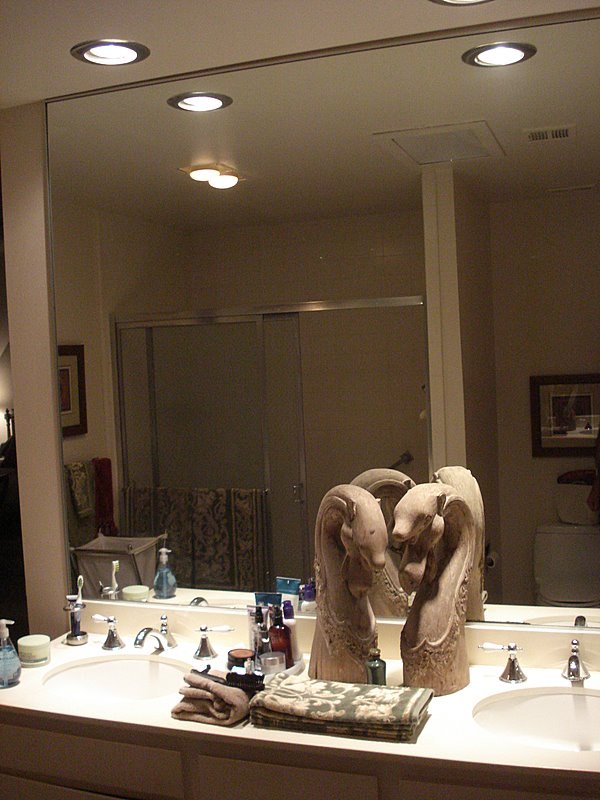 As the name states, task lighting provides light as you perform a specific task. In the kitchen, task lights may be positioned for sinks, stove tops, or food preparation areas. Placement is usually over and slightly forward of where you will stand.
A single recessed light over a 36-inch high countertop lights a 2-foot diameter circle from an 8-foot tall ceiling. The light must be set back enough so your head does not cast a shadow when you bend it over the work area.
In kitchens, task lights are usually 6-inch recessed can lights, with a standard baffle trim piece so the spotlight is exposed and focused.
Display Lighting
Whether it's a beautiful painting on the wall, some art on a shelf, or perhaps an entertainment center that needs to be lit on occasion, display lighting using recessed lights is an excellent solution.
Using eyeball trim in the recessed can, the light is focused directly on the area, highlighting it while not overpowering the area around it. The light will not shine in your eyes, even if you get up close. On higher ceilings, larger recessed lights might be used, but further down 3 and 4-inch can lights are the norm.
---
Read Also:
---
General Lighting
Used as area lighting, the correct placement of recessed lights can set the mood. Close together and turned up to full brightness, they make a room bright. Dim them a little, or turn some off, and the mood changes as the level of brightness changes.
As a rule, each foot of distance between the floor and ceiling adds 6 inches to the circle of light a 6-inch recessed light provides. On an 8-foot high ceiling, that translates to a 4-foot diameter circle of light on the floor.
Place the lights close enough that the circles of light overlap, or use alternating rows to fill the gaps between the circles of light. Consider how the lights will be wired as well. For cleaning or other activities, you'll want all the lights on.
Later, you might want to set a quiet, relaxing mood and turn off two-thirds of the lights, and dim them at the same time. During planning, give due consideration to how many lights will be used, and for what purpose, before they are wired. It's really no harder to turn on three switches than just one.
Recessed Lights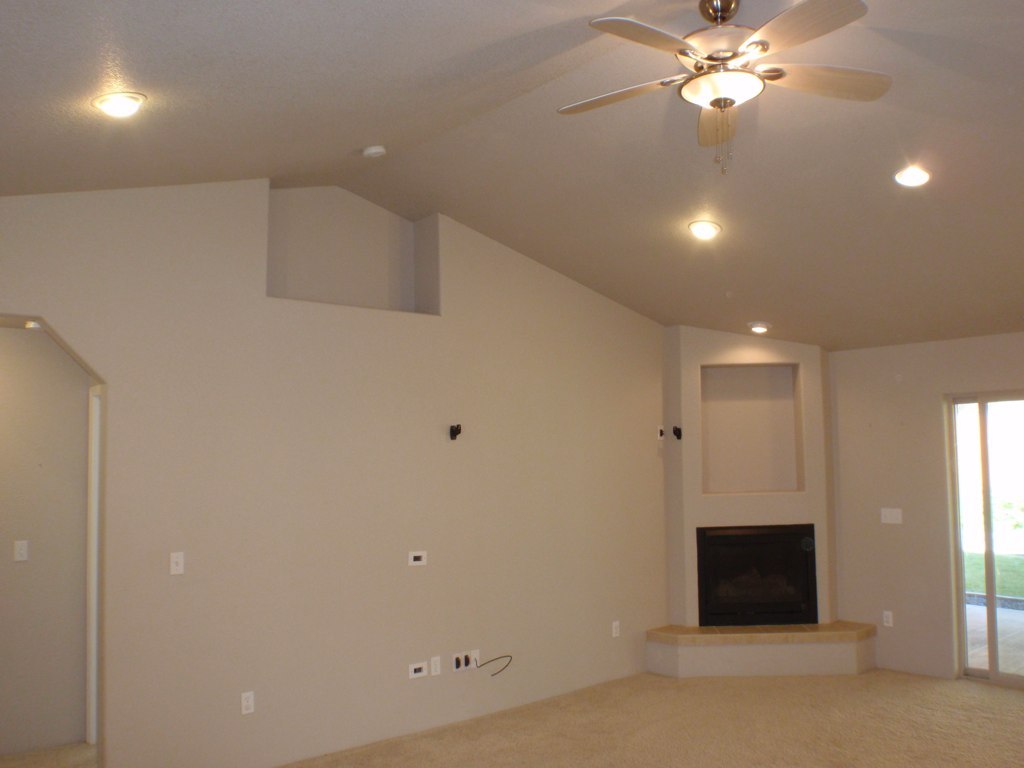 Recessed lights are useful solutions for modern room lighting. Used in combination with general lighting, task lighting, and display lighting, they fit the bill for a variety of uses.
To help you decide on recessed lighting placement, lay it out on graph paper and draw circles to show what area is lit and how big the area is for each light.
Credits, References, and Resources
Placement of Recessed Lighting Image by Barron at Flickr.com
Recessed Lighting Placement Photo by Joe at Flickr.com
Placement of Recessed Lighting Image by Eric in or at Flickr.com
Kitchen Planning and Remodeling: Sunset Books: 1999 (https://books.google.com/books?id=JpkqRy44z9sC&hl=en&source=gbs_book_other_versions&redir_esc=y)