Today's modern push reel mower is nothing like the mowers of Grandpa's day. Learn the many benefits of switching to an Eco-friendly reel mower, and say "goodbye" to that old gas-guzzling model.
If you are still mowing your lawn with a gas-powered mower, those climbing gas prices may have finally convinced you to explore a more fuel efficient and green way of mowing your lawn. While an electric lawn mower is one way to reduce your gasoline consumption, a push reel mower is really the best alternative of all.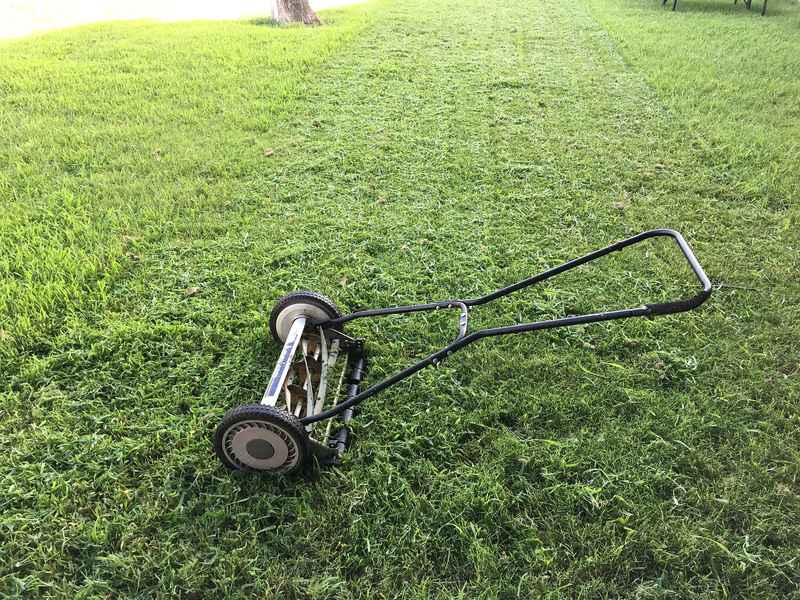 Most of us remember pushing a reel lawnmower as a kid. Those heavy old machines took some real effort to push and resulted in both splinters in our hands and a pretty raggedy looking turf. Unlike those heavy old push mowers our grandparent's used to own, today's modern push reel mowers are so much easier to use. These newer styled models are lightweight, easy to push and do a superior job of cutting the grass.
8 Reasons Why You Should Be Using a Push Reel Mower
The many benefits of using a reel mower as opposed to a gas powered lawn mower may surprise you. Here are just a few benefits our family discovered in over seven years of using a Scotts Classic Push Reel Mower.
---
Must Read:
---
Environmentally Friendly
For green gardeners, a push reel mower is the most environmentally friendly way to mow a lawn. Push mowers don't use gas, oil, and spark plugs, nor produce exhaust to pollute the air.
Less Maintenance
Lack of a motorized engine also means less maintenance is required to keep the push mower running. After mowing, we brush off the blades of our reel mower to remove grass and dirt particles, and then lube the bearings and cutting edge with a little WD-40. Mower maintenance doesn't get much easier than that!
Compact Storage
Unlike a gas model which can take up a whole corner of the garage, a push mower takes very little room since it can be hung up by the handles from a wall. Compact storage is a definite plus for people with limited space.
Safer for Children
Because the blades are pushed manually, a reel mower is a much safer machine for children to use. When my (then) 11-year-old daughter started cutting the neighbor's lawn for spending money, we felt perfectly comfortable letting her use the push mower, knowing that she won't be able to accidentally hurt herself.
Almost No Noise at All
One of the most obnoxious noises in the world is a neighbor who mows the lawn at 7 am on a Sunday morning. A push reel mower hardly makes any noise at all and can be used any time of the day without disturbing the neighbors. For the person cutting the grass, the chopping of the blades is a peaceful alternative to the shrill pitch of a motorized machine.
Portable
A reel mower is extremely portable and can be tossed in the back of the trunk for mowing Grandma's lawn or other yards. We hand carry ours to neighborhood cleanup days and use it to mow pocket parks and parkways. For do-gooders, having a portable mower is a real advantage.
Good for Health
Pushing a reel mower around the yard is also a great way to sneak in a little aerobic workout on a Saturday morning. The combination of walking briskly while pushing some weight will get the heart pumping and bring a sweat to the forehead.
Affordably Priced
Aside from all these other benefits, a push reel mower is very affordably priced. The Scotts Classic Push Reel Mower is available between $120 – $140 depending on the retailer. The Scotts model has a 20″ cutting path and has three different height adjustments. This is the model we own, and after seven years, it continues to work as good as new.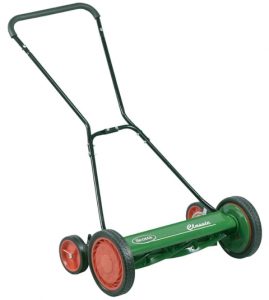 On the high end of the push reel mower, an option is the Brill which is considered to be the Cadillac of push mowers. The Brill has 5 blades, a silent cut design, and has a dry powder coat on all metal components to protect the surface from chipping and fading. Brill mowers start at $327. Both the Scotts and the Brill push reel mower have optional bag attachments for gardeners who prefer to catch their clippings.
For those of us who are used to mowing the lawn with a gas-powered machine, making the switch to a green push reel mower seems like a lot of extra work. While the push reel mower isn't recommended for lawns larger than a half acre, families with smaller yards will quickly discover that a push reel is an affordable and easy to use alternative to the traditional gas mower.
---
Author Bio

C. Jeanne Heida is a small business owner with 30 years experience in the real estate industry. When Jeanne isn t writing, she keeps busy tending her urban farm and volunteering as a 4-H leader who is teaching a whole new generation of kids heritage skills.
---