Navigating through the vast array of decorative rug options can be intimidating, but there's no need to worry.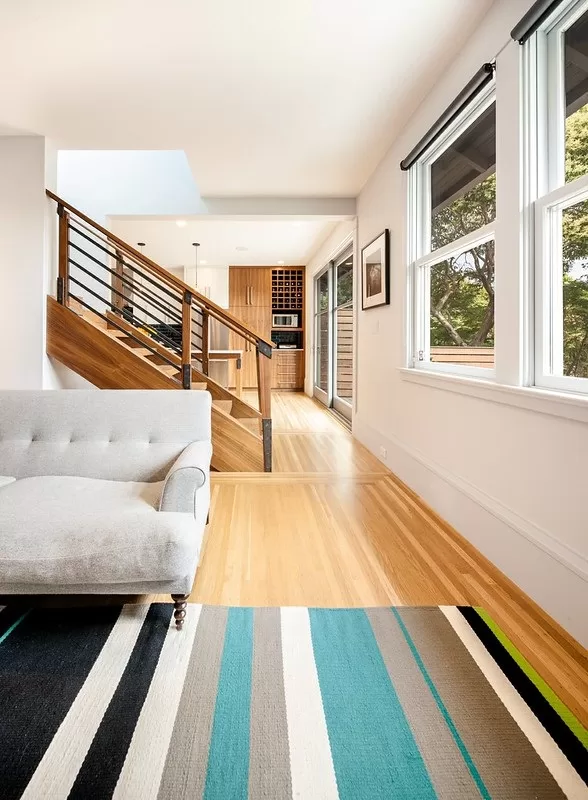 Reputable companies like Rug Source have plenty of luxurious hand-woven carpets, antique rugs from around the world, and modern designs for you to browse through.
To guide your search, we've rounded up 7 of the most popular types of decorative rugs with their unique properties, helping you pick out just the right style and fit for your unique decor. With these tips in mind, shopping for rugs has never been easier. Let's dive in to learn more about them.
1. Turkish Rugs
Turkish rugs are popular at Rug Source for their intricate patterns and vibrant colors. To style them in your space, try layering them over another rug to bring out the bright hues or mix-and-matching different sizes to create depth. If you don't have multiple rugs, consider using throw pillows or other accessories that match the colors in your Turkish rug to give the space an extra pop of color.
2. Distressed Rugs
Distressed rugs are perfect for rustic settings or shabby chic interiors. To make these more eye-catching, mix and match two distressed rugs. This will add visual interest while keeping the same theme throughout your space. You can also add accent pieces like vintage frames or antiques that match your distressed rug's color palette this will help tie everything together nicely!
3. Round Rugs
Round rugs are a great way to add unique texture to your space without breaking the bank. Try pairing round rugs with furniture pieces with curved lines this will create a cohesive look throughout the room and make it feel like everything flows together nicely.
Additionally, if you have hardwood floors, adding a round rug from a reputable company like Rug Source will help define the area without making it feel cramped or cluttered. Here are some more decorating ideas:
Create an inviting entryway with a round rug. A circular rug at your home's entrance can create an inviting atmosphere for guests and family members alike. Choose a bright and bold pattern to make a statement, or go for something more subtle, like a neutral-toned jute rug.
Add warmth and texture to your living room with a round shag rug. Shag rugs are perfect for adding texture and warmth to any space, especially when creating cozy living rooms. Place one underneath your coffee table or sofa for extra comfort and visual appeal.
Make your bedroom feel like an oasis with a round wool rug. Wool rugs are incredibly soft and luxurious, making them perfect for bedrooms where you want to relax after long days of work or school. Choose one in calming colors like blues or greens for maximum relaxation vibes.
---
Read Also:
---
4. Antique Rugs
Antique rugs are perfect for anyone looking to add an old-world charm to their home decor. To keep with this theme, try pairing antique rugs with older furniture pieces, such as armchairs and dressers made of wood this creates a timeless look that will impress guests.
When purchased from reputable companies like Rug Source, antique rugs pair beautifully with modern furniture pieces like couches and tables as well make sure they complement each other nicely so that everything looks intentional rather than haphazardly thrown together.
5. Moroccan Rugs
Moroccan rugs are known for their bold geometric patterns, so try combining two different designs this creates an exciting contrast between the two styles while still keeping everything cohesive throughout the entire space. Additionally, adding a few colorful pillows that match your Moroccan rug's color palette will bring even more life into your room!  Here are three creative ways to style them:
Create a cozy reading nook: Place a Moroccan rug in the corner of your living room or bedroom and add some comfortable seating, like an armchair or beanbag, for the perfect spot to curl up with a book.
Add texture and color to your walls: Hang a Moroccan rug on the wall as an eye-catching piece of art that will bring warmth and character to any room.
Layer different sizes and colors: Mix and match different-sized Moroccan rugs in complementary colors for an eclectic look that will make any space feel inviting.
6. Abstract Rugs
Abstract rugs are perfect for anyone looking to add some unique flair to their home decor without going too bold or crazy they provide just enough pattern and texture without being overwhelming at all! To make them stand out even more in your living space, layer multiple abstract-style rugs on top of one another this creates visual interest while staying within the same theme throughout your room!
7. Modern Rugs
Modern rugs come in many shapes and sizes, but they all share one thing in common they're perfect for contemporary spaces. Layer two different ones on top to make modern-style carpets stand out even more in your home decorating scheme.
This creates an exciting contrast between the two styles while still keeping everything cohesive throughout the living space. Additionally, adding accent pieces such as metallic vases or sculptures that match your modern carpet's color palette will help tie everything together beautifully.
Shop at Rug Source for High-Quality, Affordable Rugs
Decorative rugs from trusted companies such as Rug Source can be a great way to spruce up any home office or interior design project. Whether you're looking for vibrant Turkish carpets with intricate patterns and colors, or subtle yet striking abstract carpets, there's something out there that's perfect for your taste and style.
When considering what type of rug to buy, it's important to think about the kind of aesthetic you want to create in the room and how much maintenance will be required for upkeep. That way, you'll have the perfect combination of practicality and style. With these tips in mind, finding the perfect rug is a breeze – so happy shopping!